Source | StoryPick : By Shriya Joshi
A tricky thing only tricky people can do. That's they are called businessmen. Some of them have tricked the world into turning into a new one altogether. like the song, a brave new world indeed came into being. Because of these brave men and women.
Here are a few brave business cards of these market soldiers who went on to become kings and are ruling it, turning it on their fingertips, quite literally.
1. Bill Gates: Microsoft
Designation: Founder & CEO
Founded in:  April 4, 1975
Other companies: Bill & Melinda Foundation, Corbis Corporation, Cascade Investment, Microsoft Research, bgC3, The Global Fund to Fight AIDS, Tuberculosis and Malaria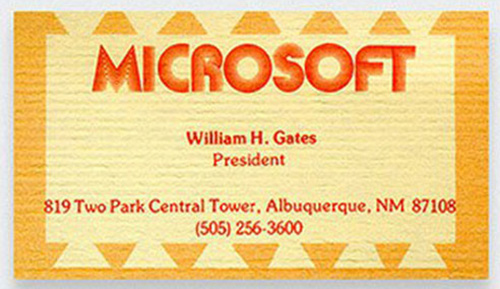 2. Steve Jobs: Apple
Designation: Founder & CEO
Founded in: April 1, 1976
Other companies: Acquired Pixar and Next
3. Mark Zuckerberg: Facebook
Designation: Founder, CEO & Programmer
Founded in: February 4, 2004
Other companies: Acquired Whatsapp, and many other start-ups
4. Walt Disney: Disney Studios
Designation: Founder and Cartoonist
Founded in: October 16, 1923
Other companies: Walt Disney Company, Disney World, Laugh-o-gram Studios and many more
5. Larry Page: Google
Designation: Co-founder
Founded in: September 4, 1998
Other companies: Alphabet Inc.