By | Rakshitha Acharya | www.jobsforher.com
Working From Home is For You. These Jobs Will Convince You
As simple as staying home to stay safe is, starting your work-from-home career can put some hurdles your way. One of the positive factors that the Coronavirus pandemic has put the limelight on is the possibility and perks of working from home. Top companies across the globe have come to the realisation that working from home is the next big thing — it is cost-effective, productive and technology has made it convenient for everyone.
With work-from-home becoming the new buzzword, you have people across multiple platforms providing work-from-home tips, the advantages of working from home, helping you to work efficiently while working from home and listing the top work-from-home jobs.
We're giving you an express route to the best work-from-home jobs across various fields, so you can make the best career decisions.
Top Work-From-Home Jobs Across Industries
Let's start with Content Writing or Editorial assistant jobs in NYC
If words are your superpower then, we have the right work-from-home jobs for you.
This work-from-home job requires you to have experience in article publishing, conducting research on industry-related topics, and 1-5 years of experience in blogs, article and social media writing.
To apply, you need to have the ability to churn out quality content in multiple formats and deliver within deadlines. This role is a part of Ufaber's returnee program, so, to all the women content writers on a break, get ready to restart with this job opportunity.
Skills you should have for the role: editing, proofreading and managing deadlines while delivering high-quality work.
Apply to more content writing work-from-home jobs here.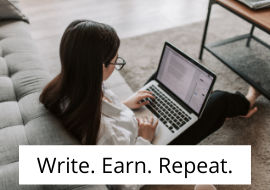 Business Development/Business Management 
You can stay at home and put your business tactics to play.
Apply to the role if you can bank on your digital marketing expertise to handle the end-to-end process of marketing and promotions.
Eligibility criteria for the role includes experience in lead generation through LinkedIn, customer coordination and relationship management.
To apply, you need to have 1-5 years of work experience in inside sales and lead generation and an interest in the management consulting industry.
You will be an ideal candidate if you:
– Have work experience in inside sales and business development
– Can drive sales through innovative ideas
– Can research accounts, identify key players and generate interest
Have these roles caught your interest? Find similar jobs here.
Customer Support
These customer support jobs are here to support your dream of a successful work-from-home career.
You can work for one of the world's best ecommerce companies if you have good communication skills, can work on basic computer applications and are flexible to work in shifts. 
Apply if you can efficiently manage basic office operations, address any customer queries and provide appropriate and relevant solutions to any customer problems.
Apply if:
– You are willing to work in shifts
– You have 4+ years of experience
– You have outbound telecalling skills
This is the modern day boon, you can have a thriving career in customer support while sitting on your couch. Find more customer support jobs here.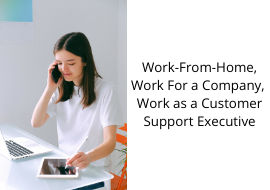 Online Teacher/Trainer
Do you love to teach? Well, now you can pursue your passion to teach without stepping out.
This leading education company that focuses on helping people learn multiple languages with ease is looking for a Kannada trainer. You should also have a good hold on English and Hindi. You need to have the drive to achieve impressive results from the students.
The eligibility criteria is literally what the title says — you need to have expertise and experience in grammar.
You should be able to manage and teach children between 6-14 years of age. You should have a good hold on the basics of coding.
Find many more online work-from-home teaching jobs here.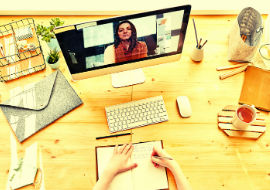 Recruitment and HR
Screen candidates from your house with these work-from-home openings for a recruiter
Eligibility criteria:
– You should be able to handle the entire process of IT recruitment and contract staffing
– A minimum experience of 3-5 years in IT/SAP recruitment
– You should have the ability to maximise revenue per client with excellent relationship management
They are looking for an experienced HR professional for a recruitment role. You should also design and execute the entire recruiting strategy
This full-time work-from-home role requires you to have work experience of 8-10 years in end-to-end technology recruitment. You will have an additional advantage if you have experience with technologies like IBM COGNOS/ TM1, Microsoft Power BI, Tablue, and Qlik
Find many more work-from-home recruiter and HR jobs here. 
Digital Marketing
Boost promotions and handle digital marketing from your house.
Women returnees, here's another opportunity for you!
This is an opportunity for you to return to your career and lead digital marketing at mKonnekt for their US clients. If you are passionate about social media marketing and interested in becoming a global digital marketer, then this is the job for you!
Apply if you can work your way around basic SEO, keyword research, link building and analysis tools. 
Here's your opportunity to handle social media marketing on an ongoing basis for a Vegan startup. They are looking for a prolific content creator and social media marketer for this work-from-home role.
Get more work-from-home digital marketing opportunities here. 
Work-from-home is a convenient option in general. But, for some women and mothers, it becomes an ideal work situation. You get the rare opportunity to stay at home and still pursue what you're passionate about. And, JobsForHer always encourages women to do what they wish to — what they are passionate about. 
If you feel that working from home is ideal for you, we have the perfect line up of jobs for you, here.
Find a job for yourself, apply and get your work-from-home career going!
Republished with permission and originally published at www.jobsforher.com