Source | www.onstartups.com | Dharmesh Shah
Earlier this year, I had a chance to attend SxSW.  One of the highlights of my trip was a startup dinner which included Jason Fried and David Heinemeier Hansson, the founders of 37signals.  At the time, they had just come out with their new book "Rework".  I had downloaded a copy to my Kindle, but hadn't had a chance to read it yet.  Now I have.  Twice.  It's a great book.  Lots of practical advice for entrepreneurs.  I highly recommend it.  My second time through, I decided to pull out some of my favorite parts.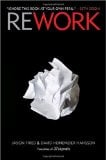 You're encouraged to share your favorite insight by using the convenient "tweet" links next to each one.  
 37 "Signals" From 37 Signals
1) Great businesses have a point of view, not just a product or service. tweet
2) Writing a plan makes you feel in control of things you don't actually control. tweet
3) You have the most information when you're doing something, not before you've done it. tweet
4) Stuff that was impossible just a few years ago is simple today. tweet
5) Failure is not a prerequisite for success. tweet