Hr Library
Trending
5 Ways to Show Candidates You Respect Their Time (Hint: 9 Rounds of Interviews Isn't One of Them)
By | Samantha McLaren
Mike Conley, a software engineering leader, had had enough. Although he was in the running for a role he wanted at a great company, he voluntarily dropped out of the hiring process. His reason? Mike had already gone through three rounds of interviews, and the company wanted him to come in for six more. 
"I wasn't just thinking about my hiring experience," Mike shared in a post that went viral on LinkedIn. "I also withdrew because the role is one that would repeatedly hire team members in a company that is in its growth stage. I did not want to be part of a system that is this taxing on candidates."
In response to Mike's post, thousands of people shared their own experiences of lengthy interview processes, as well as their thoughts on what companies can do to be more respectful of candidates' time. While this is always important, in a candidate-driven market, it could be the difference between a company snagging the talent it needs and losing out to a competitor. If candidates feel like there's no end to the interview process in sight, they may be more inclined to accept another offer, even if they were excited about your company. Or, like Mike, they may simply take themselves out of the running and look for other opportunities elsewhere. 
To avoid losing out on great talent, here are a few steps you can take to keep candidates engaged and show them you value their time. You may already be doing these things, but it never hurts to audit your hiring process and ensure every candidate has a positive experience with your company. 
1. Share a salary range as early as possible
No matter how enthusiastic they are about a role, salary can be a dealbreaker for candidates. They need to know whether the role will pay enough to support them and, potentially, their family. If it won't and they only discover this halfway through the process (or, worse, at the very end), they may feel like their time has been wasted.
If you can, consider stating a salary range in your job description or sharing this information during initial phone screenings. In LinkedIn's Global Talent Trends 2019 report, 54% of talent professionals who share salary ranges with candidates say it filters out those who would decline, and 57% say it streamlines negotiations later in the process.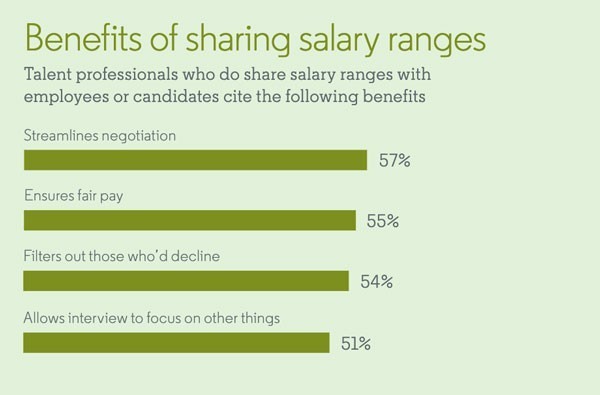 Increasing transparency around salary ranges can also help to close pay gaps, with 55% of those surveyed for the report saying it ensures fair pay. Candidates will appreciate your company's candidness, even if they ultimately decide not to move forward.