Hr Library
Trending
6 Stories Of Resilience From Around The World That Will Warm Your Heart
Take a moment to read and share these stories of incredible resilience from around the world. Find out how you can donate your newsfeed for one day in honor of World Humanitarian Day!
Source | www.buzzfeed.com | World Humanitarian Summit
1. The Miracle Baby
Khaled Farah is a first responder for the White Helmets in Syria's Civil Defence team. In the last four years, nearly 200,000 Syrians have lost their lives in the Syrian civil war, where civilians are targeted daily with bombs. Khaled is one of 2,697 volunteers, including more than 80 women, who risk their lives every day.
On July 11, 2014, a barrel bomb was dropped in the Ansari neighborhood of Aleppo. Khaled arrived on the scene of the blast to help pull people out of the debris. He kept an eye on the sky, as a second bomb is often dropped to kill rescue workers.
As the team pulled two families out of the debris, one of the mothers cried out desperately that her 2-week-old baby was missing. Khaled rested his head against the concrete and heard a baby crying. He called over his team and started digging through the rubble as gently as possible so as to keep the baby safe. They finally spotted the child, and using car jacks — the only tool at their disposal — they lifted the concrete slab to pull the baby out.
Khaled recently visited Muhammad, the baby he saved from the rubble. Thanks to people like Khaled, over 22,000 lives have been saved. Yet the destruction of lives will continue until the world steps in to stop the bombing.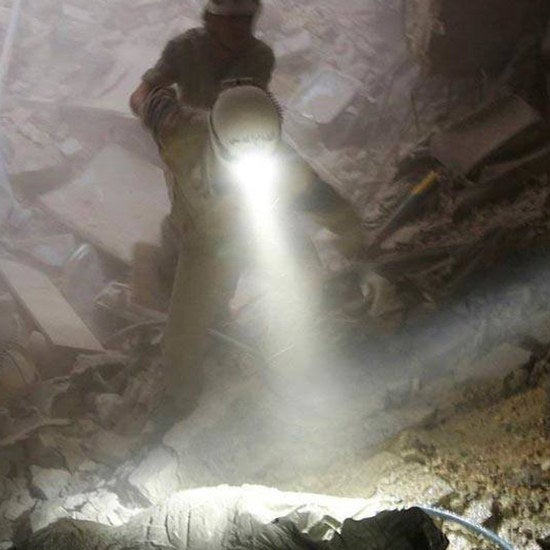 2. The Sherpa and the Earthquake
Nuri is a sherpa who has spent his life helping climbers from all over the world hike the mountains of Nepal. When the earthquake hit Nepal in April 2015, Nuri was helping Don Bowie and his team climb the Annapurna Circuit.
News spread fast of hundreds of villages flattened or decimated by the earthquake, villages nestled deep in the mountains that were cut off from any supplies. Bowie's team decided to remain in Nepal and help where they could. Though Nuri's own home had been destroyed, and he longed to be with his family, he chose to stay and join Bowie's team in their efforts to help the World Food Programme provide humanitarian relief.