By | Rakshitha Acharya | www.jobsforher.com
Online Interview Tips For You
The current situation across the globe has taught people how to adapt. When it comes to your career, you need to adapt and be on par with the trend of online job interviews and hiring. The hiring process is not on hold in many top companies across the country, but has moved online like the rest of the world. To land your dream job, you should now prepare by keeping the 'online' part of the online job interview in mind. 
The process of an online interview and the process of hiring (assignment, phone interview, face-to-face, etc.) remains the same as an in-person interview. The only change is that the entire process is now online and you'll have some extra points in your checklist to pay attention to before an interview.
The basics like having an electronic device such as a mobile phone, tablet and laptop, having an internet connection and installing video conferencing apps are obvious. But, the below mentioned tips focus on the nitty-gritties of online interviews. This blog can be referred to as a guide that you should follow before attending a virtual interview.
Tip #1- Choose a Quiet, Well-Lit Spot
This is one of the "must-follow" tips. An online interview is as formal as that of a regular interview. For the interview, you have to make sure that you are sitting in a clean, quiet and well-lit room. The main criteria being that you should be able to communicate clearly for this, your room has to be clutter free.
Make sure nothing interrupts you, hence:
Try and be alone during the interview

Make sure the interviewer can see and hear you clearly

You concentrate only on the video call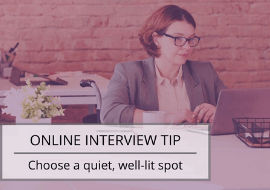 Tip #2- Do Not Hesitate to Ask The Interviewer to Repeat Their Question
You can only give the perfect answers when you hear the questions clearly. Given that it is a virtual interview, the probability of you not being able to hear the interviewer clearly is high. It is always better to ask the interviewer to repeat their question, than you giving the wrong answer.
In an online interview, you might get a concession for things like the camera not being clear or an issue with the internet, but you will definitely not get an exception for giving the wrong answer. So, follow this tip and make sure you have understood the question clearly before giving your answer.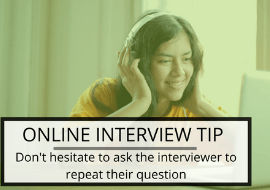 Tip #3- Make Sure You Maintain Eye Contact
Maintaining eye contact is a way for you to show that you are confident about this interview. You have to make it a point to  maintain eye contact throughout.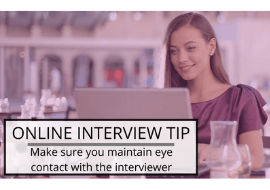 Tip #4- Utilise Your Interview Slot Well — Present Your Skills Clearly
Though online, an interview is a chance for you to give your potential employer compelling reasons to hire you. For this tip, you need to bank on your skills. Showcase your skills precisely and explain to the interviewer why you are the right fit.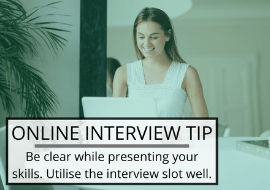 Tip #5- Avoid Disturbances. They Might Prompt The Interviewer to Wind up Soon
This is another "must-follow" tip. You have to at any cost make sure that there are no disturbances. The interviewer must not feel irritated by the constant disturbances throughout the interview. If the interviewer decides to end the virtual conversation, you will find it hard to reschedule. So, like the previous tip, make sure you utilise the one chance you are getting.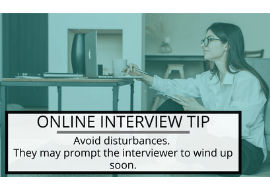 Tip #6- Keep an Alternate Internet Connection Ready
The internet is something that is unreliable at times; you cannot always be sure of the internet speed or bandwidth. To be on the safer side, keep an alternate connection ready so that you can easily switch to the other when there is an issue with the internet.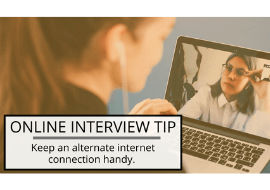 Tip #7- Make Sure Your Laptop is Compatible With Third-Party Video Conferencing Apps
Keep your laptop updated so that you can install video conferencing apps on your laptop. Before you get on the video call, make sure that you have checked the camera and microphone so that the video and audio work smoothly during the virtual interview.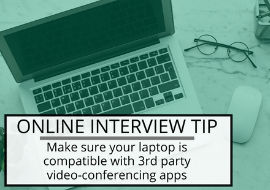 These tips will help you adapt yourself to the new career trend of online interviews. Go through these tips and give your next interview with ease. 
JobsForHer not only gives you the opportunity to apply to top companies, but also helps you prepare for the process of getting hired by these companies. Now that you know how to prepare for an online interview, it is time you also schedule a line up of interviews for yourself, find top jobs here.
Stay tuned for more interview tips like these!
Republished with permission and originally published at www.jobsforher.com