By | Sandhya | www.jobsforher.com
AccelHERate & DivHERsity 2023, powered by JobsForHer is India's biggest conference and awards of the year for companies that are committed to Diversity and Inclusion, held in March 2023 in Bangalore, was a resounding success.
The event, which focuses on promoting diversity and inclusion in the workplace, attracted industry leaders from 350+ companies across the country, including top executives, entrepreneurs, and thought leaders.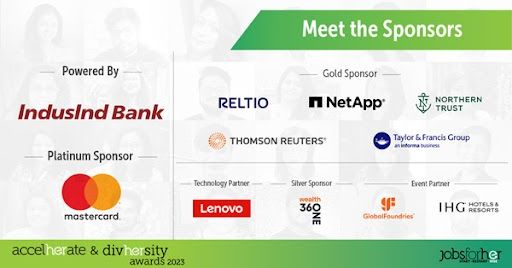 Agenda of the day
AceelHERate & DivHERsity 2023 was a highly anticipated event that focused on promoting women's participation and performance in the workplace. 
The day-long event featured interesting keynote speakers, panel discussions, and roundtable sessions, all focused on how to create more diverse and inclusive workplaces. The event's theme was "#Embraceequity" and it lived up to that promise.
The event began with a welcome note by Neha Bagria, Founder and CEO of JobsForHer, who, as an advocate for gender diversity and equity, has been instrumental in driving the conversation around women's participation in the workforce.
In her welcome note, Neha emphasizes the importance of creating a level playing field for everyone, regardless of gender, race, or background. 
Shalini Sankarshana, Managing Director and Country Head of Planview, Inc., who gave the keynote speech, asserted that by addressing gender-based differences and advancing equality, we can create a more just and equitable world for all people.
This was followed by a round of panel discussions on creating equitable policies at the workplace and closed door roundtable discussions among the industry leaders.
The event concluded with an Awards Gala ceremony that celebrated the winners of top companies, champions in diversity, and the most innovative practices.
About the event
One of the most important highlights of the event was the panel discussion by industry leaders on corporate India's role in creating equitable policies to increase women's participation and performance in the workplace. This discussion explored the steps that companies in India are taking to create more equitable policies that promote gender diversity at all levels. 
The event also featured a round table discussion that brought together leaders from various industries to discuss and share best practices on how to foster women leadership in their organizations
Another significant panel discussion was among the top 5 diversity companies, both large enterprises as well as SMEs, which delved into the topic of how businesses need to have policies that ensure equity across levels and the cascading effect of it on organizations.
The discussion emphasized the importance of equitable policies across all levels of an organization and their positive impact on the organization as a whole.
Positive feedback from leaders 
The participants at AccelHERate 2023 described the event to be informative, engaging, and inspiring. They noted that the panel discussions and keynote speeches were particularly helpful, as they provided insights into how to create more diverse and inclusive workplaces.
Corporate leaders who participated in the event shared their experiences and insights into how they have prioritized diversity at their organizations. They noted that diversity and inclusion are not just ethical imperatives but also good for business. Studies have shown that diverse teams outperform homogeneous teams, and companies that prioritize diversity have higher financial returns.
They spoke extensively about the range of actions taken to promote diversity and inclusion at their organizations, including diversifying their hiring practices, providing unconscious bias training, and implementing flexible work arrangements.
Highlight of the Event
The event ended on a high note with an Awards Gala ceremony that celebrated the winners of the top companies in diversity and most innovative practices. The ceremony recognized and felicitated organizations that have achieved remarkable success in promoting diversity and implementing innovative practices that support women in the workplace.
To see the list of award winners, click here 
In conclusion, AccelHERate 2023 was a tremendous success, and its impact will be felt for years to come. The event emphasized the importance of creating more diverse and inclusive workplaces and provided attendees with the tools and knowledge to do so. 
Don't miss out on the latest D&I insights from industry experts shared at AccelHERate & DivHERsity Awards 2023!
Watch the videos now on YouTube
https://www.youtube.com/playlist?list=PLbeq-lBqJE8JBSVb5e1xGpZaBIuB_UOqC
Republished with permission and originally published at www.jobsforher.com