By | Ujwala Thirumurthy | www.jobsforher.com
Her superpowers lie in her selflessness, her ability to love unconditionally and purely, and her commitment and sheer dedication to anything she does! When the going gets tough, the tough get going. But when the tough need some encouragement, they turn to their mothers!
Thank you to all mothers who have been the strongest pillar of support for their families, who have a solution to every problem; who don't go by the book but by their experience… the list is endless! 
Mothers. Yes, she goes through double the pain when you're going through a rough patch. But not once does she give up in the face of adversity. During these challenging times, this is one quality that we need to praise in mothers everywhere!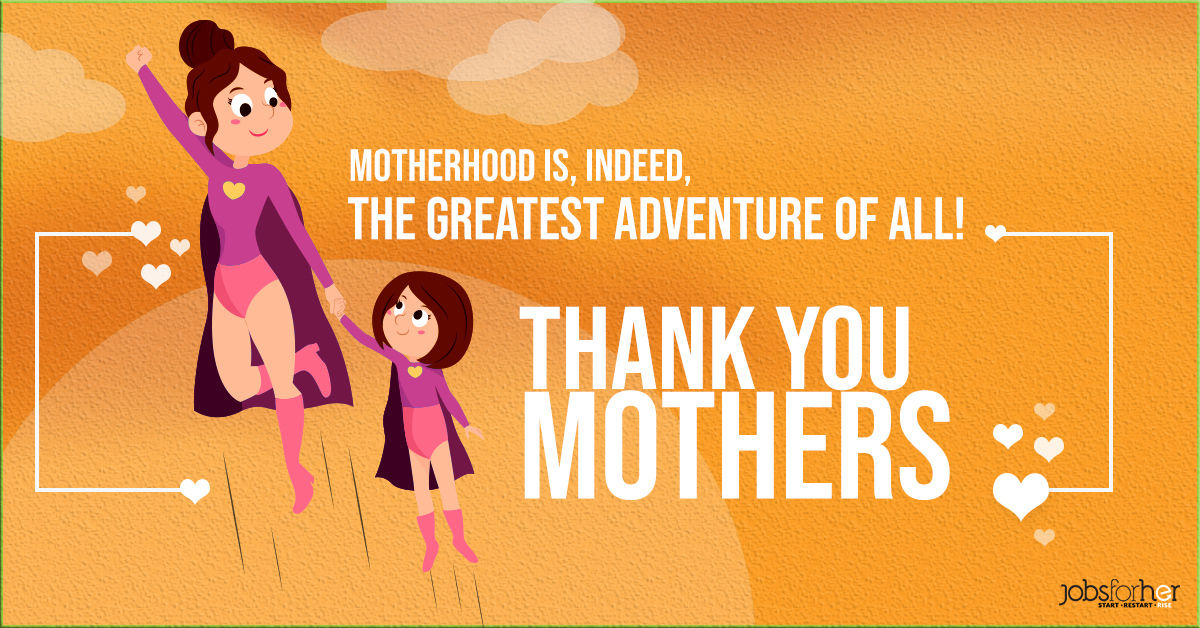 Through the highs and lows, the bitter and the sweet, she remains undeterred.
She's ready for any challenge, any adventure life throws at her. She pulls us through the darkest of hours and revels in the brightest of celebrations. And she deserves only the best. Yes, she's your shadow. Yes, she's also the light when you need it. But most of all, she's your guiding star. 
 They say, everyday is Mother's Day. True.
But we need one day to tell her everything that she needs to know. It is her unconditional love and support that sees us through our toughest times and happiest moments She teaches us how to fly but also how to keep our feet firmly planted on the ground. 
Saluting mothers everywhere for doing what they do and making us better parents along the way, especially during a crisis!
This Mother's Day, we wish every mother to take the first step towards her career!
And rooting for her is the team at JobsForHer as she starts, restarts and rises in her professional journey. 
If you are a mother with career dreams to fulfil, you've come to the right place. Start HERE to get ahead and soar!
Republished with permission and originally published at www.jobsforher.com