Source | http://blogs.bmj.com 
"Devalued, demoralised, and depressed" read the placard held high above the heads of junior doctors during their 2016 NHS strike. These three words perhaps best sum up the prevailing mood of many doctors, not just in the NHS but across the world. We continually hear about the growing malaise among medics—a phenomenon that is often reported as self-evident. The question is are doctors objectively unhappier than in previous years, and if so, why?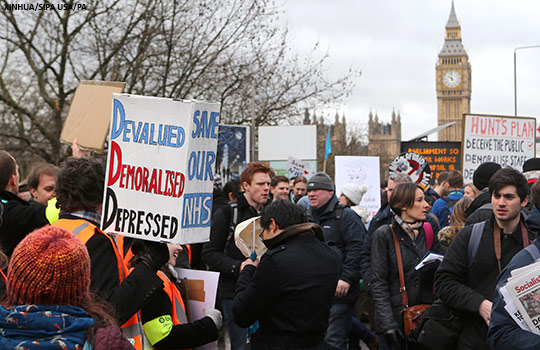 Unfortunately, there are only a few well conducted, longitudinal studies that use the same methodology and diagnostic instruments to help answer this question. There is also the problem that most studies measure variations of burnout, dissatisfaction, and stress, all of which are difficult to define and even if present do not always translate into formal mental illness, such as depression or anxiety. It's worth examining what evidence there is though, lest we risk being caught up in the tide of a worldwide self-fulfilling prophecy built by contagion and case finding.
So, looking briefly at the evidence. A study of American doctors using the same methodology examined satisfaction in 1986 and again in 1997. Overall, physicians in 1997 were less satisfied in every aspect of their professional life than 1986 physicians. Differences were significant in three areas: time spent with individual patients, autonomy, and leisure time. The Kaiser Family Foundation have conducted postal surveys of doctors' opinions based on representative random samples in 1981, 1999, and 2001. Doctors reported that their and their colleagues' morale had gone down in recent years and nearly half would not recommend the profession today. Administrative hassles and loss of autonomy are cited as the main reasons for dissatisfaction, followed by excessive professional demands, less respect for the medical profession, and inadequate financial rewards. Other studies cited in an American review also show greater dissatisfaction and a worsening of wellbeing in more recently qualified doctors compared to older doctors.
In England, researchers have surveyed general practitioners eight times, using the same methodology between 1998 and 2015. The 2015 study showed the lowest levels of job satisfaction and highest levels of stress since the start of the survey series, as well as an increase in the proportion of GPs intending to quit direct patient care within the next five years. The UK charity the Royal Medical Benevolent Fund conducted a postal survey of almost 2000 senior doctors in 2017. Ninety two per cent said that working conditions in UK hospitals had deteriorated in the past decade.