Hr Library
Trending
Employee Experience is Everyone's Job—eBay's Scott Judd Shares Why
By | Karra Barron | www.visier.com
The last 18 months proved that strong HR leadership is needed more than ever. In this profile series, we celebrate the HR Super Leaders that led their organizations through tough times by harnessing their HR superpowers—daring, vision, empathy, strategy, and connection—and proving that anything is possible when you put your people first. Learn more about these five superpowers and take our quiz to find out which one is yours!
Scott Judd is Senior Director of People Analytics at eBay, a global commerce leader that connects buyers and sellers across the world. In this profile, he shares the challenges his company weathered this past year, why he puts himself in other people's shoes on a daily basis, and how his team creates better employee experiences even in tough times. 
What does a typical day look like for you and your team at eBay?
Scott Judd: I lead the People Analytics team, which is made up of six employees with a range of skills across data engineering and consulting, dashboard development, and HR generalists.
Our team has a great love of data and collaboration—it's part of our team culture!—that we use every day to provide our leaders with data-informed people solutions and coach stakeholders on how to take action on those insights.
The last 18 months have been quite the rollercoaster. What are you doing to prepare for whatever comes next?
Well, in the next two or three years, eBay is going to be on a tremendous journey of transformation, and we're really looking to have a tech-led reimagination of our business. That means we have to find, grow, and keep amazing technical talent. Visier is going to help us bring together all the different pieces of that employee journey into one place—from the first time a candidate is connected with us to the last day an employee has at eBay, and hopefully that same employee will one day come back and be a candidate again.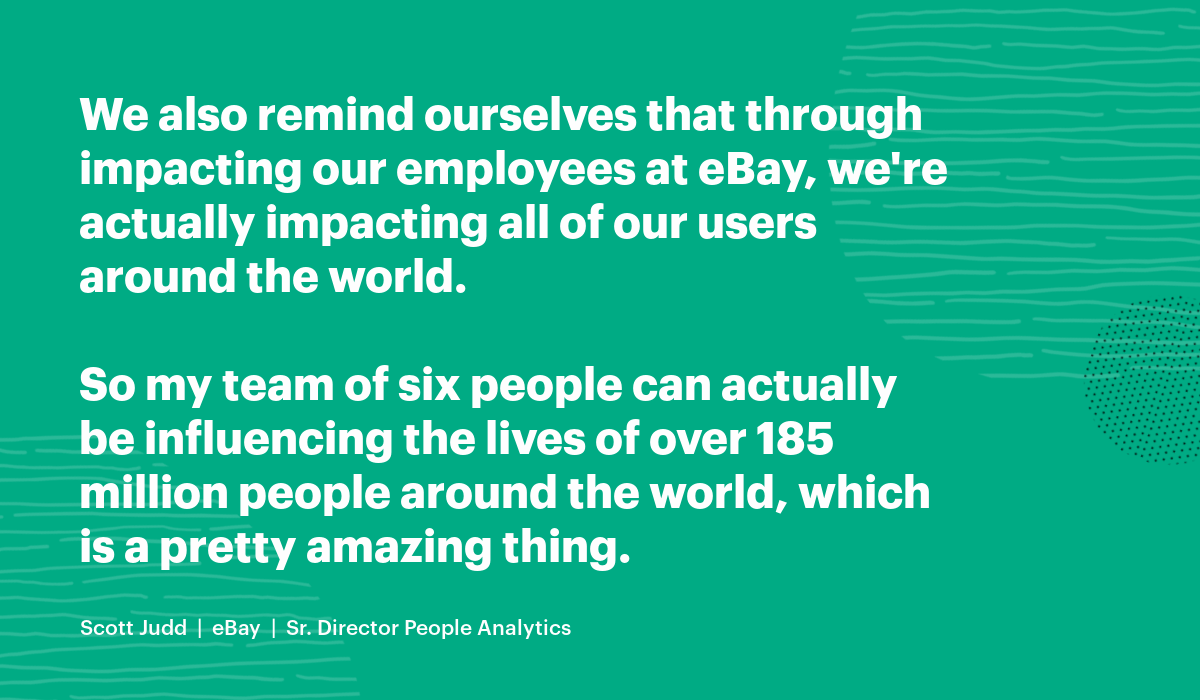 Visier imagined five HR superpowers that guided leaders through the storm of upheavals. What's your superpower, Scott?
My superpower is empathy! It really reflects the way that I try to lead my team and the way that I try to interact with stakeholders and partners.