By | Marissa Pinto | www.jobsforher.com
In these unprecedented times, one of the biggest challenges women are faced with is that of a career comeback. A lot of uncertainty surrounds a career comeback. 
This is because it's not always easy to find a mentor, the world has evolved when you were on a break, and the demands of the corporate world have changed a lot. 
Career comebacks often strike anxiety, self-doubt and stress in women. The future seems blurry.
SPJIMR is a godsend for women who are looking to return to work after a career break. Let us break it down, so you see the clear merit of being associated with SPJIMR.
It's true, women are never on a break. They are always working, tending to the needs of their kids and family or the elderly in the house. Picking up after everyone, placing the needs of others before theirs. They pick up numerous skills along the way and that keeps them going. But on the career front, they need assistance and guidance. 
The team of experienced mentors and leaders at SPJIMR have curated an exclusive program for women with a focus on women looking to make a career comeback.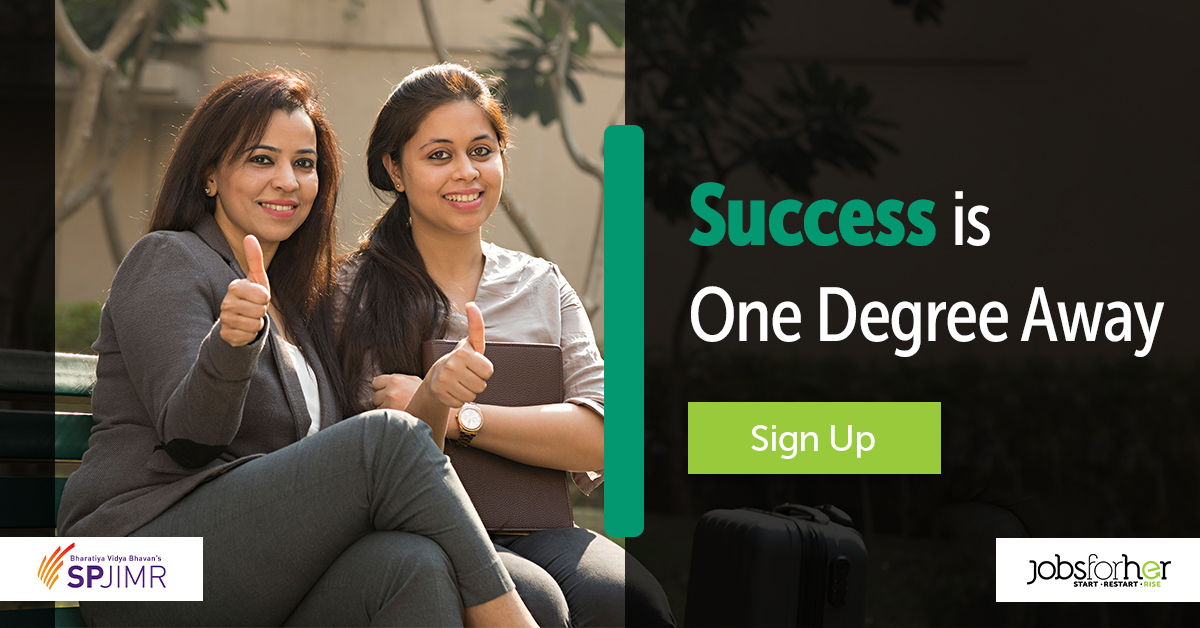 With the 11-month Post Graduate Management Programme, you get not only the guidance but also the necessary skills to steer clearly into a secure and bright future. 
This course is designed to set you up for success. How so?
Phase 1:
On registering for the course, you get 3 months at hand to test the waters, with a refresher complimentary course. Brush up on the basics, prepare yourself for the 11-month intensive course. 
Phase 2:
The 11-month course begins by laying a strong foundation for General Management, followed by the introduction to functional areas such as Marketing, HR, Operations, Information Management, Finance and Strategy. 
Phase 3:
With this, you dive into broadening your domain knowledge, take up cross-functional courses to build your business acumen. On acquiring industry insights you then take up assisted internships to get a feel of the corporate world and work in real-time.
This course not only aims at helping you transition into a career woman but also builds you as a leader with a 6-day  global immersion program at the University of St. Gallen, Zurich, Switzerland. This global immersion program is your window into the world of international trends, practices and an opportunity to network with the best industry players in the global arena. 
The course focuses on holistic all-round development by offering mentorship with industry professionals. Bouncing back from a career break has a lot of challenges and a life coach is assigned to you, to help you navigate through it all and set new goals for yourself.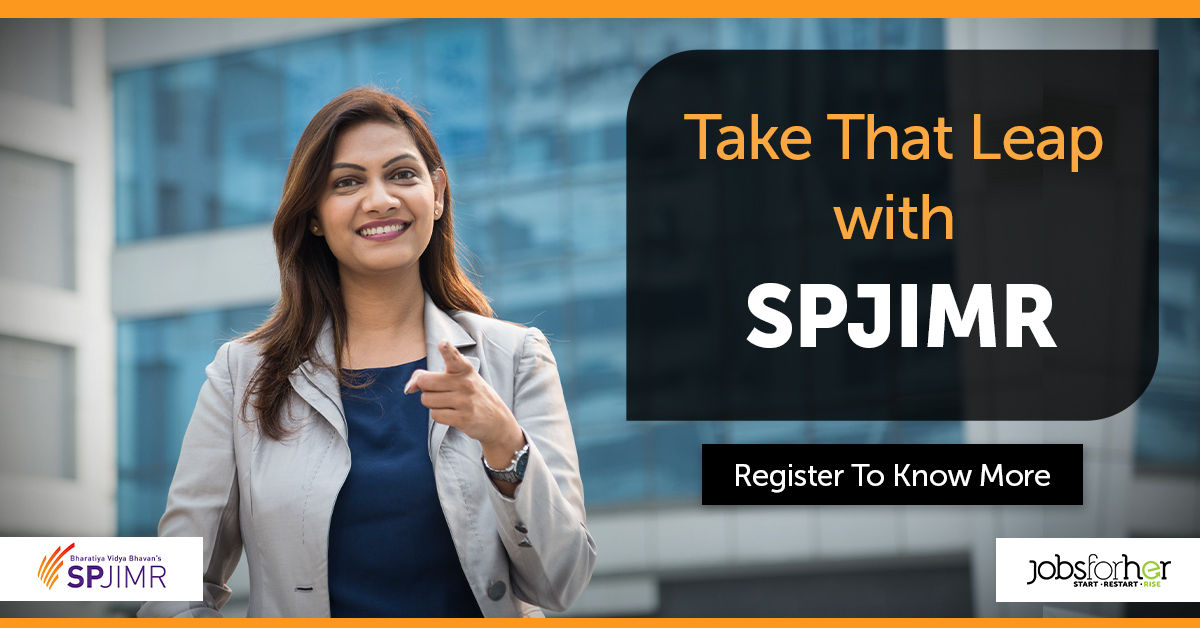 At the end of it all, the question that would be surfacing in your mind is will I be industry and job-ready? 
The answer is Yes. The program provides placement assistance by setting up interviews and mapping your profile for the right job profiles. 
What job roles can you expect to apply for with this program?
Based on your profile prior to your break, you can apply to managerial positions and scale up from there.
The possibilities are endless, and with life-long employability skills acquired with SPJIMR, you can fast forward to a secure and successful career in the near future.
It's time to invest in yourself. Start today. 
To know more about the course and register, click on the link below
https://www.jobsforher.com/offerings/spjimr-s-post-graduate-management-programme-for-women/1120
Republished with permission and originally published at www.jobsforher.com