HR Technology
How companies are bridging the gap between demand and supply of green talent in India, ETHRWorld
Highlights
Divya Capoor of ONGC says that the skill gap is primarily due to lack of awareness and access to essential academic or vocational courses since only a few Indian universities offer courses related to renewable energy.
Yeshwinder Patial of MG Motor India feels that one key area where an immediate shortage of skilled professionals is being experienced is in the EV sector.
Binu Philip of Schneider Electric talks about the criticality of understanding the market regulations of the green energy sector, which are diverse and vary from one state to another in India, and is highly valued.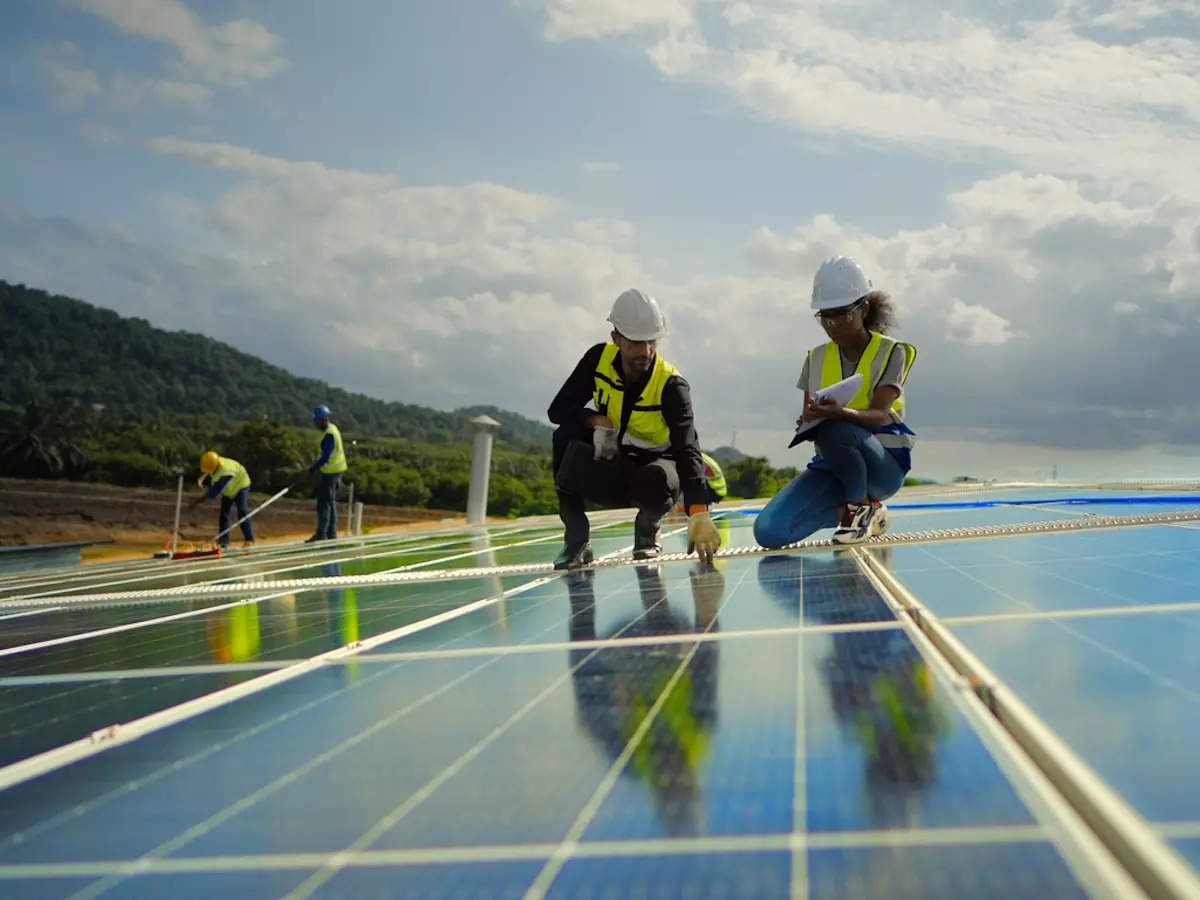 Over the past five years, according to a survey by LinkedIn, job openings for green skills have grown at an annual rate of 8 percent while the share of talent in this sector has grown at only 6 percent.
This is a huge opportunity being missed for employment in the green sector and also for the world in general.
According to another report by OECD (Organisation for Economic Cooperation & Development) from March this year, there is a shortage of green skills across OECD countries that is preventing growth in the sustainable development job sector and can even compromise in the race to reach net zero by 2050.
According to yet another survey data by NASSCOM, in India, only 2 out of 100 entrepreneurs are skilled in the green sector.
Through exclusive interactions with HR leaders from the energy, automotive and electric vehicle (EV) sectors, ETHRWorld tries to understand where the gap in green talent exists, the concerns and challenges faced by the sectors and what is being done by employers to deal with this deficit.
Green energy talent acquisition and retention concerns
Yeshwinder Patial, Senior Director – HR at MG Motor India, feels that one key area where an immediate shortage of skilled professionals is being experienced is in the EV sector.
"As the industry strives to develop EVs, autonomous, connected and sustainable mobility solutions, the demand for talented individuals in this field has risen significantly. However, the skill set required for these roles is highly specialised and are not readily available in the job market," says Partial.
Binu Philip, Chief Human Resources Officer – Greater India Zone, Schneider Electric, opines that the successful execution of green energy projects relies heavily on an organisation's talent.
"Therefore, leaders must factor in multiple qualities when acquiring and retaining talent for such projects. Attracting skilled professionals with a comprehensive understanding of renewable technologies and sustainable practices is of utmost importance," explains Philip.
Philip also talks about the criticality of understanding the market regulations, which are diverse and vary from one state to another in India, and that is highly valued.
He adds that different business models such as OPEX, CAPEX, PPA, Captive, is also another extremely important aspect which drives the success of Green Energy projects.
"Equally vital is cultivating a workplace culture that champions environmental consciousness and empowers employees to contribute meaningfully to the cause. This entails providing career growth opportunities, competitive compensation packages, and a supportive work environment," says Philip.
He also feels that implementing talent retention strategies, such as continuous skill development, recognition programmes, and work-life management initiatives solidify the commitment of valuable personnel to the successful execution of green energy projects.
"By addressing these factors collectively, we can bolster our capacity to make a positive and lasting impact on the global transition to sustainable energy sources," Philip adds.
Gap between demand and availability of green talent in India
Divya Capoor, Chief of Human Resource Development (HRD), Oil and Natural Gas Corporation (ONGC), explains that the green energy industry is still in a nascent stage and talent in this space is limited. The sector will further open up multi-disciplinary roles and opportunities in terms of job creation with time.
"Skills in areas such as solar and wind energy technologies, energy storage, energy systems engineering shall be particularly in demand. Demand for a skilled workforce with transferable skills will rise exponentially as higher skills are required for more complex installations," Capoor says.
She further says that the skill gap is primarily due to lack of awareness and lack of access to essential academic or vocational courses since only a few Indian universities offer courses related to renewable energy.
According to Capoor, some of the challenges and opportunities in this industry with regard to human capital are as follows.
1. Most green energy projects are located primarily in remote areas and offer blue collar jobs.
Most renewable energy projects are coming up in remote geographies, where there is often a lack of skilled labour. This, however, offers opportunities to create employment development in such geographies.
2. Need to continuously upskill and reskill in transferable skills for Green Energy Projects.
To attract and retain talent, organisations should go beyond compensation and benefits strategies and use training programmes that allow building 'transferable skills' and showcase long-term career paths, offering multiple tracks in different specialisations.
3. The industry needs to offer opportunities to more women to take up technical roles, due to the new age techno-commercial jobs.
Governments and corporates need to consciously sponsor inclusion of women into the engineering trades in ITIs.
Addressing the green talent crunch
According to Patial of MG Motor India, addressing the shortage of green talent in the automotive industry requires a multi-faceted approach that involves attracting, training and retaining individuals with the necessary skills and passion for sustainability and environmental consciousness.
According to Philip of Schneider Electric, the green energy industry can address the shortage of green talent by enhancing education and training opportunities for youth, promoting awareness of green careers, fostering industry-academic partnerships, offering internships, providing incentives to employees, facilitating professional development, encouraging networking, while also promoting diversity and inclusion within this space.
Philip says it is also pertinent that there need be a constant dialogue between the industry and the government to create a framework that allows skilling for green jobs.
Capoor of ONGC suggests that the rapid increase in demand for skilled workers with experience in renewables does not match the supply of the workforce and it will take time to train people up.
She says that the transition to the green economy provides a tremendous opportunity to include India's rural youth in the green energy transition, by equipping them with the necessary skill sets.
"Government, organisations in green energy business must partner with schools, ITIs, colleges and universities for tapping the talent of rural youth in geographies with green energy potential to build a skilled green workforce pipeline," says Capoor.
She adds, "Vocational training centres, ITIs and universities in such geographies need to be encouraged more to offer green energy, energy efficiency and sustainability specific technical skills courses."
Initiatives by companies
ONGC is investing in structured development of its frontline and mid-level executives to make them "green role" ready.
It has an ONGC Academy which centrally undertakes training and development programmes focused on climate change, sustainability and green practices aiming to enhance the knowledge and skills of managers and professionals in the areas of renewable energy, sustainability and green technologies.
Capoor says, "The goal is to nurture leaders who can drive sustainability efforts and green energy missions within the organisation. ONGC is also working to create a more diverse and inclusive workforce which is essential for innovation and creativity."
Apart from ensuring reskilling and upskilling in specific technical domains, ONGC also conducts leadership development programmes in collaboration with premier institutes that promote the adoption of green mindset and environmental conservation.
"Parameters for Health, Safety and Environment are part of individual performance KRAs to further strengthen the green energy mindset at employee level," Capoor adds.
Schneider Electric has established global and local programmes such as the 'Sustainability Consulting Leadership Programme' and the 'Global Marketing Graduate Trainee Programme'.
"These initiatives are designed to shape the workforce of the future, empowering employees to lead the pursuit of sustainable solutions," says Philip.
Furthermore, Schneider has gone ahead and taken proactive steps to enhance climate training for all its employees through the Schneider Sustainability School.
This is a unique platform which offers certification at three levels – novice, advanced and expert – to ensure that all the employees gain a comprehensive understanding of the key topics like ESG fundamentals, circular economy, renewable energy, energy efficiency and sustainable transportation.
"Accessible to all, this digital platform fosters knowledge, skills and innovation, enabling our employees to develop climate-positive solutions. This programme is applicable to every employee of Schneider, irrespective of their function and roles," Philip says.
Schneider Electric also has an initiative, called Go Green, wherein students across the globe are invited to submit their ideas against sustainability themes. These college students share their most disruptive ideas to make a real difference in the world, and the winners are provided with career and networking opportunities.
Patial of MG Motor India mentions how the company believes that investing in developing young minds is crucial for the growth of the automotive industry.
To achieve this, MG has taken significant steps towards fostering a skilled and competent workforce through various initiatives-
Through MG Nurture, the company has partnered with 22 reputed engineering colleges and ITIs to upskill students in Electric Vehicle and Connected Car technologies.
The initiative aims to develop students beyond theoretical knowledge and actively bridge the gap between academia and industry.
"Our partner colleges have our technologically advanced vehicles and cut sections of engines to help students gain first-hand knowledge of major automotive systems by imparting a practical understanding of multiple components, technologies and procedures," says Patial.
Moreover, the two-semester elective course with the vehicle is designed in such a way that it also instils soft skills and prepares the students for the future job market.
"Our focus is at nurturing in-house talent by fostering a collaborative environment where cross-functional teams thrive across different departments. These teams consist of individuals with diverse expertise and skills who actively engage in extensive knowledge sharing, and constantly support and elevate each other to drive progress and innovation," says Patial.
He adds that by empowering the future workforce with the latest automotive technologies, MG Motor contributes to a brighter, more sustainable future for the industry.
"Our initiative aims to create job-ready professionals who are well-versed in green automotive practices and are ready to tackle the challenges of tomorrow's automotive world," Patial concludes.
Source link