HR Technology
How HR can use people analytics to bring organisation-wide transformations, ETHRWorld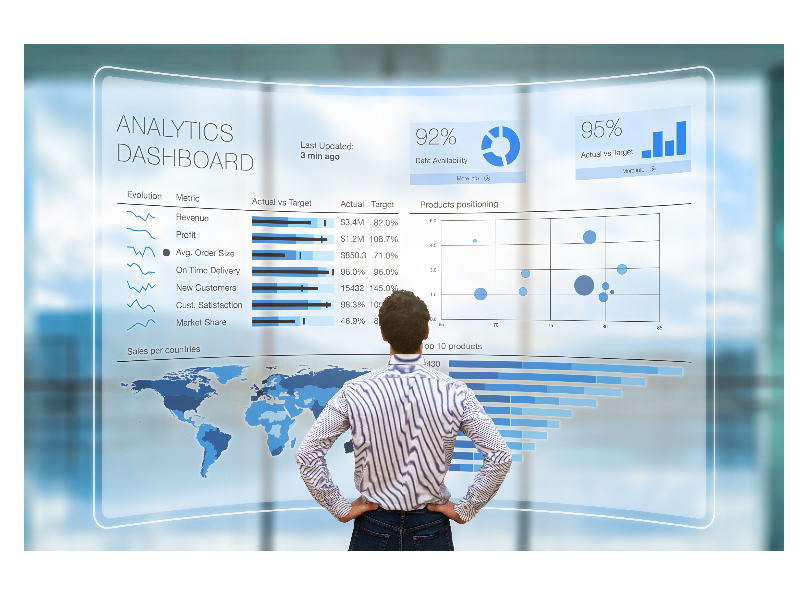 By Abhishek Sahu
Human Resources have always been at the centre of any business, fuelling growth and success. HR functions have immensely benefited from the rapid adoption of technology. These are critical levers to enable businesses to harness the maximum potential of people's competencies. Industry experts say analytics plays a critical role in the entire 'hire to retire' journey of employees.
Until recently, Human Resources were viewed solely as a people-oriented function and were prized for their admin and soft skills. However, the Covid-19 pandemic forced most businesses to go lean and agile, and also taught them to rethink the scope of HR.

HR leaders who can identify & analyse data will be in high demand
Analytics has become a core part of the workforce management. The sudden transformation brought on by the pandemic makes it crucial for HR professionals to master data skills to optimise their day-to-day functions, as well as to bring efficiency in their work culture.
With decisions being backed by data, Gaurav Vohra, Co-Founder & CEO, Jigsaw Academy, said it becomes imperative for HR professionals to fuse digital solutions with their knowledge of the HR industry.
"Those individuals who can use tech tools to analyse data and use the results to drive change and make an impact for businesses will undoubtedly be more valuable than someone who relies on traditional skills and methods alone," he said.
Similarly, Dr Sourav Mukherji, Chairperson, Centre for Teaching & Learning; Chairperson, Centre for Management Communication, and Professor of OB & HRM at IIM Bangalore, propounds, that with the increasing ability to collect, store and analyse more data through IT products, HR functions in organisations are encouraged to take decisions based on data analysis, rather than intuition.
He said, "Therefore HR leaders and managers, who are ready to validate their hypothesis such as who is a good hire, or what are the early signs of employee attrition through the analysis of data are likely to see better results/performance and therefore, likely to succeed as professionals."
Investing in people analytics changes the overall experience of HR operations
Industry experts deduce that leveraging data to bring in organisation-wide transformation is going to be a key characteristic of the modern HR and contemplate that people analytics is a part of that.
Supporting the same, Ravi Kaklasaria, Founder and CEO of SpringPeople, said any change in an organisation has a ripple effect, and that's one of the reasons why HR functions need to shed their conservative role and use technology effectively to make unbiased data-backed changes.
"With people analytics, HR professionals can identify areas that are better left to automation and increase employee engagement which in return enhances productivity. Also, people analytics enables HR to use their historic data to improve their future recruitment and leads to better hires who fit in seamlessly," Kaklasaria explained.
Hailing the structured development in people analytics, Pratyush Banerjee, Assistant Professor, Department of Human Resource Management, T A Pai Management Institute (TAPMI), said HR managers are for the first time garnering some respect and attention from top management.
"The traditional functions of recruitment and talent management are significantly impacted by this (people analytics) movement, where we can witness the applications of machine learning algorithms to predict future attrition, future promotion, and joining probability of selected candidates. The cost-saving proposition in this regard is vast and firms are greatly benefiting from streamlining their existing HR functions in a data-driven manner," he said.

How HR professionals can excel in future jobs
The pandemic is one such crisis that has put CHROs and their teams in the hotspot. It has presented the HR function a ripe opportunity to lead the organisation showing the way forward for the future. Experts said that the onus is now on HR to nurture, recruit, and sustain a future-ready workforce.
Commenting on the must-have skills for HR professionals to excel in jobs of the future, Krishnan B, Senior Director – HR, Omega Healthcare Management Services, said data literacy, resilience, trust, and tech-enabled skills are the most demanding ones.
"With organisations undertaking enterprise-wide transformations adopting technology into the length and breadth of their operations, there is no escaping technology. I see this becoming an essential skill for everyone," he said.
As HR heads are being looked upon as leaders in these difficult times, Krishnan B said there is a greater dependency on them to provide answers and insights that will help the business make informed decisions. "We cannot afford to go wrong with reporting and guiding the management, telling them what to do. Data literacy is thus a must-have skill set and not an option," he added.
Dr Mukherji from IIM Bangalore emphasised on skills that will remain critical as they were in the past. He mentioned HR professionals to be empathetic, having a deep understanding of human behaviour and to be able to relate human resource management issues to the strategic or business objective of the organisation.
"The last one implies that HR professionals need to be well aware of the business challenges of their domain so that they can translate such challenges in terms of human resource management objectives," he said.
Following the same, TAPMI's Pratyush Banerjee called for developing data visualization and storytelling skills. Besides, data-driven decision making and a strong foundation of statistics and machine learning can prove to be a gamechanger, he said.
HR functions, backed by emerging technologies, require time to mature
As businesses across boards are swiftly adopting digital tools to cut down operational costs and work towards workforce optimisation, the requirement for effective HR management practices is increasing across industries.
However, industry leaders realise that People & HR analytics is still at a nascent stage. "One must not expect absolute accuracy with these tools and techniques because a system learns from data, and data is accumulated over time. HR functions, backed by emerging technologies like AI, require time to mature before they can help HR professionals in decision making," said Gaurav Vohra.
It is significant to note that though the subject of digital transformation has been hovering around for many years, it took a pandemic to accelerate digitization in many organisations. "People analytics, and emerging technology adoption, though much talked about, is progressing at a snail's pace in many organisations," SpringPeople's Kaklasaria said.
The main reason for this, he said, is due to unskilled talent who are wary of using the latest innovations. "In this scenario, the only way to bring about any significant change is through upskilling, and making learning an integral part of an organisation's culture," he said.
Krishnan B said despite people analytics offering a range of benefits, the choice of tech platform depends on the business, its people, and the specific requirements.
"No one size will fit all. There are plenty of options available in the market and organisations have to conduct due diligence before adopting/migrating to a new HR platform. Just going by the industry trend and skipping this step can prove to be too expensive," he added.
Source link