HR Technology
How HR Is Using Generative AI in Performance Management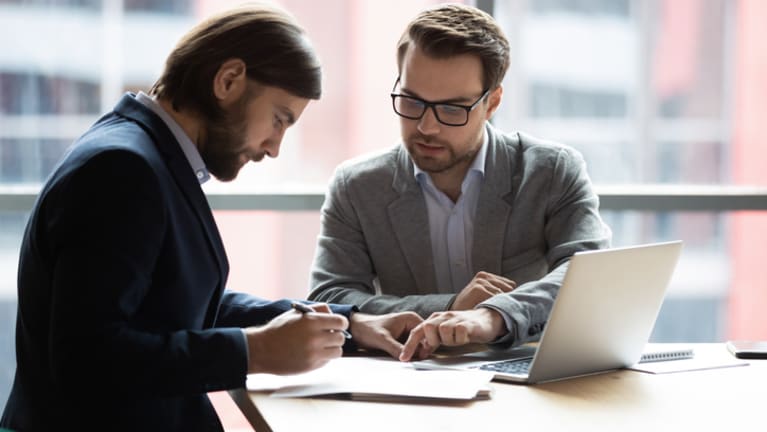 ​While more HR pros are using generative artificial intelligence (GenAI) for recruiting, employee communications and learning tasks, they've been slower to use it for performance management. HR leaders and industry experts alike have been wary of the potential for creating problems like review bias in using ChatGPT for the sensitive and often highly charged process of providing performance feedback.
HR leaders have begun to install safeguards that govern the technology's use and are forging ahead to use generative AI in ways that save managers time, make the administrative parts of the performance management process less tedious and seek to improve the outcomes of performance reviews.
SHRM Online spoke with three experts in performance management for insights and real-world examples of how ChatGPT is being used today in organizations and how the technology might be applied in the future to improve the efficiency and effectiveness of the oft-maligned performance review process.  
Summarizing Multiple Sources of Performance Data
Performance management experts say one of the most valuable uses of ChatGPT is its ability to summarize multiple sources of both formal and informal employee performance data. The tool can collect data constantly, not just at certain points throughout a year, which helps avoid problems like recency bias.
Kenneth Matos, global director of people science for Culture Amp, a performance management, engagement and development technology platform based in Melbourne, Australia, said generative AI can save managers time and lead to more well-rounded performance evaluations by collecting things like peer- or customer-generated performance data.
"That might include the kudos people receive in Slack channels or email conversations about their work performance as well as comments about skill areas where they need to improve that's been captured in digitized text," Matos said. "GenAI can scrape your internal data and put together good performance summaries for managers to review."
Doug Dennerline, CEO of Betterworks, a performance enablement technology platform in Menlo Park, Calif., said this next-generation AI also can be used to analyze communication and collaboration patterns in companies to help boost performance and improve inclusiveness.
"ChatGPT can become a quintessential organizational network analysis tool, analyzing in real time every conversation happening in the organization from email, Slack, Teams or other communication tools," Dennerline said. "AI has the power to connect the dots and make sure all parties within organizations are on the same page and no one is left out who shouldn't be."
The benefits of generative AI convinced Betterworks to greenlight use of the technology with its own workforce, Dennerline said, with the company also adding protections and implementing training to ensure the tools' ethical and effective use.
"We have made ChatGPT and similar tools available to all of our employees and made a point of asking them to experiment with them to find ways to be more productive and compare the different tools," Dennerline said. "We share ideas for how to leverage ChatGPT internally and we recently had an internal hackathon to brainstorm and develop ideas for our performance management solutions."
The technology also factors heavily into Betterworks' road map for its performance enablement platform. "We are now using it to write marketing content and for faster generation of code and for code review," Dennerline said.
Moving the Focus of Performance Reviews from Paperwork to Conversations
Experts say generative AI, when used effectively, not only can save managers time, but also helps create more understandable and thus actionable feedback for employees. One way it does that is by taking bare-bones bulleted lists or notes compiled by managers about employee performance and—once managers use good prompts—transforms them into a more comprehensive and cohesive performance review draft. 
"It makes it easier for managers to add more depth or color to components of their feedback and often articulate things in a clearer fashion," said Cara Brennan Allamano, chief people officer for Lattice, a performance management platform in San Francisco. "Because they're not spending as much time up front wordsmithing a first draft of a review, managers can spend more time editing or refining their perspectives or observations based on the performance data compiled."
Matos believes one of the biggest advantages of using ChatGPT is freeing managers up to spend more time talking one-on-one with employees and less time summarizing data or writing reviews.
"If you look at all of the writing time required in a typical performance review, generative AI can significantly reduce that in producing a first draft," he said. "Even after editing that draft, you still have more time to actually talk with employees about their behaviors or accomplishments, to get their feedback and explore things like creating development plans. It can change performance management from an impersonal exercise to one where you're having more in-depth and meaningful conversations with employees."
Matos said ChatGPT also can help managers or employees who only need to write infrequently for tasks like performance reviews and, as a result, may not have developed those skills.
"A manager might be tempted to say someone has an 'attitude problem,' for example, but with a good prompt, ChatGPT can come back with language that is more constructive and maybe provides better guidance for the employee being reviewed so he or she isn't left thinking all they need to do is smile more on the job to address the perceived attitude issue," Matos said.
Goal Setting and Creating Personalized Development Plans
Managers in some organizations are using ChatGPT to help create performance goals for employees based on defined sets of criteria. Some of these tools also create action plans to accompany the goals.
Betterworks uses AI and machine learning in its platform not just to help managers write higher-quality performance feedback, Dennerline said, but also to assist employees in setting better objectives and key results.
Generative AI also can create personalized learning plans for employees based on the outcome of performance reviews. ChatGPT and other forms of GenAI can suggest specific learning courses or content based on those reviews as well as on an employee's preferred career path or development plan.
Helping Employees Prepare for Performance Reviews
Another way companies are using ChatGPT today is to help employees prepare for performance reviews by compiling and synthesizing data on their own accomplishments, behaviors or goals achieved.
Brennan Allamano said she's become aware of this emerging use of ChatGPT through discussions with her HR executive peers and Lattice's Resources for Humans community on Slack, which has 20,000 HR professionals as members.
"This use allows employees to go from only using bulleted lists or notes of their achievements to using ChatGPT to quickly create more comprehensive and detailed drafts of their accomplishments that they can polish to make a more compelling case for the performance they're providing to their organization," she said.
Addressing Risks of Generative AI
Anyone who's followed the ChatGPT phenomenon knows the technology also comes with limitations and risks that need to be addressed by HR functions and their legal teams. Recruiting software company Textio, for example, recently conducted an experiment with ChatGPT that highlighted the dangers of the tool creating gender-biased performance feedback. Generative AI also will likely face new federal and state legislation designed to ensure it doesn't foster bias or discrimination when used in hiring or promotion decisions.
Experts say policies and employee training to govern the use of GenAI in performance management should cover a number of key areas.
"Organizations should be aware of generative AI's challenges and risks, including but not limited to sources being unknown, making the workplace less human and creative, lack of critical thinking, and too much similarity across content where variety and specificity is essential," Dennerline said.
ChatGPT also has been known to produce inaccurate information or false positives, Dennerline said, and HR functions should address those risks as well as other concerns. "Leaders should coach anyone using ChatGPT to be transparent about its use and not to claim content produced by the tool as their own," he said. "Any organization would benefit from educating itself on the liability of using generative AI tools and working with their legal teams to determine what needs to be done to protect customers and employees when using them."
Brennan Allamano said one of the biggest concerns about using ChatGPT is the prospect of its output being biased based on gender, race, age or other protected worker categories. "The words that it generates may not always be aligned with the values of your organization if you're using the version of the tool trained on the internet's broad dataset," she said.
To that end, she said, companies have the responsibility to create guardrails and employee training that ensure human review and accountability for GenAI's output.
"Here at Lattice, we've created a clear policy and communicated that if you use generative AI tools, responsible use includes owning the final work output," she said. "That means ensuring you verify sources of data and assess whether any of the terms or tone of content ChatGPT generates could be biased. We believe there will always be a need for the human component to review and contextualize the output of generative AI."
Dave Zielinski is principal of Skiwood Communications, a business writing and editing company in Minneapolis.