Source | PeopleMatters
The Background
In the previous article we saw how varied and complex the Recruitment Technology space is. As an HR leader you are supposed to navigate this space with aplomb. In our efforts to help HR leaders in general and Indian SMB HR leaders in particular, we are looking to do a detailed evaluation of most Recruitment Tech products available in the Indian market. We are aware that with the advent of SaaS based solutions products created in the US or Europe is easily accessible for Indian companies, however, we are not focusing on those solutions. We may mention some of such innovative products which are created in the US or European market and believe these "white-spaces" are covered by Indian companies sooner than later.
Recruitment Tech – Local or Global
For a global organization the heart of recruitment tech – Applicant Tracking System (ATS) will essentially be global. Some other solutions – for example – Employer Branding, Sourcing and Background verification – can be local. This naturally creates a need to integrate various other plug-ins to the central ATS solution. Thus ability to integrate easily with a variety of tools is a key component for any global Recruitment Tech solution.
However, if you are an Indian company & an SMB player then recruitment tech service provider can be a global player available locally or a local player. Our advice is to consider your needs & then do an evaluation of the specific player/s to make a final decision. It is not necessary that just because the player is Indian or global they would be able to meet all your current & future needs.
The Evaluation Process
Considering that we are largely looking at Recruitment technology product companies we identified certain parameters which we thought are critical for an initial evaluation especially given the vast data set distributed across the length & breadth of the country. We came up with a simple criterion which can be generically used for evaluation of Recruitment Tech solutions & most HR leaders should consider these parameters/questions while evaluating the solution provider/s. While these are generic parameters when applied to a specific HR Tech space – they will help you arrive at a filtered list which can then be further evaluated for your specific business need.
Our purpose here is to present generic criteria we are not considering a feature based comparison for the scope of this analysis. We recommend that you do a complete feature evaluation once you have decided your exact need considering your business context.
For a more detailed evaluation, you may refer to a more generic HR Tech evaluation framework available here
Some questions we asked ourselves before we arrived at these parameters are:
What are the typical questions one should ask while filtering from various options available in the market?
What parameters should help an HR leader separate the players based on generic criteria even before we do a feature comparison?
What should come first – the credibility, stability, domain expertise of the vendor or the product features? We have taken a stand in favour of the former here.
The table below gives you the criteria used for evaluation and the scale used to score these companies on these parameters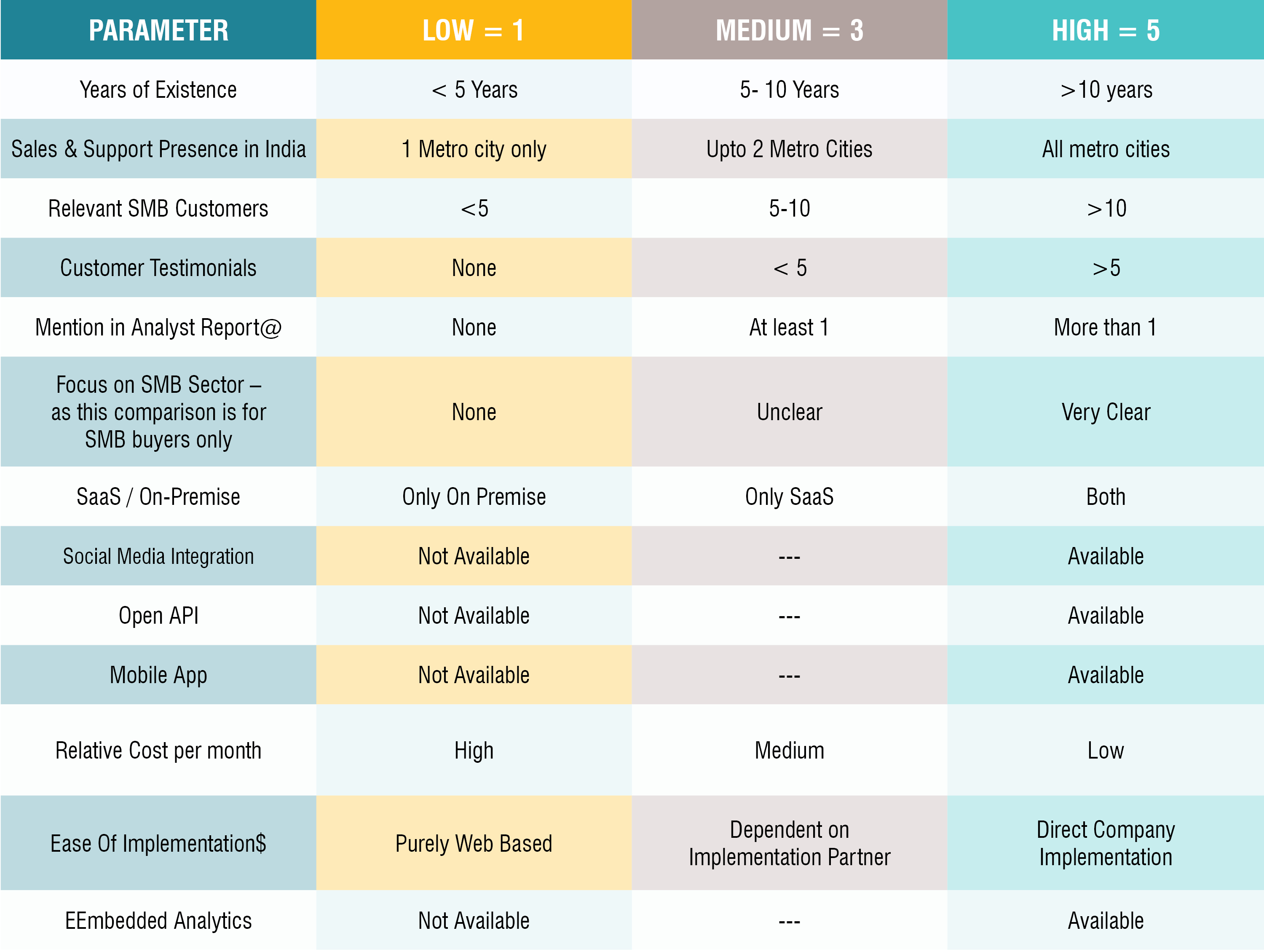 @ – Analyst reports considered are Nelson Hall, Gartner, Bersin by Deloitte, G2Crowd, TrustRadius and CB Insights.
$ – Given the context of SMB – complete self-service module is considered difficult because the implied subject matter expertise may not be available in the company.