By | Kaajal A | www.jobsforher.com
Heard of the old paradox: 'I need a job to get experience but I need the experience to get a job'?
So, you're ready to jump into the work arena but don't have any work experience to show on your resume. No problem! 
We've researched and curated ways for you to showcase all that you can, to emerge a winner and bag that interview and that job. 
If you're a fresher, just out of college, at the threshold of your career dreams, then this is your first shot at writing a resume. And with no prior experience in drafting one, a few tips handy might just make all the difference in making a 'first impression'.
If you're a late bloomer, one who found her career calling later in life, eager to give life to those aspirations, then here's how you can write a winning CV to get that interview call and land a job.
You can find your dream job and all that you need in your career, with JobsForHer
1. Highlight Your Qualifications, Skills, and Achievements
2. Mention Any Additional Courses, Certifications, and Experience
3. Choose Your Resume Format
4. Include a Resume Summary Statement
5. Draft a Kick-Ass Cover Letter
1. Highlight Your Qualifications, Skills, and Achievements
So let's talk about all that we can and should flaunt. 
Begin with elaborating on your educational qualifications. Then dive into the skills you bring to the table, especially those that are well suited to the job role in question. You could also customize each resume with skills that best cater to the position. 
A few examples:
Time Management

Organizational Skills

Customer Support

Active Listening

MS Office
…and the like.
When it comes to achievements, don't be shy of listing any recognition you garnered, in the form of a title, trophy, certificate or more. These portray the diversity of your talents. 
So whether it was 'Student of the Year', 'Best Project Presentation', or 'Winner of the 400m Race', flaunt away! For each award or accomplishment, list where you received the award, the name of the award, the date you achieved it and a brief description, if necessary.
Hobbies on a Resume: How to Use Them to Show Professional Skills 
2. Mention Any Additional Courses, Certifications, and Experience
Reserve an area on your resume if you took the effort and time to sign up for any of these.
Courses and certifications outside your education, add value to your professional skills, and ultimately to the organisation you wish to work with. Companies appreciate professionals who devote time to upskilling themselves. However, remember to translate on your resume, how your learnings will benefit the role they're considering you for. 
Also, if you ever volunteered or spent time in community service, say it loud and proud. 
Planted trees with a local citizens club to increase green cover?
Helped in the segregation of waste with an NGO?
Engaged in reading and other activities with a group of senior citizens?
Totally worth a mention. Such experience lets recruiters know that you're a well-rounded individual.
Update Your Resume. Get Noticed. Get Hired.
3. Choose Your Resume Format 
Typical resume formats alternate between Functional, Chronological, and Hybrid, with the latter being a blend of the first two.
A chronological resume format lists a candidate's work experience in reverse-chronological order, and then focuses on skills, educational qualifications and more. 
A functional resume format, on the other hand, focuses on highlighting a candidate's skills and achievements, rather than work experience. 
Although the chronological format is the more preferred one among employers, the functional format works better for job seekers with little or no prior work experience. However, no matter what format you choose, maintain its consistency across your CV. 
Resume Keywords – What, Why, and How
4. Include a Resume Summary Statement
The orthodox style of stating one's 'Career Objective', at the top of a CV, has faded away. What is instead becoming a popular practice, is making a Resume Summary Statement.
A Resume Summary should come immediately after your name and contact information and could include two or three sentences, with a broad overview, describing your work ethic, your level of education, your relevant skills, and your professional passions.
Ideally, each professional summary should be tailored to the specific job you are applying to.
How to Build Your Resume to Land That Job
5. Draft a Kick-Ass Cover Letter
Work experience or not, a cover letter is a must-include with every professional's resume.One that introduces you, your capabilities, and the promise you bring, to the hiring manager.
Since your cover letter will be your first impression on the recruiter, it's much like your first handshake with a stranger. Or an elevator pitch. (An elevator is a brief introduction you make of yourself, ideally within 30 seconds, to spark interest from an employer or organisation in your professional caliber.)
So, make sure it's warm, crisp, and memorable. Because depending on what you say in your cover letter, you urge your recruiter to flip the page to your resume. Find insights with this sample cover letter that we put together.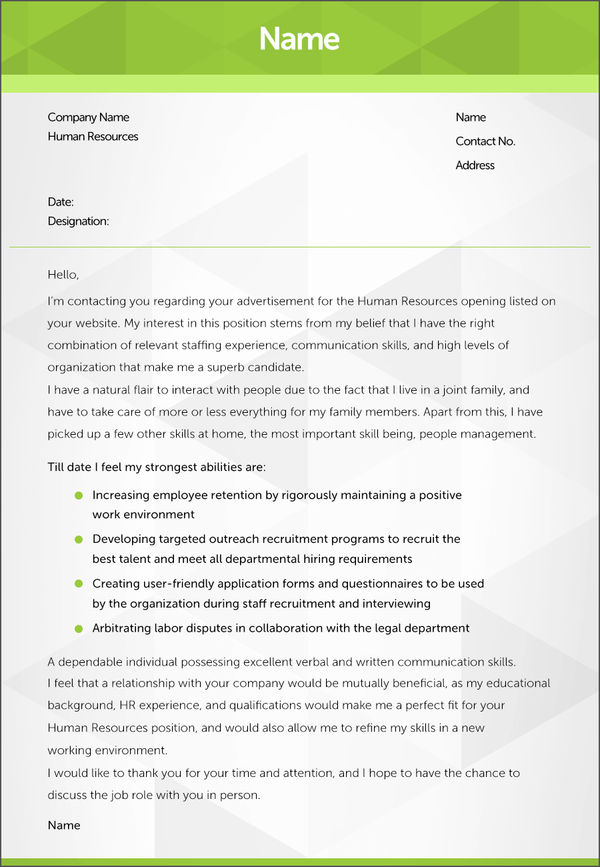 So there it is. Everything you need to draft a resume that makes an impact. Except for that one last thing for a finishing touch.
Get another pair of eyes on it before you send it out to employers. You'll be amazed at the things that have gone amiss, or the ones that needn't be there. 
Your opinion matters. Tell us in the comments below…
…what about the article resonated with you the most?
…what would you implement in your resume?
…what would you change in your CV? 
Republished with permission and originally published at www.jobsforher.com