By | Martina | www.jobsforher.com
There are many reasons why women have to take a break in their careers, with marriage, childbirth and elderly care being the most prominent ones.
Taking a break from your career can be disappointing, but on the other hand, you do it to take care of things that need your immediate attention. 
No matter how long your employment gap is, you can always restart your career.
And when you decide to do that, do you think you should mention your career gap on your résumé? 
While some may agree that you should certainly do this, others might hesitate.
The JobsForHer team says mention your gap on your résumé. Use your CAREER BREAK to stand out from the rest. And we tell you how.
Why You Should Mention Your Career Gap
Yes, you took a break from your career. And yes, you want to step back into the workplace, but don't lie on your résumé to get a job.
You will put yourself in a lot of trouble by covering up your gap on your résumé.
You took a break from your career and that's okay.
Be honest!
Mention your career gap on your résumé and show the hiring manager that you are confident about your break.
Explain Your Career Gap
Let the hiring manager know why you took a break in the first place and then you can go on to explain your break.
What did you do during your break?
Did you take a break for marriage, childbirth, travelling or other such reasons? Explain it on your résumé.
Mention the skills you picked up on your break and wouldn't have picked up otherwise. Your résumé should be able to convince the hiring manager that the break was good for you and that you are more confident about your career after the break.
Another way to do that is with JobsForHer's Profile+. With Profile+, you not only show professional skills, but also flaunt the life skills you picked up during your break.
Only when the hiring manager has all the details can they make a decision. So, go create your Profile+ now and show off everything that makes you who you are!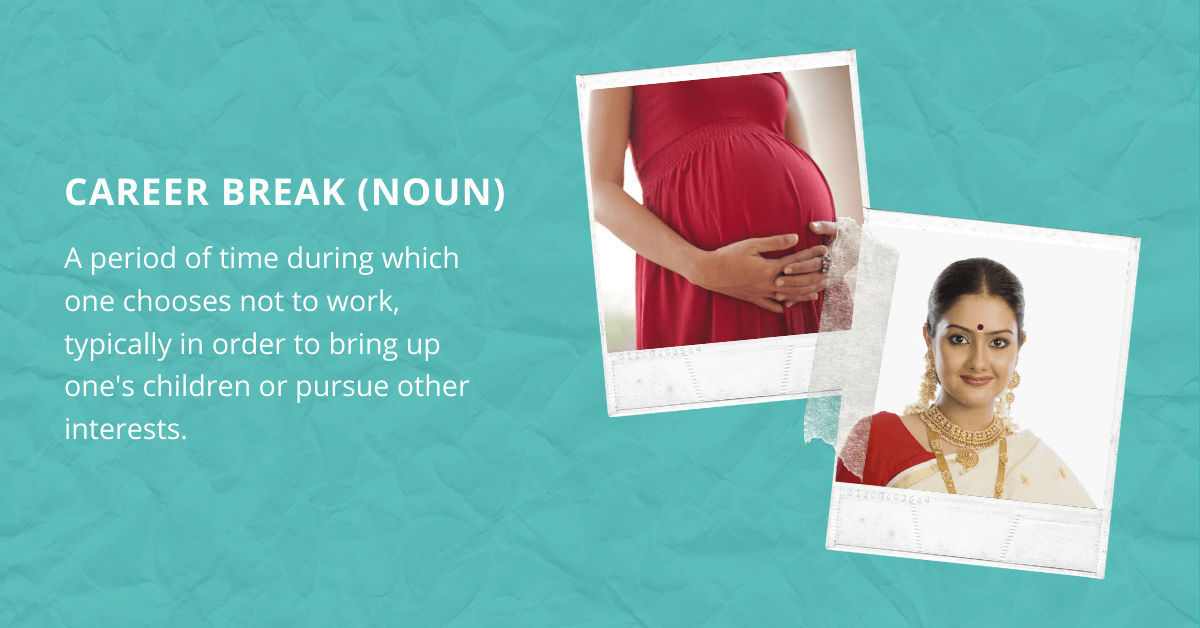 Mention Courses/Workshops Taken
A break from your career doesn't have to mean a break from exercising your skills.
While you were on a career break, you most likely did whatever you thought necessary to stay updated, such as signing up for courses and workshops.
Mentioning this on your résumé will give the hiring manager the idea that you were always serious about your career, even when you took a break.
When you took the break, you had already decided that you will step back into the workforce.
So, don't forget to mention the courses (be it online or offline) and workshops you attended during your break.
Online Presence
While you are picking up skills, signing up for courses, joining workshops and more, there's one thing that you should definitely have before you do anything during your break — have an online presence.
Have you ever noticed your relatives or friends mention their professional social media profiles on their résumés?
Along with everything you have mentioned on your résumé, your social media presence is also important for recruitment managers.
This will give the hiring manager clarity on what they are looking for. 
You can share articles, mention your education history, previous employment and other such details to help the hiring managers understand your role better.
Volunteering Stints/Internship
If you are on your break and have some time on your hands to do something that will make your restart journey easier, then don't let it slip away. 
Plan your daily chores and make time for some internship/volunteering. Some companies pay you a stipend during your internship, while others don't.
Don't allow this to pull you down, but see this as an opportunity for something huge.
When looking to hire employees, recruiters do see if you have volunteered or interned anywhere.
Having interned or volunteered somewhere works to your advantage. It shows that you had recent experience/hands-on knowledge about a certain role.
Your career gap isn't something you should be ashamed of or hide, fearing that the employer won't hire you.
Employers are looking for candidates who are passionate, confident, hard-working and those who have a vision for themselves.
Your skills, internship, courses and workshops will speak for you.
Now, don't waste any more time and start working on your résumé already. While we are on it, have you heard about the Best Résumé Contest?
To participate in the contest you have to send us your résumé soon, because the best Résumé Contest ends on January 31st. Send it to us now!
Also, do let us know in the comments section the other résumé related blog topics you would like to read.
Republished with permission and originally published at www.jobsforher.com