Hr Library
Trending
How workspace innovations are driving collaboration and agility
As companies explore more flexible working arrangements, we look at how innovations in workspaces are driving collaboration, autonomy and agility
By | Anne Majumdar | www.theceomagazine.com
Gone are the days of dusty desk cubicles, tapping away in isolation under the harsh glare of strip lighting or clock-watching in a soulless meeting room as the hours tick by. With more and more businesses pursuing an 'agile' way of working, workspaces have to follow suit to support this new era of flexible working, with dynamic new layouts that foster creativity and collaboration.
This is even truer now as hybrid working arrangements become the new norm post-pandemic. Workers want to dip in and out of a space that makes their working hours fun and inspiring while supporting their professional objectives.
"The world of work has changed enormously in the last two years, as organisations start to realise the opportunities that are emerging due to hybrid working," Sean Wilcock, Associate Director of architect firm Davenport Campbell, tells The CEO Magazine. "We are coming out of the dark and starting to figure out how we can all work better together."
It's a change that is perhaps long overdue. Even before the pandemic burst onto the scene, changing the way we work ostensibly forever, companies were wasting vast sums on office space that wasn't being properly used. As far back as 2017, a study by Philips Lighting estimated that businesses across the globe were squandering up to US$1.5 trillion in wasted office space, financial losses and a carbon footprint that could be reduced through a process of renovation and tech upgrades.
The Agile Refit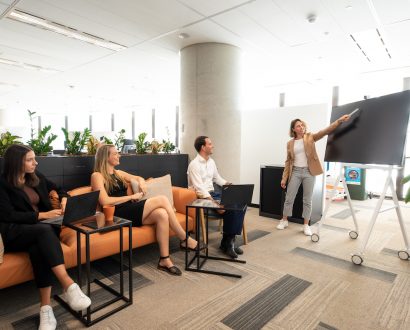 The beauty of an agile workspace lies in its offer of choice, control and flexibility. Featuring open-plan workspaces, breakout areas, quiet zones and touchdown areas, they make any style of work possible. Whether you feel like brainstorming, need to have a more private meeting or simply want to get your head down in peace, there is a space for you. By empowering employees in this way, companies are letting them decide how they work best, enhancing productivity and satisfaction – great news for everyone.