By | Marissa Pinto | www.jobsforher.com
On March 2, 2021, JobsForHer hosted a networking event for women content writers —  an exclusive virtual event for women to interact with other experienced, freshers, full-time, part-time and freelance content writers.
Women from various backgrounds were a part of this virtual meet, exchanging their stories and the challenges they have faced along the way. It was an insightful and informative session. We have more engaging networking events coming up. Make sure to not miss out on the next one.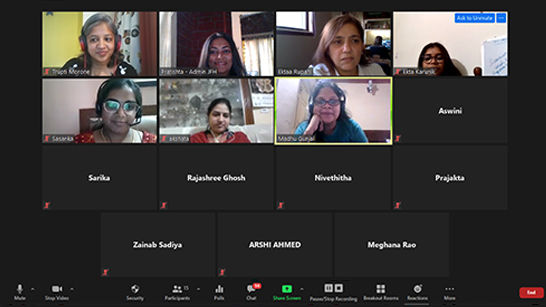 Here are a few takeaways from the session:
How to get started?

Identify the industry you want to write for, followed by the style and type of writing — blogs, ads, video scripts, website content, etc. Choose an area or domain that you already know something about. It becomes easier to write and also enjoy the process.

Always keep your portfolio updated with your recent content work (samples). This is essential for both experienced and fresher content writers. It showcases your style of writing, language, creative approach and ability to dive into the given topic. Portfolios are a great start, especially for women looking to make a career switch.

Write, write and write. While waiting for an opportunity to come your way, continue to write. Churn content on your social media handles, create your Profile+ on JobsForHer, app reviews, on Quora and so on. Get as much practice as you can; post your work, get feedback. This helps improve your visibility as a writer.

Start a blog or a page. Write about the industry you want to be a part of. Write well-researched content and post regularly.  
What challenges to expect?

Writing copyright-free content is not an easy task, but you have to always aim for it. Give citations and credits as and when necessary.

The authenticity of the content is very important. Is the data verified? Is my source credible? Is the given data updated?




Do not use third-party websites to refer to content or data for your work. Research first, verify second and then write.

Clients always want the content to rank first on the search page. Having a good understanding of SEO is crucial.

As much as you'd like to write about diverse topics you will, over a period of time, realise that it's easier to stick to one subject. Also, subject-matter experts get paid well.

There are no defined work hours.

Imposter syndrome becomes your worst enemy. Self-doubt arises when you are writing or you are waiting for some writing projects to come your way. 
How to upskill?
Take a copywriting course — it always helps in polishing your writing skills and your vocabulary.

Learn content optimisation techniques. SEO plays a major role here. 

Learning a bit of digital marketing definitely gives you an edge. 

Read.  The more you read, discuss and put your work out there, the more of a seasoned writer you become. 
How to negotiate? 
Ask to be paid for your time spent researching on the subject, the number of edits and the number of words. 

Build yourself as a brand with the kind of content you write and post. That way, the negotiation becomes easier and you are seen as an authentic and professional writer.

Feel free to decline an offer if it doesn't work for you.
Have questions you'd like answers for?
Reach out to women content writers here.
Republished with permission and originally published at www.jobsforher.com