By | Priya Kumar | www.jobsforher.com
Call at 10:30 tomorrow
Have to soak rice
Need to have a huddle with the team
The laundry is yet to come
Wonder what they will say at the PTM…
Being a mother is one of the most difficult yet beautiful things in this world. Born as a little girl with big dreams and small fascinations, someday her priority will be to take care of her children. 
Thousands of women let their careers take a back seat owing to motherhood, which involves a constant battle with postpartum trauma, depression, sleep deprivation, and body changes. But the most significant of all is the feeling of being loaded with responsibilities and a new lifestyle to adapt to. 
But little does she know that becoming a mother will just make her stronger, gearing her up to face the world with a fresh new perspective and a lot of respect for all the mothers who are handling difficult situations like champions. That's when she gathers the courage to rekindle her dreams of being independent; that's when she decides to restart her career – something she has always been passionate about.
The transition into a working mother can be smooth if she has a strong support system. This helps in making necessary adjustments and arrangements to her schedule and gives her time and energy to manage motherhood and career efficiently. Once she passes these hurdles, there is no looking back.
Now that her career has taken off smoothly, and the children are growing up, there is a method in the madness. There is a routine she sets up and follows it to the tee. Yet, once in a while, there comes a time when she is under immense stress at the workplace and is unable to devote as much time to her children as she usually does. That is when a big green monster called GUILT rears its head.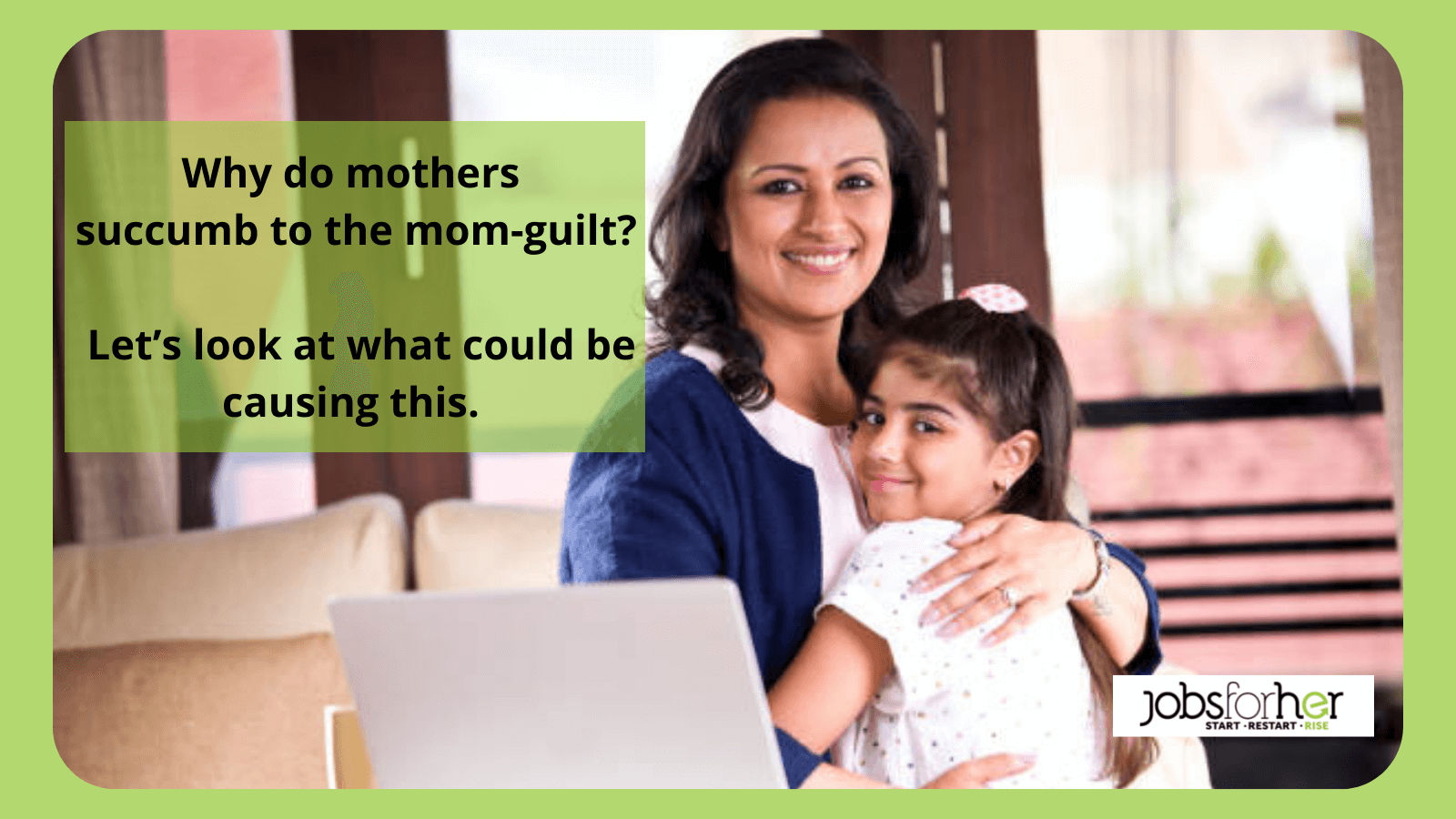 Stop overthinking. Do your best always and things will fall into place

Don't try and figure out which one is more important: Family vs Career. Find a balance by prioritizing tasks

Don't beat yourself up if you cannot multitask. Focus and get things done one at a time if that's what works.

Time-management: We call it energy management. Put your energy where it's most needed instead of going through a burn-out.

You can't be perfect all the time and that's okay. Let the small things go. Do your best.

Ask for help. Indulge in conversations with your family, tell them how you're feeling.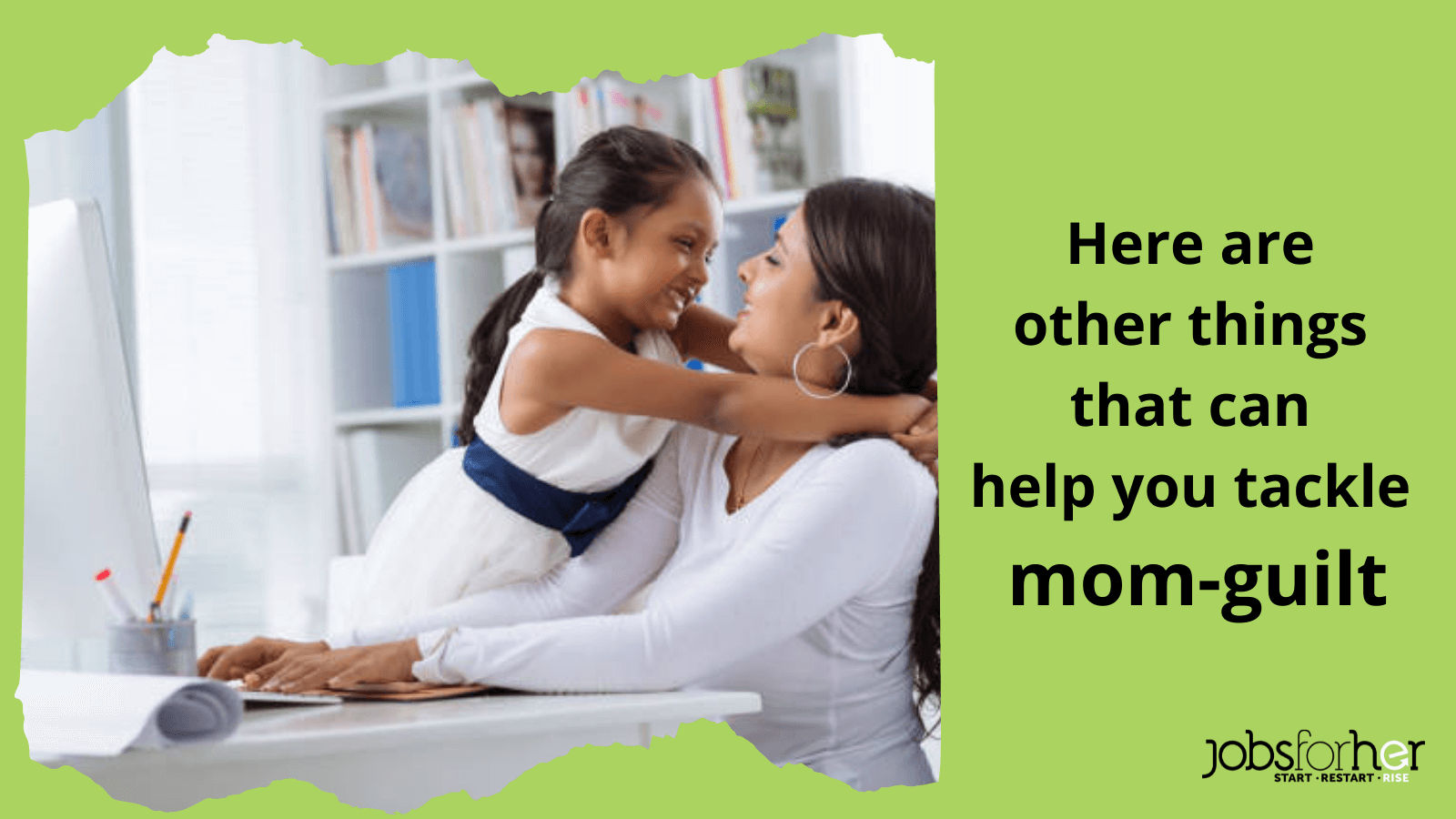 Plan your day according to your schedule.

Carve out a time in the day for a few minutes to check on your kids.  

Fix a family-time for a few hours every day.

Seek happiness in small things. Appreciate those little help from your family.

Pamper your children with what they deserve out of their preferences.

Keep calm. To err is human. 

Never be harsh on yourself. Remember self-love is the best pill to overcome guilt.

Try work-from-home opportunities. That way you can avoid long hours of commute and spend time with your children without compromising on your career dreams. 
If you have any tips and tricks to overcome mom-guilt, let us know in the comments and help build a community of happy mothers! 
And you're welcome to join the JobsForHer Tribe of 2.8+million women and embark on a splendid career journey. 
Whether you are a fresher, a woman returning to the workforce or a woman looking for senior roles, we have it all, and more.
Signup now for your next big career break 
Republished with permission and originally published at www.jobsforher.com