By | Ujwala | www.jobsforher.com
On December 16, 2020, Nike, Inc. and JobsForHer hosted nearly 100 aspiring women in tech for an exclusive opportunity to interact with senior Nike leaders, learn more about available jobs, Nike's work culture and the future growth opportunities at the India Technology Center.
 The global panel included:
Bjorn Anderson, Lead, Global Talent Acquisition

Kylie Penn, Director, Talent Acquisition, Global Technology

Jena Rose, Director, Portfolio Management

Priya Jogi, HR Specialist

Chandra Akula, Senior Director, Enterprise Data & Analytics
 The session kicked off at 8.30 am IST and was a morning full of insightful, candid tech talk and conversation.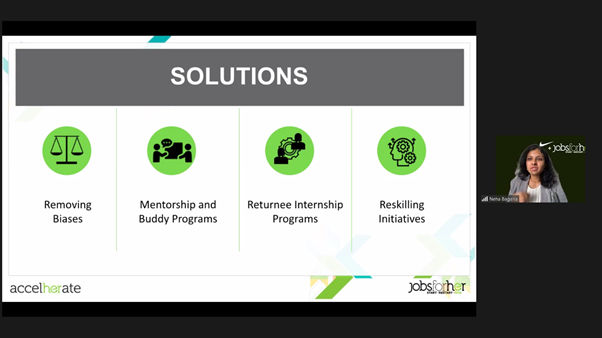 Neha Bagaria, Founder & CEO, JobsForHer, kickstarted the event and spoke about the importance of Diversity and Inclusion in the workplace today, and how the world needs more women in technology, especially in the post-COVID world.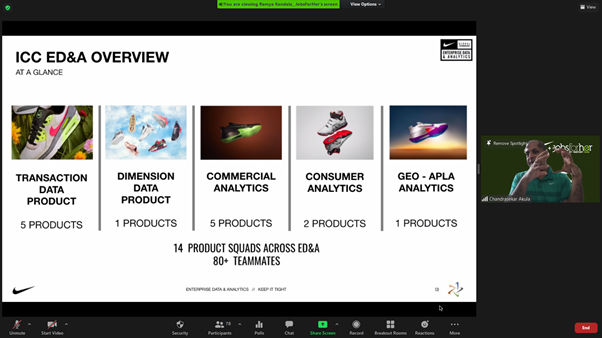 Chandra Akula shared the current state and value proposition of Enterprise Data & Analytics' India Technology Center, followed by a fireside chat between Kylie Penn and Jena Rose about Women Leaders at Nike.
The session ended with a thought-provoking Q+A with the audience.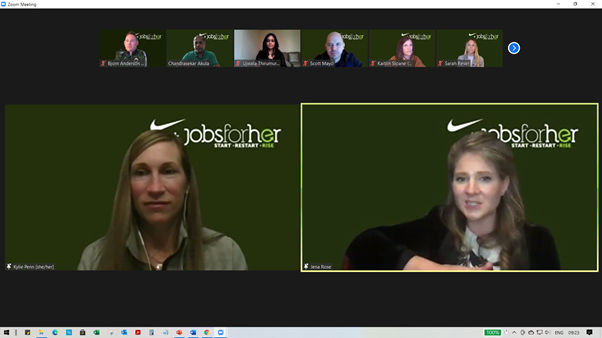 "It was such an honor to be part of the JobsForHer Nike event! At Nike, we are committed to building a diverse and inclusive environment where every team member knows that they can achieve their career goals. Organizations like JobsForHer are integral in not only getting women into technology positions, but also into leadership positions. They are paving a path to ensure that women not only see themselves in the organization, but also see themselves in executive positions." – Jena Rose, Director, Portfolio Management.
The Goal
The goal of this event was to hear from female technology leaders at Nike, Inc. and understand Nike's presence in India's technology industry. The event was a bridge to help connect women in technology with Nike, and a platform to advocate for a diverse and inclusive workforce.
Event description:
At Nike, Inc., team members are united by a love of sport regardless of where they come from. It teaches them to be competitive and to value collaboration.
Nike's global teams are committed to an environment focused on respect, equality, inclusion and empowerment. 
To learn more about Nike, please visit Nike Inc on JobsForHer.
Republished with permission and originally published at www.jobsforher.com