By | Sandhya | www.jobsforher.com
Oracle's Career Relaunch program enables women to make a smooth career transition through structured job training and strong mentorship. This blog talks about women at Oracle who greatly benefitted from the program and made a successful career comeback.
Before the pandemic happened, Arthi Vijay had a plan for her career. After years of studying engineering and working in project management and startups based in Bangalore, India, she got her Project Management Professional certification at the end of 2019.
Afterwards, she hoped to go home to spend time with her family for a few months before returning to the workforce. Then COVID-19 hit. Forced to stay in Bangalore during the lockdown, Vijay decided to dive into volunteer work, including a crowdfunding campaign for a kidney transplant patient and remote volunteering for the United Nations.
In the summer of 2021, she began to look for work in software. But during interviews, she said she encountered a few companies that saw her eclectic experience and didn't consider her a serious candidate.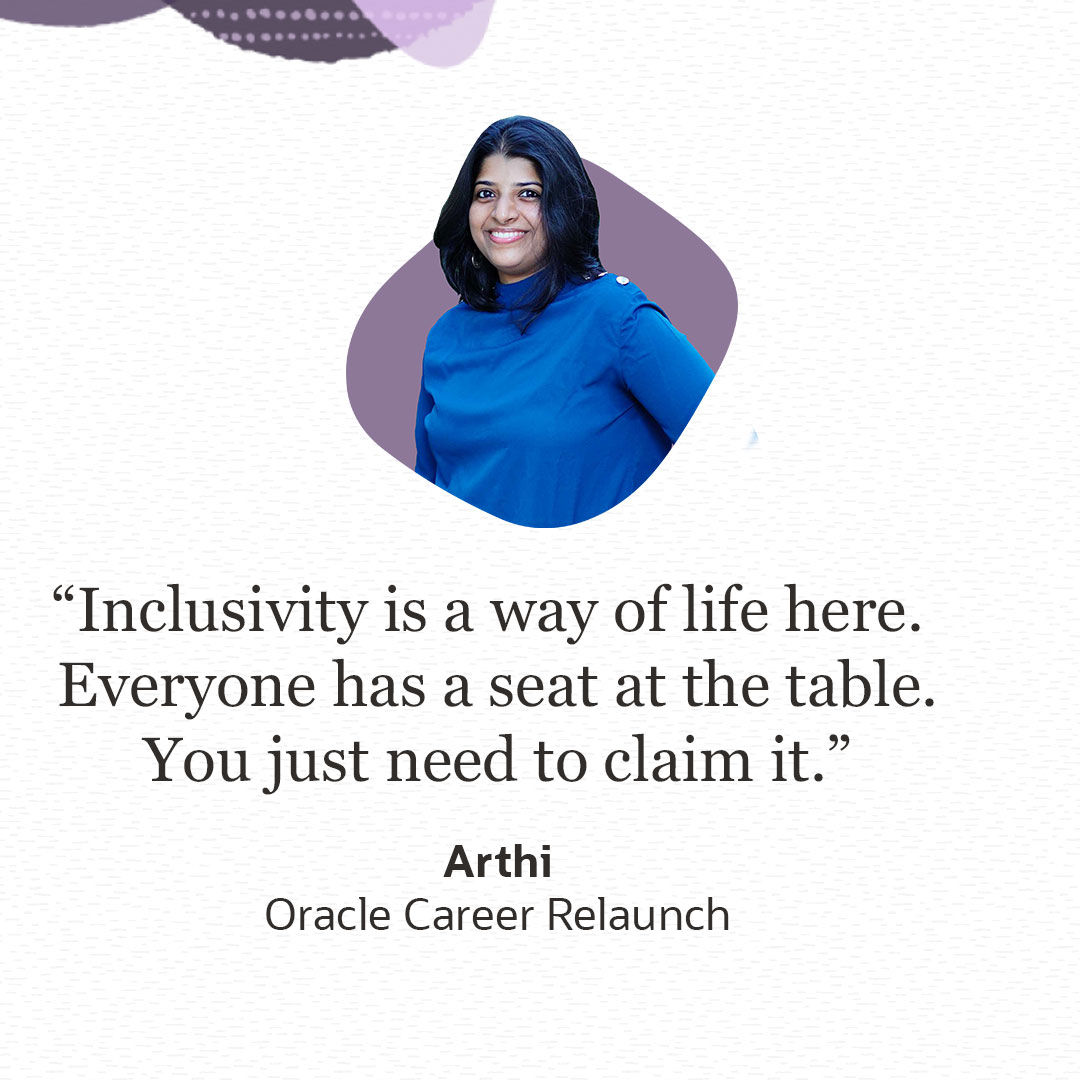 But that changed when she applied for a role through the Career Relaunch program at Oracle  "I've never felt discriminated against for having chosen to take a different path or having diverse experience," says Vijay, who is now a program manager working on Oracle Cloud Infrastructure (OCI). "In fact, they believe that it enriches the work that we do."
The Oracle Career Relaunch program is like a concierge service for candidates looking to re-enter the workforce after a career pause. Those who apply through the program submit their resume and application for a specific role, and after successfully completing interviews, start at Oracle full time with benefits alongside a cohort of other fellow career relaunchers.
Their first 12 weeks at the company consist of specialized onboarding, a high-touch orientation, personalized development plans for a quick skill lift, structured job training, a speaker series, social time with their cohort, and mentorship.
Since its launch in March 2020, the program has welcomed 49 participants who have taken a career break of at least one year. Reasons for the career delay include starting or raising a family, caring for a family member, taking time after military service, being a military spouse, doing volunteer work, and more.
Starting in the US first, the program expanded in August 2021 to serve cohorts in India.
"Our mission is to widen the funnel and remove barriers to candidates from all backgrounds," says Melissa Nicholas, senior manager of diversity recruiting at Oracle.
"We want to normalize career breaks in a resume as candidates have needed to take time off for many reasons. We understand that over 2.3 million women left the workforce due to COVID, and we can provide great opportunities to bring them back with our program" she says.
Helping women return with mentorship, support, and opportunity
In 2021, Forbes reported that nearly three million women had left the labor force in the previous year—with a noticeable negative impact on working mothers, Black women, and women in senior leadership, when compared to male counterparts. In one year, women globally lost $800 billion in income due to COVID-19, according to Forbes.
Behind these numbers are stories, such as Sandhya Kartik's, who spent several years working at Microsoft and a startup before taking a yearlong break after having a child. While she had some apprehension over going back to work, she felt ready to return and applied to Oracle via the Career Relaunch program.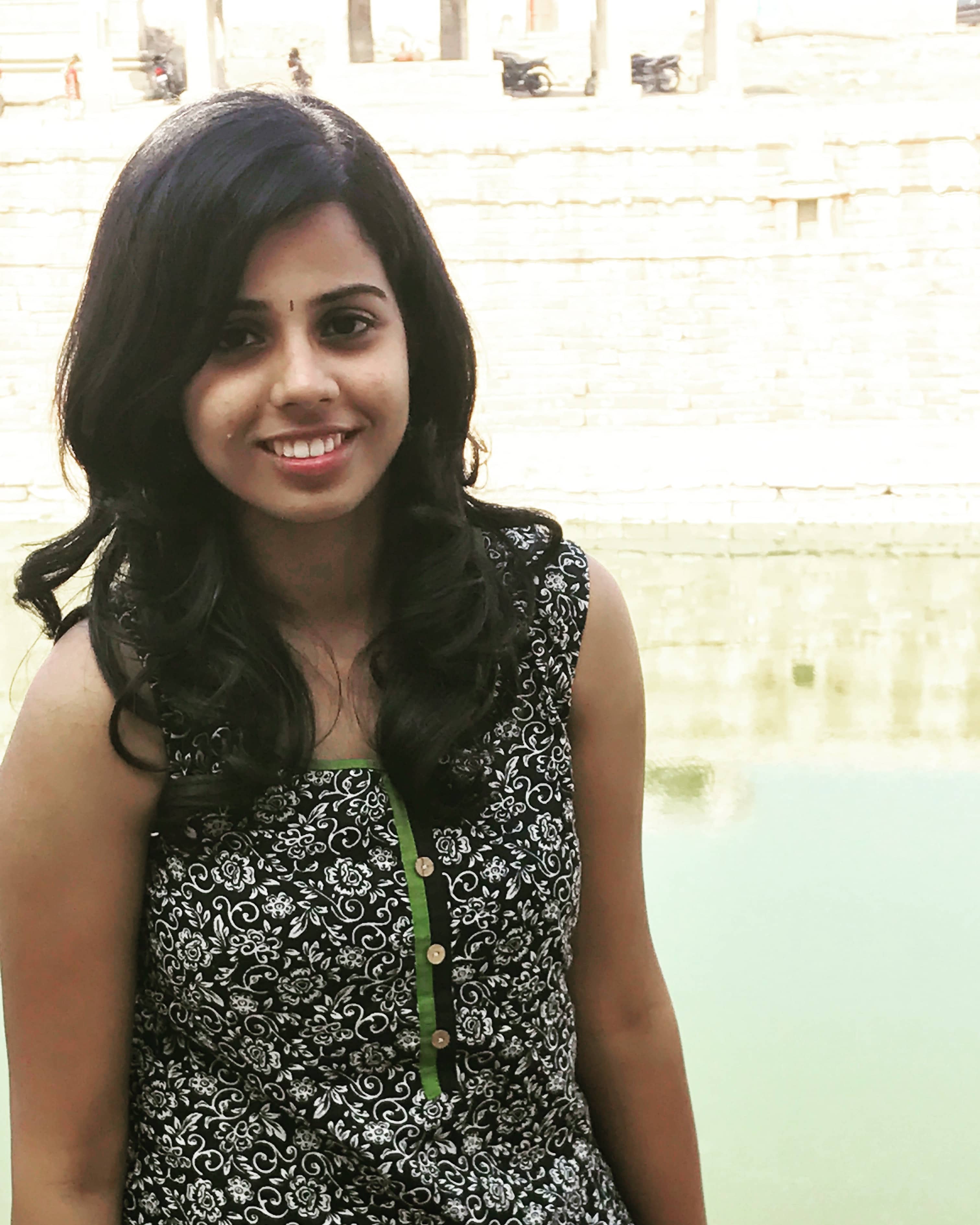 "There were so many questions in my mind, like 'Will I be able to do justice to the work as well as my responsibility as a mother?'" says Sandhya, now a member of the OCI technical staff.
"But I wanted to earn an identity for myself so that I could be a strong woman and a confident mother for my child. I strongly felt and believed I had it in me to balance both,"she says.
As an engineer who had no prior experience in cloud, Sandhya felt supported through the program's structured learning and job training, allowing her to smoothly transition into Oracle Cloud.
As a working mother, she felt supported by her cohorts in the program, which consisted of about 15 fellow career relaunchers who met for group sessions on a regular basis.
"When you listen to the stories of the other members, you know that there are women who are doing great things and balancing so many other things at once," says Sandhya. "I can take inspiration from them. It makes me feel that I'm not alone."
Vijay also enjoyed the program's weekly sessions featuring guest speakers and discussions about the importance of getting women back into the workforce, workplace culture, and the various reasons women take career breaks, such as maternity leave and caregiving for elders.
"I think many of us had this unintentional, unconscious baggage of guilt," says Vijay, adding that many women were concerned about how long they had been out of the workforce and whether they would be judged for having taken time away.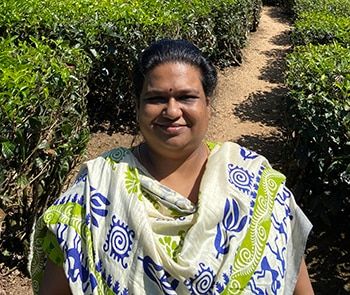 Career relauncher Binu Subramanian, now a senior software development manager at Oracle, also found the cohort to be valuable, helping her build community by having the opportunity to talk to people from other teams and keep in touch for questions.
For Subramanian, the key to successfully returning to work was having a combination of good mentorship and a strong support system. She said she would tell other female engineers that Oracle is a fantastic environment, adding that training for career relaunchers is comprehensive and supportive. 
"I've seen women in leadership positions who are treated with respect," says Subramanian. "There's professionalism and support from everyone in the team."
Sandhya, Vijay, and Subramanian agree that the inclusive culture and comfort people feel at Oracle is what helps women succeed in the organization.
"What Oracle provided was equal opportunity," says Sandhya. "Being considered equal is enough for women to come back to work."
Many career relaunchers agree that taking a career break can be stressful: What new technologies have emerged in my absence? Is my experience still relevant? Am I still up to speed with the pace of today's working environment?
According to Sandhya, these questions can make relaunchers doubt their own talent. That anxiety and doubt can be an issue for working women all over the world.
The Career Relaunch program is currently accepting Oracle Cloud Infrastructure and Oracle Cloud Platform. 
Do you wish to be part of Oracle? Click here to apply  to their jobs.
Republished with permission and originally published at www.jobsforher.com