Hr Library
Risks That New Businesses Often Overlook
By | Kate Wollersheim
Starting a business involves a lot of planning, time and energy — not to mention the likelihood of failure. Only about half of new companies make it through their first five years. Of those, many will crumble in the following five. This is exactly why business owners need to entertain every possible scenario of what could happen, so they can be aware of and know how to prepare for likely challenges.  
Consider common mistakes eager entrepreneurs make when setting up their businesses:
Lack of business plan. Not only does a clear business plan provide a roadmap for staying focused on your goals, but also it shows potential lenders you're a worthy investment. Skip this step, and you'll have a hard time getting financing, as well as not crumbling under inevitable pressures that arise.
Lack of market for what you sell. Whether you sell pocketknives or online marketing services, it's vital to thoroughly research what market demand exists and will exist for that offering. The biggest reason businesses fail is lack of market. If you can't find or create a willing and ready audience of prospects, expect to struggle.
No cash reserves. True, you can never anticipate every unexpected hiccup, but starting a business without an emergency fund puts you in a highly vulnerable position. Even the smallest setback can wipe you out unless you have enough cash set aside to weather it.
Poor IT security. In the information age, cybercrime is rampant as well as powerful. Data breaches or phishing schemes can do enough damage to destroy your budding business unless you have a strong IT security system in place.
While risk is inherent in business, entrepreneurs can prepare for some of the biggest and most common issues by planning well. To learn more about the problems to anticipate as a business owner (and solutions for them), take a look at the accompanying resource.

Author bio: Kate Wollersheim is Director of Operations at Performance Card Service, a firm specializing in high-risk merchant accounts. Wollersheim joined the team in 2018, adding over 15 years of experience managing operations in multiple industries. She combines her vast knowledge and creativity to the daily development and implementation of procedures.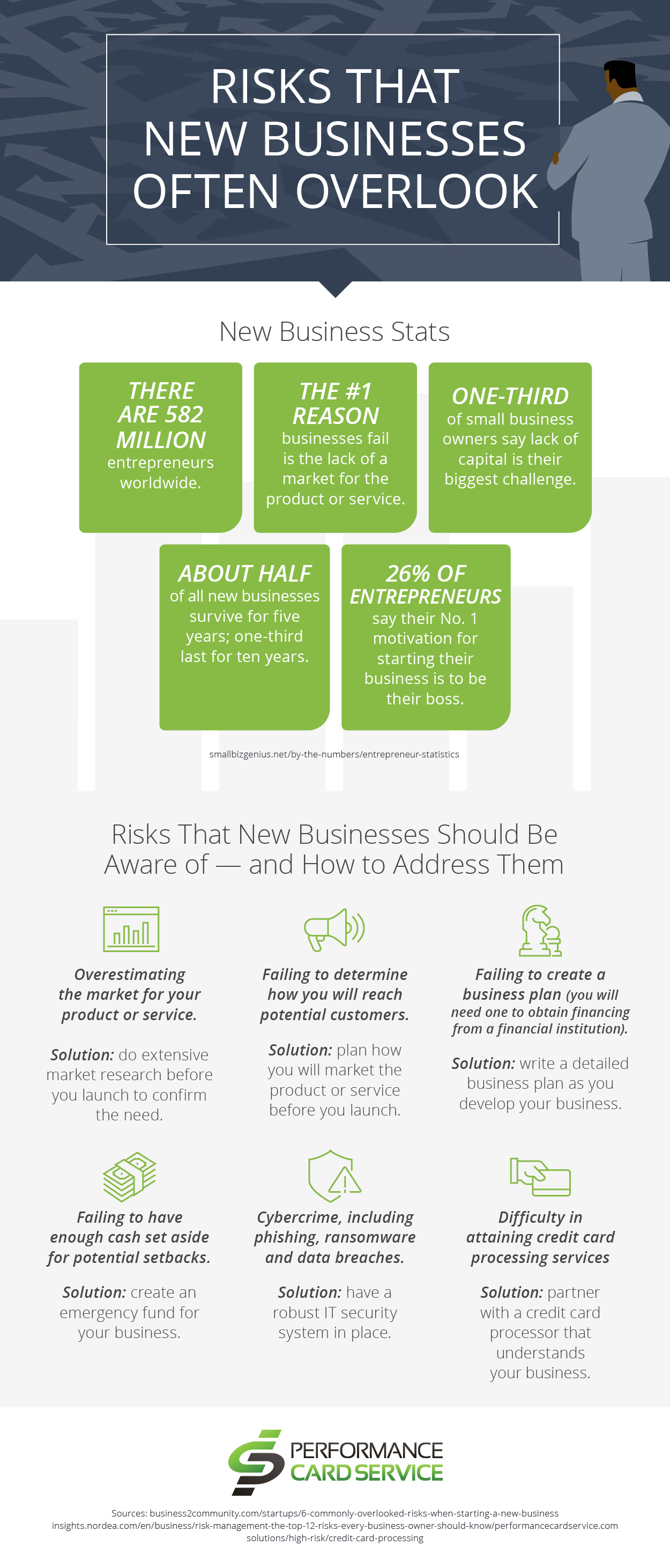 Graphic created by
Performance Card Service
.