Startups
From Rs 22 to Rs 900 crore, Vasanthakumar's success story
Source | www.rediff.com
The rag-to-riches story of H Vasanthakumar reveals that one can become a successful businessman without fancy MBAs.
Vasanthakumar, who started his career as a salesman, turned every adversity into opportunity.
He started off by converting a small provision shop given by his friend 38 years ago on a rental basis into a shop selling household appliances and electronic items.
Today, he runs one of the largest durable goods retail chains in Tamil Nadu – Vasanth & Co with 64 branches in Tamil Nadu, Puducherry, Kerala.
His business model was to enter the rural market where consumers had lower incomes and urge them to buy a product that they liked.
He asked them to pay only half the price of the product in six months. He collected the rest of the amount after the product was sold.
This way he ensured that noone defaulted.
Vasanthakumar today dabbles in state politics and is a Congress MLA from Nanguneri. He also owns Vasanth TV, a Tamil entertainment satellite channel.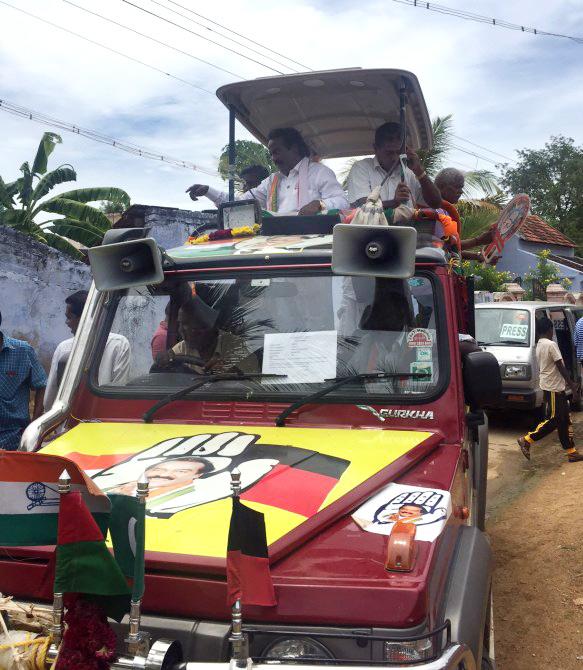 IMAGE: Vasanthakumar on the election campaign trail, May 2016. Photograph: Saisuresh Sivaswamy/Rediff.com
H Vasanthakumar tells A Ganesh Nadar/Rediff.com how a salesman became Tamil Nadu's richest businessman-politician.
What was your initial capital when you started the business in 1978?
I did my graduation and master's (by correspondence) in Tamil and joined VGP as a salesman. I left the job after working for 8 years. I did not have any money, but I had a lot of friends and VGP's customers also knew me well.
One customer had shut his shop. He gave it to me on the condition that I would pay him Rs 8,000 in six months.
I made a signboard for the shop with the wood from a packaging box to save money.
In VGP, we had this scheme where customers paid a fixed amount every month to us till half the money for any product was paid. Then we sold the product to the customer.
After that, they paid the remaining amount in the same way in installments.
I started this scheme in my shop. I went to all the customers whom I had befriended when I was in VGP.
Mr Bhaktavatchalam from Teynampet was kind enough to offer Rs 22, which became my capital.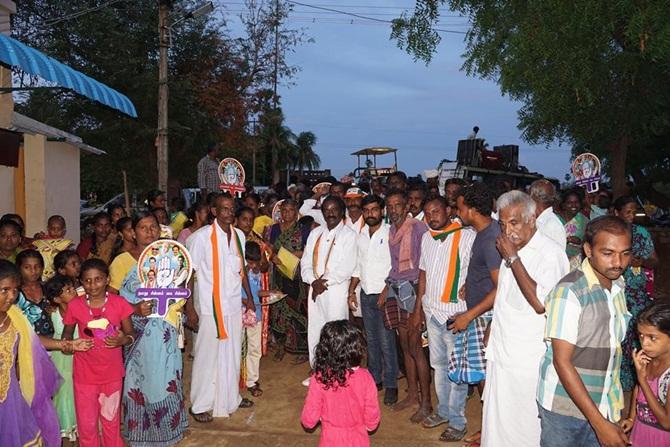 IMAGE: "Politics has nothing to do with my business." Photograph: Kind courtesy Vasant & Co/Facebook
What is your turnover now? How many people do you employ?
Our company's turnover is more than Rs 900 crore (Rs 9 billion). We have 1,000 people working in 64 branches.
Does being an MLA help your business?
Politics has nothing to do with my business. I became a businessman decades ago. I became an MLA only ten years ago.
Is doing business in India easier now than 10 years ago?
Nothing is easy here. You have to plan everything to the smallest detail and go step by step.
When you face a hurdle, you should change direction and keep going.