Psychometric Testing
Trending
Self Awareness Test – Discover Your Hidden Opportunity for Growth and Success
Source | https://inlpcenter.org/self-awareness-test/
Welcome! The iNLP Center self awareness test is on this page. You'll get your results once you hit the submit button. No email or obligation is required.

You can scroll down to the quiz right away, but we suggest reading the introductory sections first – the instructions.

Approaching 10,000 submissions, this is our most popular online quiz because it reveals uncommon opportunities for personal growth. The self awareness test does not include interpersonal skills, which may be a future project.

Created by the iNLP Center. Private. Non-commercial. Confidential.

How self aware are you?
Do you have enough curiosity to take a penetrating self awareness test with a few twists? The quiz on this page will inspire you to think about areas of life you may have never considered. It could be challenging. That's good!
Why?
Because enlightenment begins with self awareness. This quiz puts self awareness in a framework that creates insight. On a journey toward greater enlightenment, this could be a tool you've been missing. Most people report more than one aha-moment.
Sound good?
Any good self awareness test considers what goes on beneath the surface.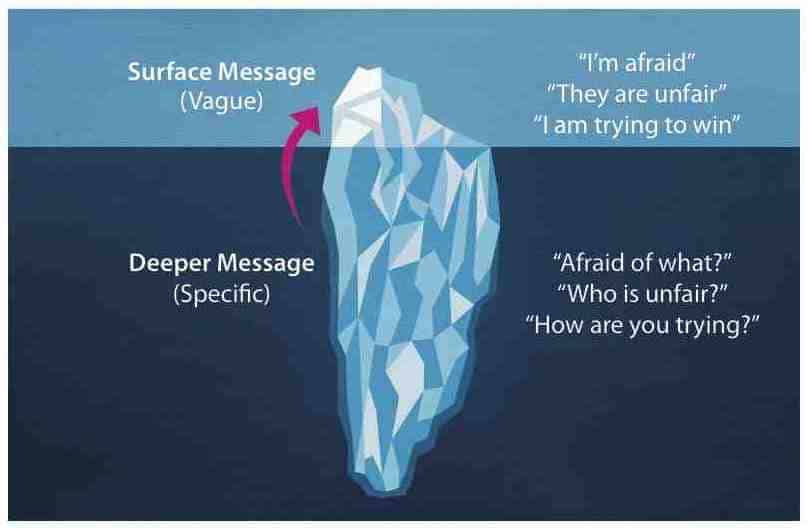 The iNLP Center uses the diagram above when teaching the NLP Meta Model, which is a set of questions that probe beneath the surface of vague communication. The Meta Model opens the door into a whole new world of self-discovery. Some of these discoveries are featured in our self awareness test.
The unconscious becomes conscious: Enlightenment!
The self you can be aware of is much more than the conscious mind. Neuro-Linguistic Programming suggests much of our thinking and communication lies outside conscious awareness (non-verbal communication, to give one simple example, goes largely unnoticed by most). Non-conscious thoughts and communication have a much greater impact than what we consciously notice. Here's a great post that cites research on this.
Likewise, your unconscious mind has a greater impact on your life than you can imagine. For example, 90% of decisions are made unconsciously, according to research. You only know what you've decided moments after the fact.
Doesn't it seem important to increase self awareness?
The more aware you are, the more choices you have!
NLP and life coaching students have an advantage over non-NLP-trained people. They've learned things that expand self awareness. Of course, you don't need to be enrolled in an NLP course to benefit from this test. It's for everyone.
The self awareness test should prove to be enlightening to anyone, even to those who've been working on themselves for years.
How to take the self awareness test:
Each question on the self awareness test has five response options. Choose the option that best describes you. When you submit the self awareness test, you'll be forwarded to your score and an interpretation.
FYI, this self awareness test is not a scientific or clinical assessment. It's based on 25 years experience as a counselor, NLP trainer and life coach. We have no control over the test conditions, so consider your results for entertainment purposes or education only.