Startups
Success story: Shashank started a healthcare start-up when he was just 20!
Source | www.rediff.com
Seven years ago, twenty-year-old engineering graduates from National Institute of Technology, Suratkal, Karnataka  dared to take  a different path, even as many of their classmates took up regular jobs in the corporate world.
Co-founded by Shashank ND and Abhinav Lal, Practo is an online health service platform, which assists patients to fix appointments with doctors, build a software platform to digitise their health records and have online consultations as well.
Practo today boasts of an impressive list of clientele comprising two lakh doctors, 10,000 hospitals and 5,000 diagnostic centres based in 35 cities and four countries.
The online service has made rapid strides, raising $124 million so far, the biggest by any healthcare start-up.
So much so, that high profile investors like Russian billionaire Yuri Milner have invested in Practo, reinforcing its commitment to boost the healthcare sector.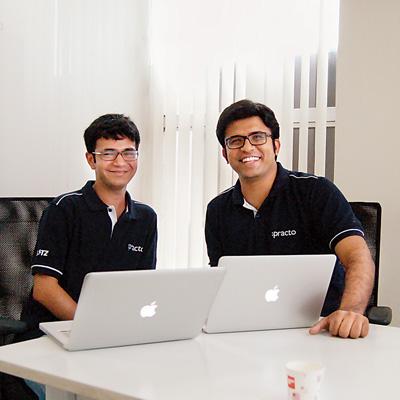 Image: Co-founded by Shashank ND and Abhinav Lal, Practo is an online health service platform. Photograph, courtesy: Practo
With the mission of making 'mankind live healthier, longer lives', Shashank wanted people to find the right doctors and keep their records online so that it can be accessed from anywhere in the world.
"Healthcare is one of the last industries to be completely transformed by technology. In an era, where I can book movie tickets without getting out of bed, I have to jump through hoops to find a doctor. In the age of Internet, I have billions of spam emails but getting my health records digitally is a surprisingly difficult task. All this is going to change as technology permeates every aspect of healthcare and makes it digital," explains Shashank ND, founder & CEO, Practo.
Optimistic about India's entrepreneurial success, Shashank points out, "There is talent, access to capital and a sense of belief in the system that great global products can come from India and that is the direction we should all move in."