By | Marissa Pinto | www.jobsforher.com
It doesn't matter!
You read it right. 
Your career break doesn't matter in your quest for a restart.
1..2..4..6..or even a decade of career break can't stop you from rising to the top once again in your career. 
With S P Jain Institute of Management & Research (SPJIMR), you can now take #thenextstep to propel your career forward.
SPJIMR presents an 11-month Post Graduate Management Programme for Women (PGMPW)designed exclusively for women on a career break. 
This is the only full-time management programme for women, curated by industry experts equipped with the required skills and confidence so you can get back to the corporate world.
So how exactly does this programme enable you? Keep reading to know the highlights of the program.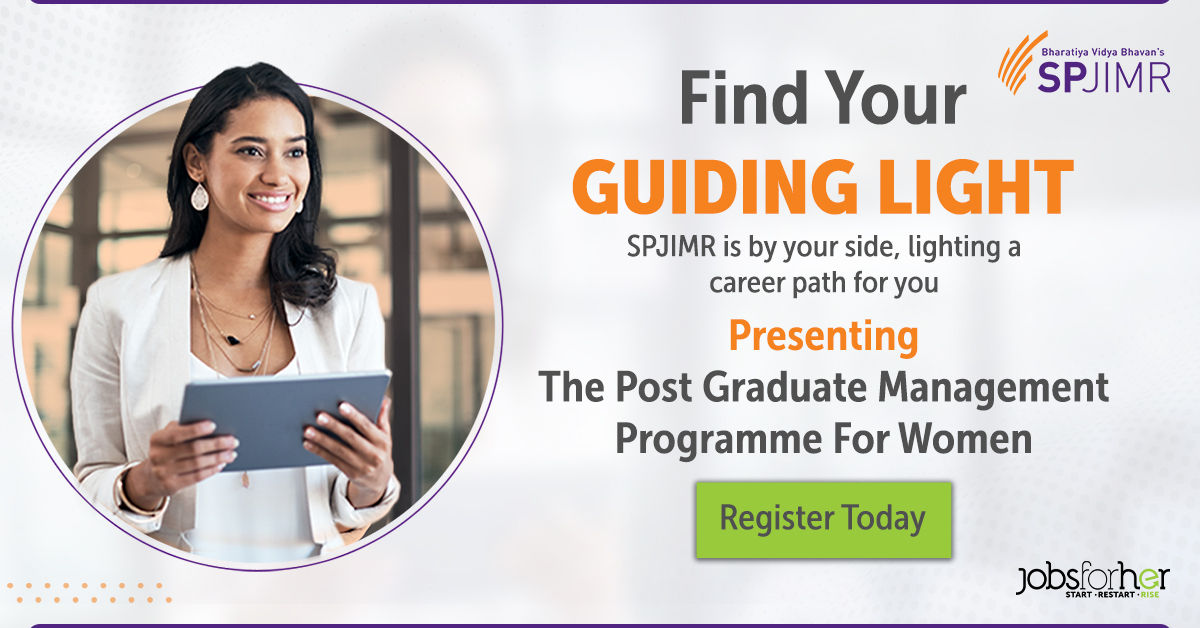 SPJIMR's Post Graduate Management Programme for Women (PGMPW) guides you to take #thenextstep in making the right choices for a perfect career comeback. The programme provides you tools and opportunities to polish your existing skills,and learn new industry-ready skills.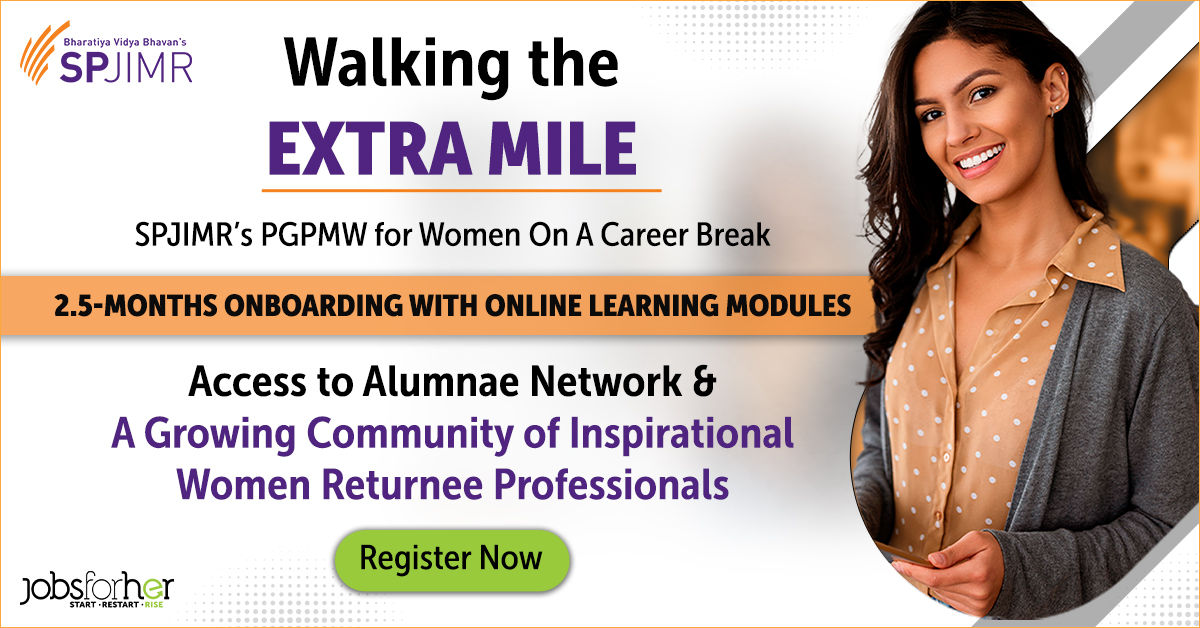 Regardless of the career break, you may have, you can now get back in the groove and become a professional in no time. To facilitate this process, SPJIMR provides you 2.5 months of onboarding with an online learning module that will prepare you for the intensive 11-month programme. 
Find your tribe of women who share the same passion for career restart and allies who will support you along the way. 
During the course of 11 months, you will get mentored and taught by experienced industry experts and faculty of repute and coached by ICF-certified coaches. Get access to the glorious alumnae network and community of women returnee professionals.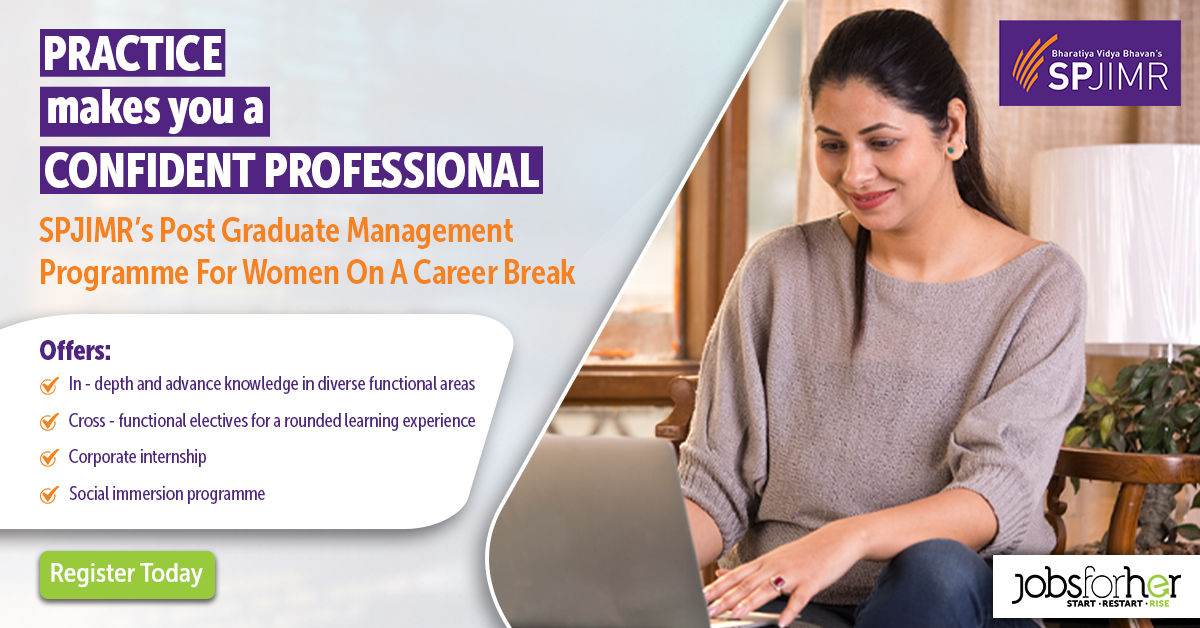 Practice Makes You Confident Professional:
Employability skills will last you a lifetime and make you a valuable asset for any company you work with. The PGMPW gives you a solid foundation and overview of general management. 
Further, you will also have access to cross-functional courses, and advanced in-depth knowledge in functional areas such as Information Management and Finance. Put all your learning to practical use with a corporate internship and social immersion programme.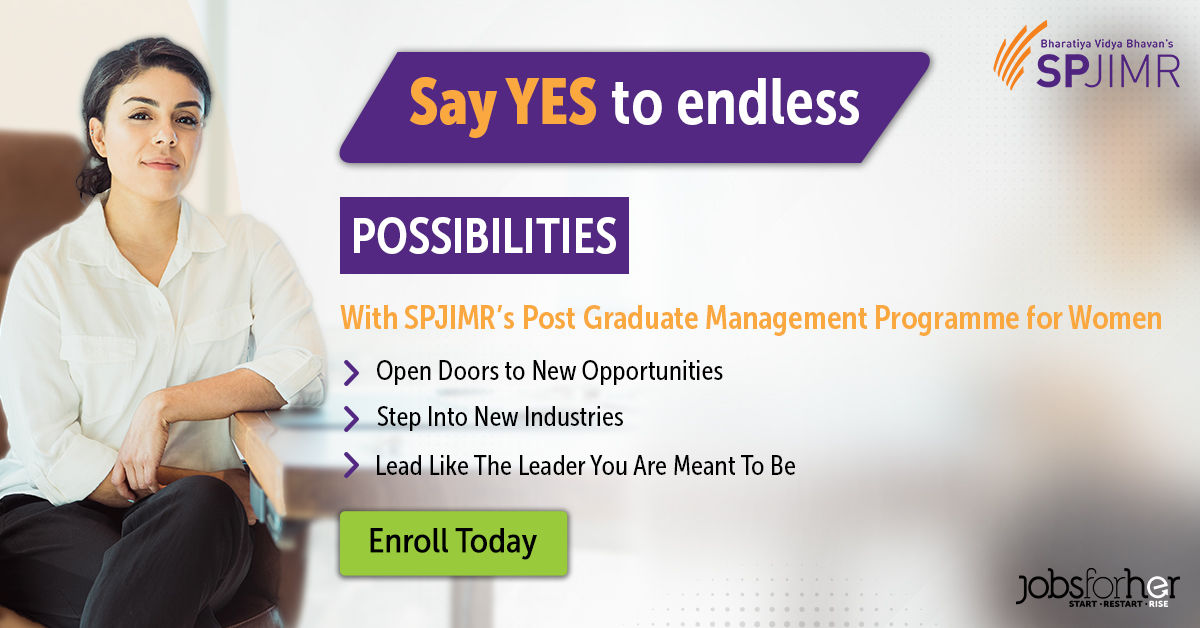 Say Yes to  Endless Possibilities:
By the end of the programme you will be ready to take on new roles and challenges as a confident professional. With a diversified skill set, you can step back into or explore new industries and domains with your head held high. 
The programme makes you job-ready and prepares you to face and ace interviews and take on leadership roles at leading companies. 
Emerge with flying colours and soar high with SPJIMR today. 
Applications are open for the new batch.
Learn more about the course and apply here:  Register Today
Need more info about the program?
Set up a call.

Ms. Pooja Dravid / Ms. Mansi Parab
Mobile: +91 8454038586, +91 9819811550
Email: admission.mpw@spjimr.org
Republished with permission and originally published at www.jobsforher.com