By | Kavitha Mandana | www.jobsforher.com
Today, Uma Avantsa is VP Operations at Vimeo. One of those rare women at the head of the tech table. But her journey until this point has been quite an adventure – a series of unconventional choices that include two startups.
14 years ago, when VC funding was unheard of in India, hers were pioneering moves. Back then, even the sensible folks took on multinational job offers after the IIM! 
Digging deeper into an early adventure of hers, that few know about – we're about to showcase the Uma before she turned tech diva!
Uma's journey includes a number of heartening, barrier-breaking firsts.  Having graduated from college, she first joined a software firm. It was here that she met a colleague she first gelled well with, and then got married to!! A few years later, even with maternity benefits, Uma chose to take a break when expecting her first child.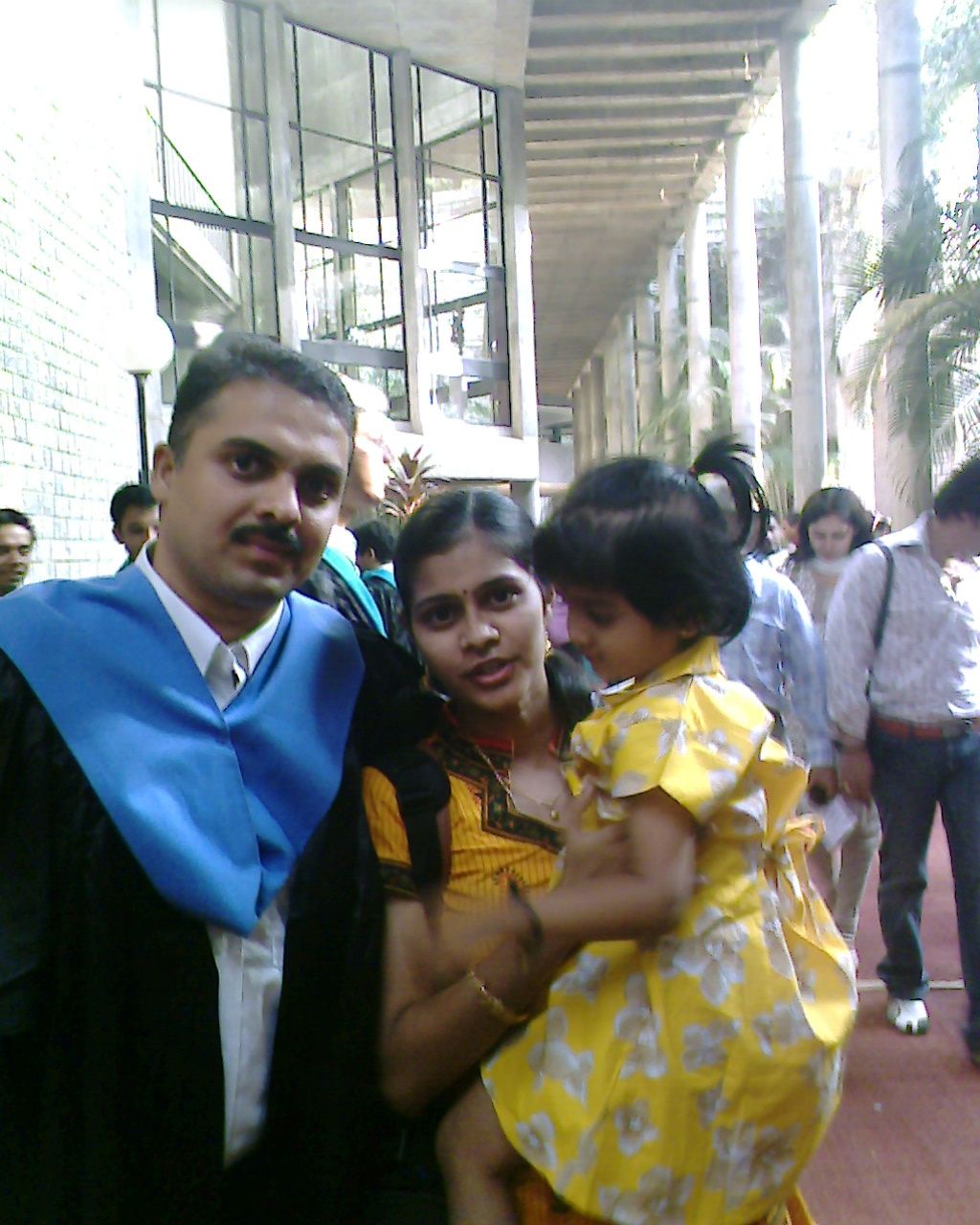 **Uma's husband's convocation in 2007**
But this wasn't your typical mommy-break…as you'll see. At this point, both husband and wife decided that they needed to upskill. So they both began preparing for the CAT and GMAT exams and so got back to studies full-time! As is apparent, they're a pair that doesn't believe in half-measures!
So, Uma spent most of her pregnancy preparing for the single most competitive post-grad entrance exam in India!
On her first attempt, she got a seat at IIM-Calcutta, but her baby was due when the classes were due to begin, so she (hold your breath)… let that precious seat go!
A couple years later, she gave the CAT again, and this time, got into ALL 6 IIMs!! 
She scored a whopping 760/800 in GMAT. Her daughter was now 3, so Uma decided to weigh her options. Her husband, however, had already completed his first year at IIM-B.
Learning of Uma's dilemma in the matter, in an attempt to help her achieve her potential, IIM-C offered her not only family accommodation ( which was reserved for Ph.D students), but also for her husband to transfer from Bangalore, so that the couple could
share parental duties!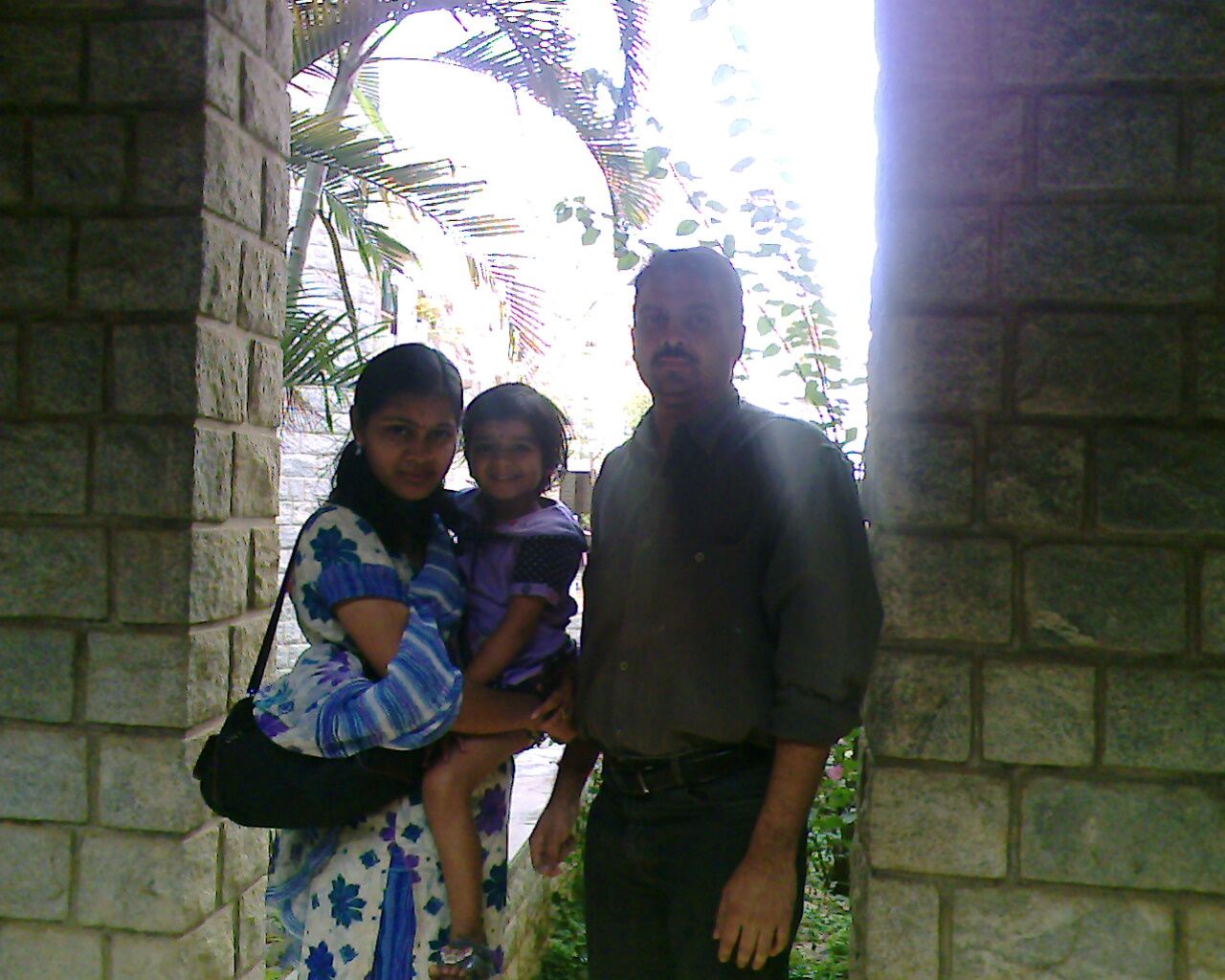 **The beaming baby at IIM-B campus!**
Even though Uma had all the IIMs to choose from, she decided to go with IIM-B, where her husband was settled in already. She recalls her conversation with Ganesh Prabhu, who was the Dean at that time. He told her that the institute's rules did not permit post-grads getting a family accommodation, but since her case was unique, he asked for some time. And within a week,  he had the go-ahead from the IIM-B leadership team!!
So that's how Uma, her husband AND their 3 year-old landed up staying on-campus in a family home, instead of a hostel. She and her husband would plan their workload such that they could alternate parenting duties.
But that was just one hurdle crossed, for a studying mom.
Uma laughingly says that her story is a new take on 'It requires a village to bring up a child.' In her daughter's case, it required IIM-B's 100-acre campus, all the security guards, many lecturers (who volunteered baby-sitting services) AND her campus mates, for Uma to get through her 2 years. Recounting one episode when she was in her first year, she talked about the surprise quizzes that lecturers held, with  just a half hour's notice. These were often scheduled in the evenings – a time when most of the off-campus faculty who babysat for Uma during her lectures, had left for the day.
With no other option, the lecturer who had scheduled the surprise quiz offered himself to babysit  while Uma answered the quiz!!
When Uma completed it and went to the professor's cabin, she found it in a total mess, with her daughter running the show! After his run-in with Uma's 3-year-old, this professor NEVER again scheduled a surprise quiz after hours!
Uma remains thankful to the virtual 'army' on campus that helped her do her MBA.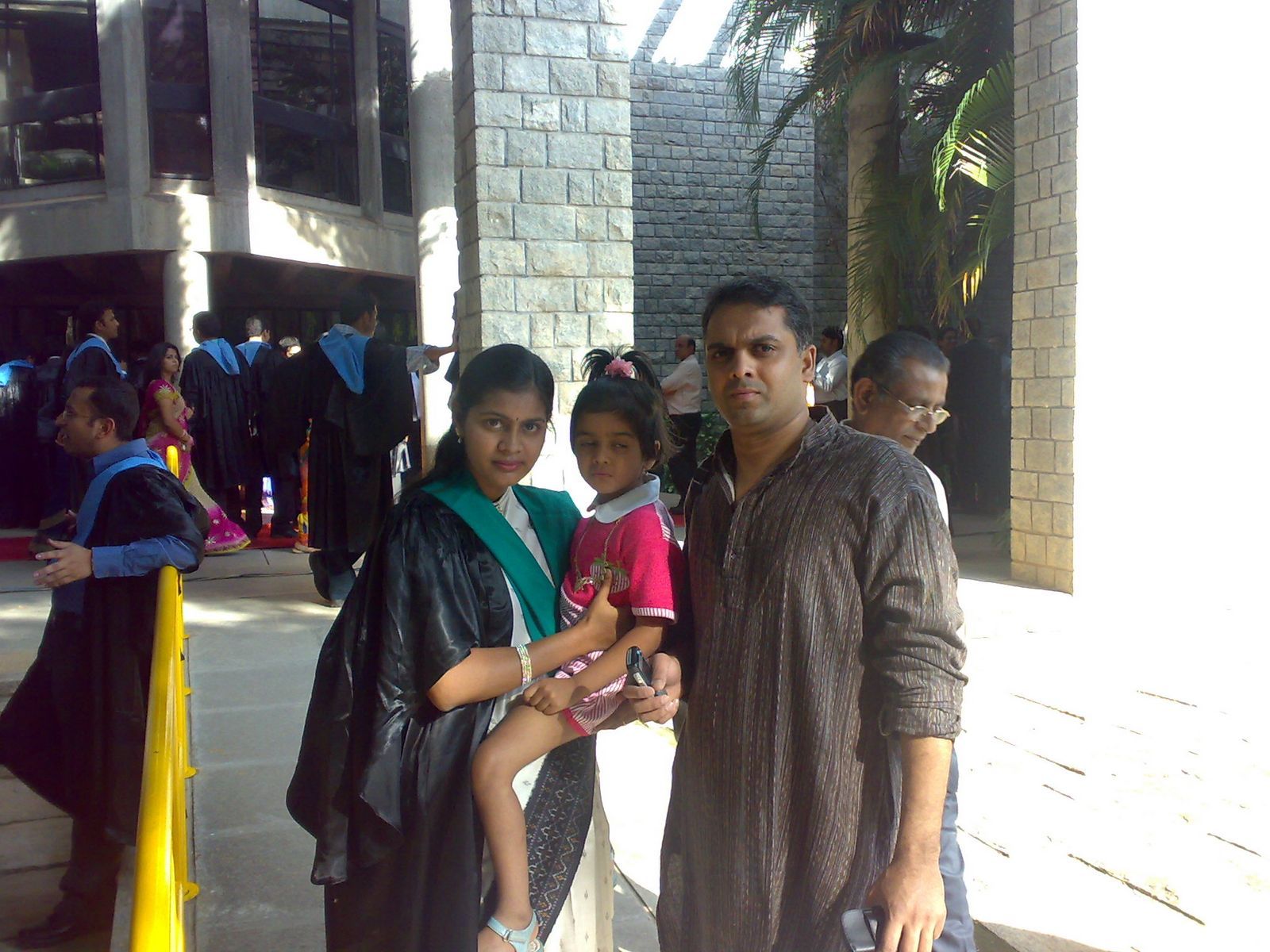 **Uma's Convocation Day in 2008**
Yet she reports sadly that once she left campus, the old rules returned – mainly because of an acute shortage of accommodation.
She and her husband launched their first startup straight out of IIM. It was a SaaS-based business model in 2008, at a time when VC funding and WFH were unheard of. Yet, the couple bootstrapped the business without setting up a physical office and ran it successfully. Considering that talent acquisition accounts for the biggest expense in a tech business, Uma decided to look for talent where no one else had.
She used family and friend networks to tap those highly-qualified women who take a break from work to attend to the home front. Confident of what women can additionally achieve while pregnant or when bringing up a toddler (based on her own experience), she built their business on the shoulders of women like herself.
All of whom were working remotely, from diverse corners of the globe, while playing 'stay-at-home-mom' roles!
Life on campus as a mother taught Uma how to balance and prioritize things in her life. She is emphatic that seeking support is NOT a sign of weakness. Rather, it requires courage to seek help from strangers. Her experiences at IIM-B also taught her that no matter what phase of life one is in, no hurdle is big enough to stop dreaming.
Of course, Uma's journey involves many, many more barrier-breaking stories. Considering how she juggled the CAT entrance exam with her pregnancy and B-School with a toddler, it's no surprise that she's currently where she is – VP, Operations at Vimeo. 
Uma does have one crib about the IIM-B experience though. At every alumni meet she's attended, a few classmates and most lecturers tend to forget her name. But they ALL ask after her daughter – by name – fondly tracking her progress through school, and now as a budding Product Designer at CEPT Ahmedabad! 
Republished with permission and originally published at www.jobsforher.com