By | Abhijit Bhaduri |Keynote speaker, Author and Columnist
There are two characteristics of any insight. It is something that is hidden in plain sight and looking back, it seems to be blindingly obvious. We cannot unsee it ever again. I am sharing what I can no longer unsee.
Summary of the idea: Episodic models are dying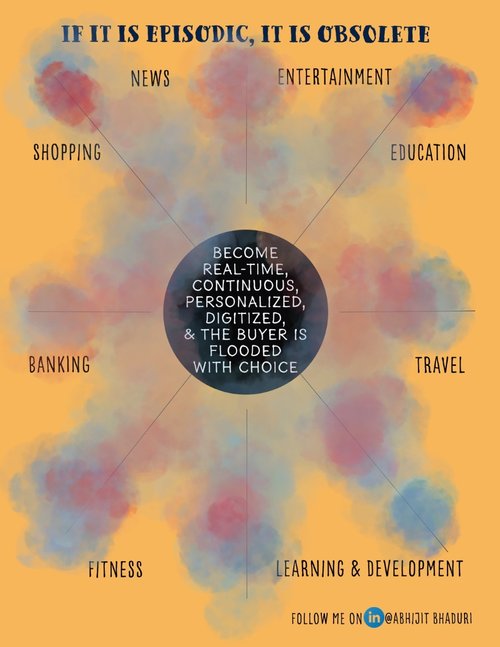 The features that win
Personalized: We don't need to wait for our favorite TV shows or movies to air at a specific time. We don't need to or rent physical copies. Streaming services that offer an abundance of choice, allowing people to watch their favorite shows and movies anytime, anywhere, and on any device. (Individualization is not the same as customization/ personalization. Here's the difference explained)

Social connections: The printed newspapers are dying. Multiple platforms provide real-time updates and allow people to connect with others instantly. News plus social connections win over newspapers any day.

Real time: In the past, people had to wait for the evening news to get updates on current events. Now, there are numerous news websites and apps that provide continuous, real-time updates on a wide range of topics.

Omni channel: We go to a shop to try on something for size and choice. Then order it from the convenience of our home. What we don't want can be returned in the store. The consumer does not view online and offline as two separate options.

On demand: Now, there are numerous online banking platforms that allow people to check their balances, pay bills, and make transfers in real time.

Hybrid: In the past, people had to be physically present at their workplace to complete their tasks. Now, with the proliferation of hybrid work and online collaboration tools, makes it all possible.

Digital collaborations: Fitness apps and online classes that offer an abundance of choice and allow people to exercise from the comfort of their own homes. No wonder Nike partners with Nike to offer fitness videos.

Boundaryless: Live performances and recordings are offered to the same viewer. The fans want to stay connected constantly in real time with their content creators. The movie stars compete with influencers for the audience's attention. The influencers are available in real time unlike the movie star whose appearance is episodic.
So what?
Human + AI = Work
PC was a game changer. So was mobile tech and cloud. AI will firmly put the human+ algorithm equation center stage.
The average number of AI capabilities that organizations use, such as natural-language generation and computer vision, has also doubled—from 1.9 in 2018 to 3.8 in 2022. For organizations using AI, more than 52% of their budget is being spent on changing how they work. Read more
The skills marketplace will change to reflect this
When the way we do work changes, it changes the skill base of the talent pool (I have used the term worker as a generic term). The workplace needs to leverage its L&D teams to keep the employees reskilled, upskilled and employable.
Learning & Development must drive the shift
That is Inception moment where I realized that L&D teams will themselves have to become all that is happening to every industry. They have to stop being episodic ie engage the learner once in a while. Learning has to be in real-time, continuous, on demand, hybrid, and done in collaboration with other content creators – whether on social media or entertainment or the performing arts.
Republished with permission and originally published at www.abhijitbhaduri.com