By | Rakshitha Acharya | www.jobsforher.com
Everything You Should Know Before Giving Your Next Online Interview
Change is the name of the game. With changing times comes the need to advance. Interviews have now gone online. Whether it becomes the norm in the future or not, it is necessary for you to know how to ace an online interview. When a woman, be it a starter, restarter or riser, decides to thrive in her career, the current situation should not act as a barrier that keeps her from reaching her true potential. That's why, this blog is an all-in-one platform for you to update yourself with the latest hiring trend — online interviews.
The first point you need to understand is that online interviews are just like traditional job interviews — 
You have to spend the same amount of time preparing

The end goal of getting the job is the same

You will have to answer the same kind of questions

Do everything else that you would do for a regular interview
The only difference is that you have to do all of this keeping in mind that the interview is through a video call. So, with online interviews, there are a few additional factors that need to be considered.
How You Can Prepare For an Online Interview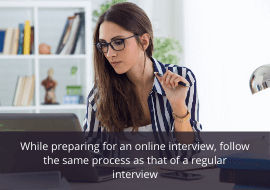 While preparing, all the usual rules apply. 
You have to spend a good amount of time doing your research. You have to know everything about the job role, the company and if you get the information, you should know a little about the interviewer/s as well. 
Update your resume or CV. Also, make sure that you go through your resume before the interview. You should be aware of everything that you have listed in your resume. There's a possibility that the interviewer might ask you to explain anything from your resume and when that happens you should be in the state to explain in detail.
Get some tips on how to craft the perfect resume here.
Be prepared with sample questions and answers for the job role you are applying for. Find the common questions asked for the job role on the internet and decide how you would answer the questions. 
Do a mock interview with a friend as a precaution, because you are not used to online interviews. The mock will give you a feel of what the actual virtual interview will look like.
Know some more key points to remember while preparing for an interview here.
Online Interview Tips That'll Make The Entire Process Easy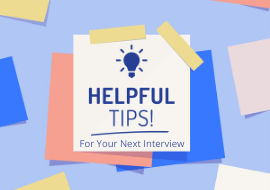 To work your way through this new type of interview, you will need some hacks. These are some tips that you should keep in mind.
 Download the video call app well in advance
 Try and find out which video conferencing app is going to be used for the interview and make sure you download it before the interview.
 Having a power backup is a smart thing to do
 There is a possibility that there might be an issue with the power. To stay on the safer side, it is better if you keep your laptop completely charged before you start the online interview, but a power backup can always come handy.
 Dress up as you would for a face-to-face interview
 This is a point that some people might think is not important, but it is. Like it was said earlier, the rules of a regular interview apply to a virtual one as well. You have to dress the part and be formal like you would be in a regular interview. 
Focus on the webcam. avoid looking somewhere else
 You have to make sure that you stay concentrated while on the video call. Keep your eyes fixed and do not look in other directions during the interview. This might convey that you are distracted amidst the call, which is not a good message to convey. 
Connect from your laptop rather than other devices
When it comes to official video calls, meetings or conferences, your laptop is your best bet. You will have the least distractions when you are using your laptop. On your mobile, there is a chance that you will get a call amidst the online interview, or the angle of your phone might not suit the call. To avoid this, your laptop is a better choice. 
Ask all your questions related to the role
 Like a regular interview, if you need any clarifications regarding the job role or the company, ask the interviewer. Get all your doubts clarified while on the video call. 
Stay calm. Do not panic if something goes wrong 
This tip applies for all types of interviews in general. You can think better only when you are calm. So, if something goes wrong, or you give the wrong answer, do not panic. Pause for a moment and resume your conversation with the same confidence as before.
An audio check before you start will reassure that everything is ready 
Make sure the audio of your laptop is functioning without any disturbances. Not being able to hear what the recruiter is saying is something you should definitely avoid. 
Have a copy of your resume with you 
You should have a copy of your resume handy just in case there is a question you need to answer by referring to it. 
Keep a piece of paper/notepad and a pen handy 
You may have to jot down a bunch of points during the interview. You should not get up and start looking for a paper and pen. Instead, keep it with you to avoid such a situation.  
Your username on the video conferencing app should be professional 
Avoid nick-names, abbreviations or symbols. Keep it simple, your first name is enough. 
Your interview room is a no-entry zone for your kids and pets 
Try and avoid a special appearance from your kids and pets during your online job interview. This does not mean that your interview will go for a toss if they come to the room while it happens. Given the current situation, some interviewers might not get bothered by kids or pets being in the room.
 The lighting, background and the angle at which your camera is placed are important — you need to look good! 
You don't want too much light or too little light on your face — have a good balance between the two. Do not choose a dining table full of things, a messy kitchen top or any place in your house that is either not clean or is too personal. Choose a plain wall as the background. The angle matters a lot, the camera should not be too close or too far from your face. Keep it at the same distance as that of when you are using the laptop in general. Again, your mock interview will help you choose the perfect spot and distance. 
Join the video call 5-10 min before
 If you already have been given the video call link, make sure to join the call 5-10 minutes early so that you can resolve any glitches.
 A comfortable chair will help you relax 
Choose a chair that you are used to. You cannot look uncomfortable or have bad body language during the interview because of the chair you are sitting on. So, choose your chair wisely.
Find some more online interview tips that'll get you hired here. 
General Question and Answers For Your Online Interview
The general questions asked during a job interview will be asked in an online interview as well, for example:
Tell me about yourself

What is your biggest accomplishment to date?

Why do you think you are right for the job?

What motivates you?

Why choose our company?

Why are you leaving your current job?

What are some of your weaknesses?

Why do you want this job?

Where do you see yourself in five years?

What are you expecting from your new job?
And many more of the usual questions.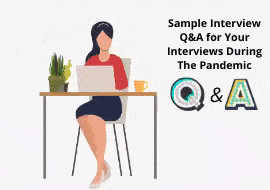 Here are some questions that you might be asked given the present situation and the timing of the online interview: 
How have you been spending time during the lockdown? 
Be honest while answering this question. The lockdown has been a good opportunity to learn, upskill and expand your expertise in your field. List out the courses, masterclasses webinars that you have attended. Show the interviewer how you were determined to thrive in your career despite the uncertainty caused by the pandemic. You can also state all the different ways that you were productive — perhaps you learned something new like painting, knitting, doing taxes, etc. 
What have you learned from your time during the pandemic? 
This is your chance to describe all the qualities you have learned or picked up. Talk about how your patience has improved, how you have learned to organise everything at home, how you have learned to assign and distribute chores among all the members of the house, how you have improved on team-work because of coordinating with the entire family and making sure everything is done on time, and all the other real-time skills that you have learned during the entire lockdown.
Like the previous question, you can also mention all the technical skills that you have learned if you haven't mentioned that already. 
How did you deal with stress during the lockdown? 
List all the hacks that helped you handle stress. Mention the points in relation to how you would use the same hacks in a work situation. So, instead of just saying that you avoided unnecessary information, say you focused on what is important like staying safe, avoiding fake news, practising healthy habits and working towards creating a less stressful environment. This shows that you know how to focus on what is important and get things done instead of unnecessarily panicking and getting stuck amidst work. 
 What are your takeaways from the situation created by the pandemic? 
Explain how you tackled different emotions and work-related situations and what you learned from them. You can say that you have learned that adapting to every new change is a must, uncertainty is the new normal so you have to gear up to be efficient in work and in life, or, determination will get you through everything, all of these are some points that you might have felt, but takeaways are very subjective and you have to answer by stating your takeaways.
In general, answer any questions asked related to the lockdown or what you have learned during the pandemic by highlighting all the real-time skills that you have acquired during the pandemic.
Now that you know how to prepare for an online interview, what to do during and how to answer questions, all that is left is for you to do is schedule your next interview. Apply to top companies hiring in India here. 
Has the lockdown made you realise that you are meant for a work-from-home career? Then find top work-from-home jobs here.
Did you find this guide helpful? 
Go ahead and drop a comment to let us know how this helped and how you prepare for online interviews.
Republished with permission and originally published at www.jobsforher.com