By | Dave Ulrich | Speaker, Author, Professor, Thought Partner on HR, Leadership, and Organization
We can't relive the past, but we can learn from it to create our future. The past two years of unprecedented work challenges (COVID pandemic, social injustice, digital transformation, political toxicity, humanitarian crises, and emotional malaise) have placed enormous pressure on HR practices and professionals. Under pressure, some rocks become dust and others diamonds.
To learn from these challenges to create a better future, we held a one-day workshop on "The Future of HR." With remarkable sponsorship by AbbVie, 200 participants (100 in-person and 100 virtual) and presenters/facilitators each brought their unique perspective on a simple question: "What is the future of HR?"
Tim Richmond, CHRO, AbbVie

Lucien Alziari, CHRO, Prudential

Amy Ariano, CHRO, Gulfstream

Pat Wright, Professor, University of South Carolina

Sergio Ezama, CHRO, Netflix

Melanie Steinbach, CHRO, Cameo
As we listened to these thoughtful presentations and discussions, we distilled relevant insights that create a menu of ideas and actions about how HR can respond to the challenges of our day. This HR menu is organized around a simple logic: HR is about creating value for all stakeholders through human capability (talent, leadership, and organization) and occurs with insights on four dimensions (see figure 1).
Environment: What is the context of business, including key external stakeholders (customers, investors, communities, partners)?

Strategy: What are the ways a business focuses to succeed?

Human capability: What does HR contribute in terms of talent, leadership, and organization through HR innovations?

Analytics: How does HR track and prioritize impact?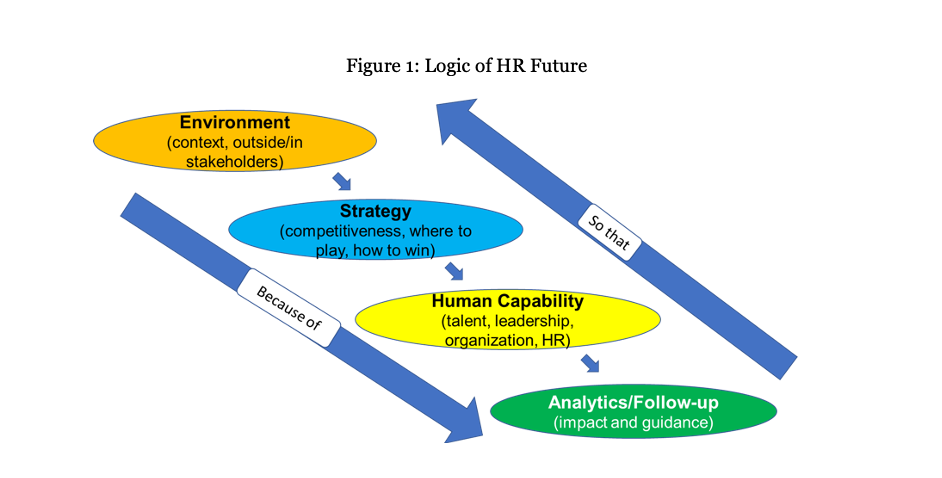 We can tie the environment, strategy, and human capability dimensions together using "so that" or "because of" statements. The "so that" query starts with human capability (improvements in talent, leadership, organization, and HR) so that business strategy happens so that external stakeholders are served. For example, HR is interested in "blank" (employee experience, hybrid work, DEI, culture, leadership, or other HR practice) so that the strategy occurs so that customers have a better experience.
The "because of" query starts with meeting stakeholder expectations because business strategy happens because of human capability initiatives. For example, technological changes have led many organizations to embark on a digital business transformation strategy that will happen because of new investments in talent, leadership, and organization.
With this logic, we identify future trends in each of the four dimensions. We recognize that these are not the only trends, but they give a glimpse into the future of HR.
Environment. The environment of business sets the context for work. Some of the trends on the horizon include increased:
Evolution of technology and a new digital age with implications for how and where work is done.

Attention to ESG, social justice, and climate changes.

Activism from all stakeholders: investors, customers, regulators, suppliers, and employees.

Employee primacy with labor shortages and employee advocacy as next-generation employees lose trust and search for "truth."

Reality of social isolation and loneliness affecting mental health and well-being.
HR's job is to anticipate these (and other) contextual trends and navigate the paradoxes they will require (e.g., long-term vs. short-term; outside-in vs. inside-out; jobs vs. tasks).
Strategy: Business leaders respond to these environmental trends by deciding where and how to compete. To focus on competitiveness, business strategy is pivoting from:
Doing SWOT (strength, weakness, opportunity, threat) analyses (that lead to linear planning models focused on market share) to create strategic agility (being able to move quickly into new market opportunities).

Planning as a resource allocation process to also creating purpose statements that inspire employees.
HR's job is to help create competitiveness by both shaping an emerging business strategy and ensuring the right human capability to deliver that strategy better than a competitor.
Human Capability Overview: In the "HR" field, we find dozens (even hundreds) of ideas, initiatives, and innovations. A colleague shared that in the last two years, over 1200 new HR apps have been created! HR often likes to tout the latest idea: employee experience, DEI, hybrid work, great resignation, agile organization, belonging, etc. Without an integrated framework to cumulate progress, the work on these ideas are often isolated events with fanfare and sizzle, but they often fizzle.
We propose an integrated human capability framework that organizes and depicts the vast HR field into four pathways (see figure 2).
Talent (often called "human capital"): individual competence, people, workforce, and employee.

Leadership: individual leaders at all levels as well as leadership capability throughout an organization.

Organization: organization capability, culture, workplace, and systems.

Human Resources (HR): characteristics of the HR department, practice, and people.
Instead of being overwhelmed with nearly limitless HR initiatives, the future of HR has innovations in each of these four pathways.
Human Capability: Talent: People are the key ingredients of any organization and they are often the focus of HR work. Some of the people trends include:
Personalizing the work experience to give employees more flexibility about where, when, and how they work, which expands the critical DEI agenda.

Delivering an employee value proposition around believe (meaning), become (growth), and belong (connection).

Improving mental health and overcoming the challenge of isolation or loneliness by helping employees connect with each other.

Building both trust and truth so employees can become advocates for their organizations.

Defining work as tasks and not just jobs, matching skills to tasks.
HR's job will continue to be helping employees fulfill their personal purpose through their work arrangements.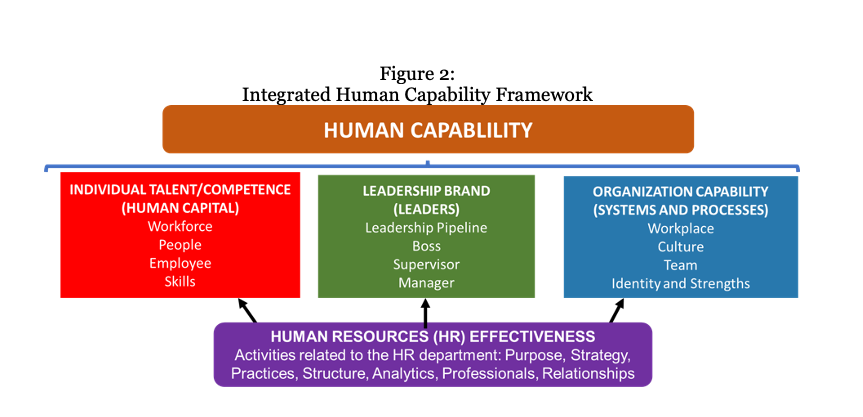 Human Capability: Leadership: Leaders at all levels set direction, allocate resources, engage people, and model the right behaviors. With less hierarchical organizations, leaders in the future will likely need to be able to:
Care for, create a kinship with, and support all employees by being empathic, engaging, and empowering.

Influence less by position and more by relationships of trust.

Create future leadership by using their strengths to strengthen others.

Be accountable for both financial and human outcomes.
HR's job will be to identify, coach, train, and develop diverse leaders who make others better.
Human Capability: Organization: Organizations are less defined by their hierarchy with roles and rules and more by their capabilities and identity. Focusing on the capabilities of an organization means:
Identifying the organization's capabilities that deliver value to customers, such as agility, innovation, collaboration, and strategic purpose.

Establishing the right culture that delivers customer promises through organization actions.

Creating high-performing teams, ecosystems, and nerve centers in IT, purchasing, and supply chain.

Establishing policies (e.g., hybrid work) that respond to market conditions.
HR's job will be to diagnose and deliver the right organization capabilities that respond to customer and investor requirements.
Human Capability: HR Department: Strategic HR is about aligning human capability to strategy and environment. HR strategy is upgrading the HR department to deliver strategic HR by:
Transforming the HR department to ensure that it has a clear mission, governance process, and accountabilities.

Building the quality of HR professionals so that they have an identity as business partners and the competencies to be effective.

Creating clear accountabilities with line managers to deliver human capability.
HR's job is to create an HR department, practices, and people who deliver insights that create value for others.
Analytics: The final element in the model in figure 1 is analytics and using information to be impactful (not just busy). HR should be more science-based to make better decisions, set priorities, and manage risk. Human capability information has evolved from generic benchmarks to compare oneself to others, to best practices to determine who does something well, to predictive analytics that explains why something happens, to guidance that directs specific actions to create impact for an organization. Each of the elements of the integrated human capability framework (figure 2) can be linked to stakeholder outcomes so that business and HR leaders can prioritize decisions that have the most impact.
Conclusion: The future of HR is now. The ideas shared in this one-day event capture some of what is and what can be. Of course, many ideas are not sufficiently covered (HR technology, assessment, types of rewards, ecosystems, and many others). However, when the challenges from the changing business context and strategy can be seen as opportunities for upgrading HR, more innovation will occur. With thoughtful colleagues like those who presented and attended, we believe that the best is yet to come: diamonds, not dust!
(And to live our values, all monies were contributed to HR student development at the University of South Carolina in a $150,000 donation!)
Republished with permission and originally published at Dave Ulrich's LinkedIn