Guest Author
Neha Bagaria
Trending
The Great Resignation and Corporate India 一 90% of employees can feel the impact in India too!
By | Ekta | www.jobsforher.com
The 'Great Resignation' has created an uproar globally and India is no exception. A recent survey from JobsForHer found that 90% of the respondents agree that Corporate India has started feeling the great resignation brunt: missing work-life balance, pay parity, lack of support and appreciation at the workplace led to this mass resignation. 
JobsForHer conducted a series of polls on LinkedIn to understand the repercussions of the great resignation on employees' opinions, and how it affects the Indian job market.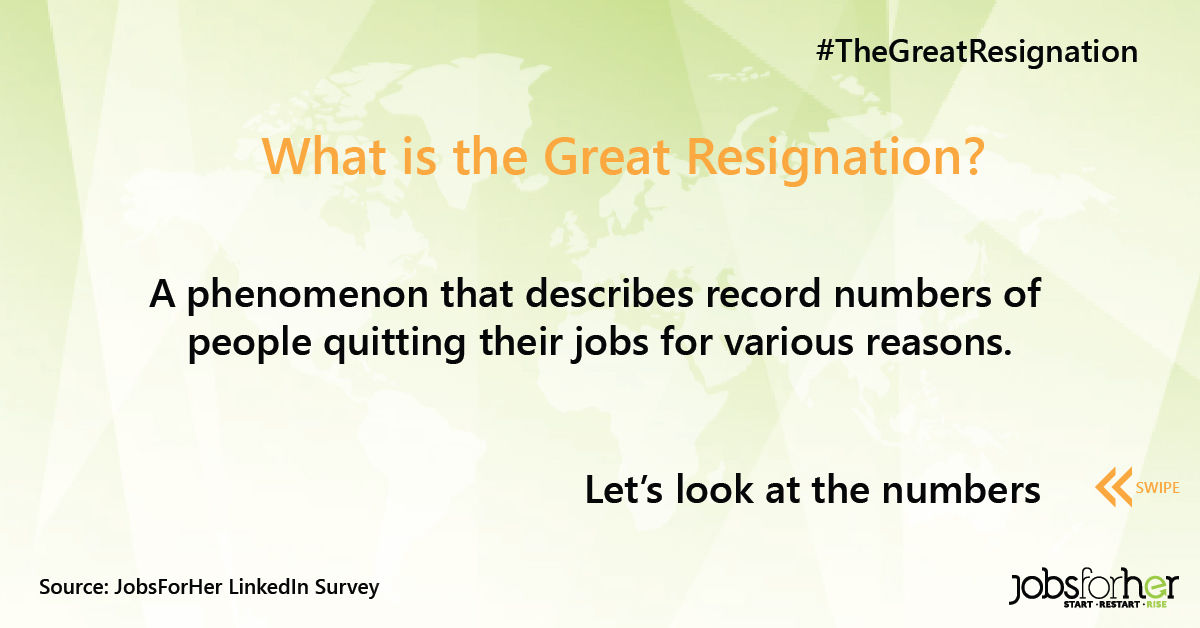 What is Great Resignation?
The great resignation is an economic trend where record numbers of people quit their jobs (for various reasons) and is seen as an aftermath of the COVID-19 pandemic. The great resignation has a domino effect where "she resigns, he resigns and the next person also resigns". The trend shows no sign of slowing down making the current job market so volatile that it's affecting the smooth functioning of businesses. 
India on Bearing the Brunt
The great resignation has impacted all be it thriving startups or top organisations around the globe and in India. The latest report by Michael Page highlights that nearly 86% of India's professionals will continue to seek new jobs in the next six months, as the Great Resignation will intensify in 2022.
Have we figured out the reason behind these mass resignations? There has been much debate over having a conducive work culture lately – hybrid work, remote work, flextime and more. To get hold of first-hand information, JobsForHer asked its LinkedIn audience on what grounds so many employees quitting jobs across the globe?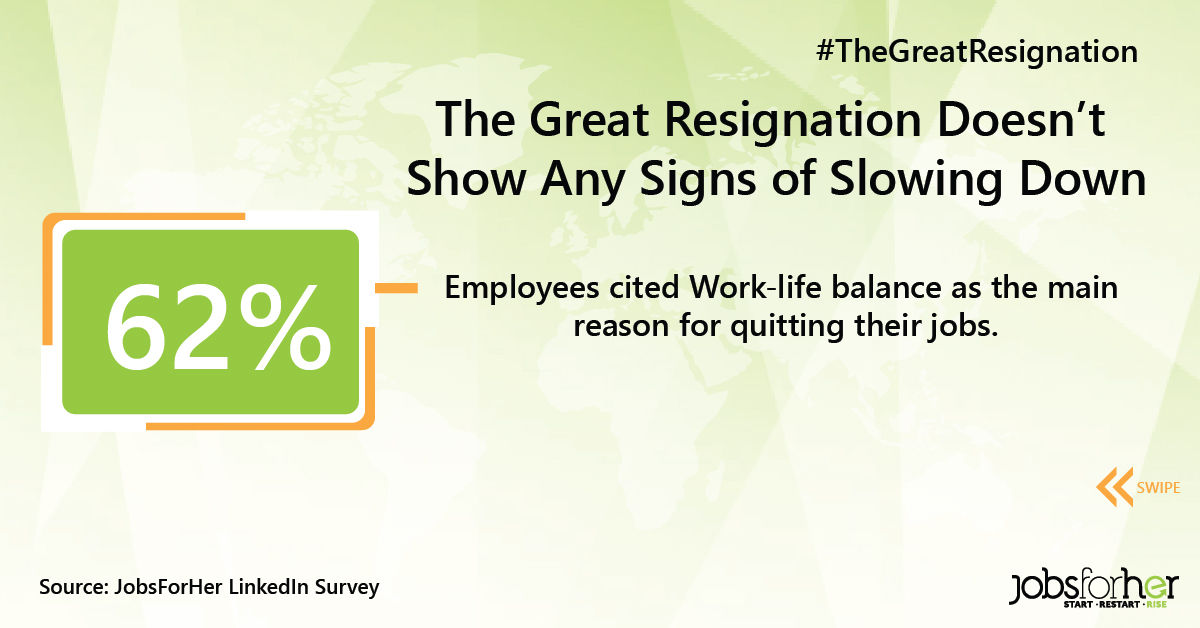 62% find the absence of work-life balance the top reason, why employees quit their job. A company needs its employees to be productive. When employees have a good work-life balance, they will be much happier and burnout at work can be easily avoided. This leads to greater productivity.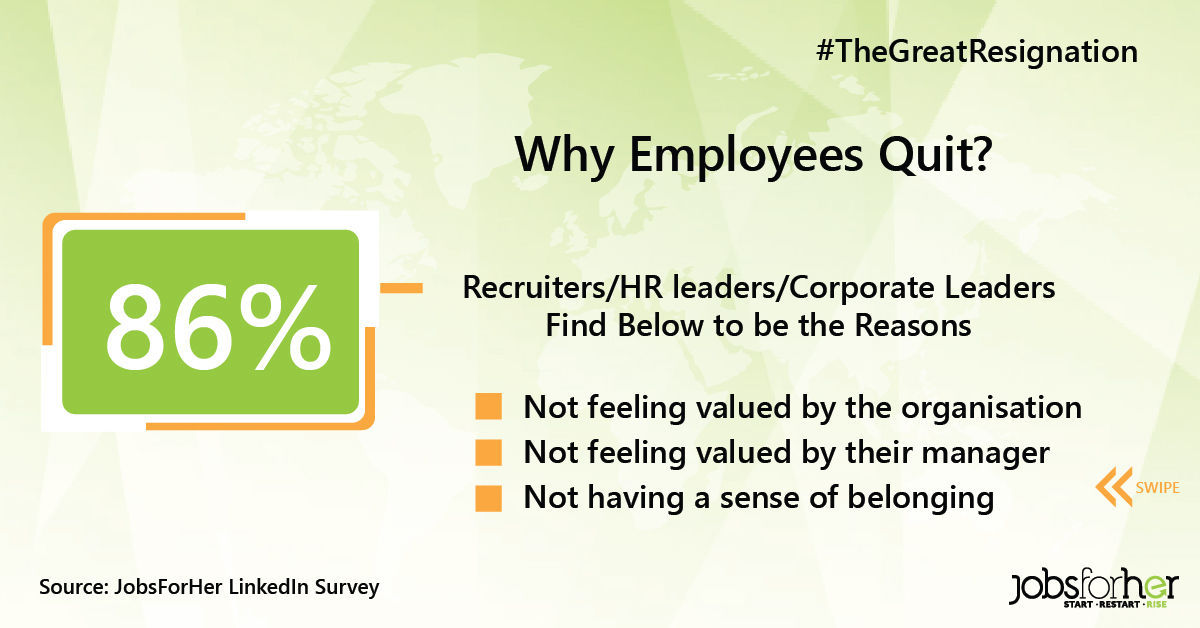 But the employers (Recruiter/HR leader/Corporate Leader) consider there is more that is driving great resignation. Almost 86% respondents on our Linkedin  agree that the top three reasons employees left their organisation in the past six months are:
Not feeling valued by the organization

Not feeling valued by their manager

Not having a sense of belonging
Referring to our survey on LinkedIn, Ritu Jones Bhasker, Manager – Global Learning & Organizational Development & Vice-Chair DEI, NextGen Healthcare commented, "This is so true, Diversity is like being invited to dance whereas inclusion is being asked to dance. Great resignation has also been a 'Great excuse' for managers who have been unable to retain good talent and conveniently pass the buck and blame it on a bad hire, people's attitude etc. We need to understand that most people don't join an organization thinking about leaving, something puts them off. While most people eventually get a better job and package, the three reasons listed above make them feel like looking out in the first place." 
Is Corporate Universe Solving the Right Problem?
The corporate universe is struggling to hire and retain the right people at work, if the issue is not addressed on priority it can turn into a talent crisis and the effect can be non-reversible affecting businesses worldwide. The need of the hour is to deep dive into the problem and focus on the solution. We need to understand what our employees expect from their workplace based on the first-hand insights and data to fall back on.  
Turning the Great Resignation into Great Retention
The future of work is hybrid. The hybrid model gives employees a sense of freedom that they can work from anywhere as per their comfort without compromising on the end result. Even the poll suggests the same, 30% respondents want to have a hybrid work culture.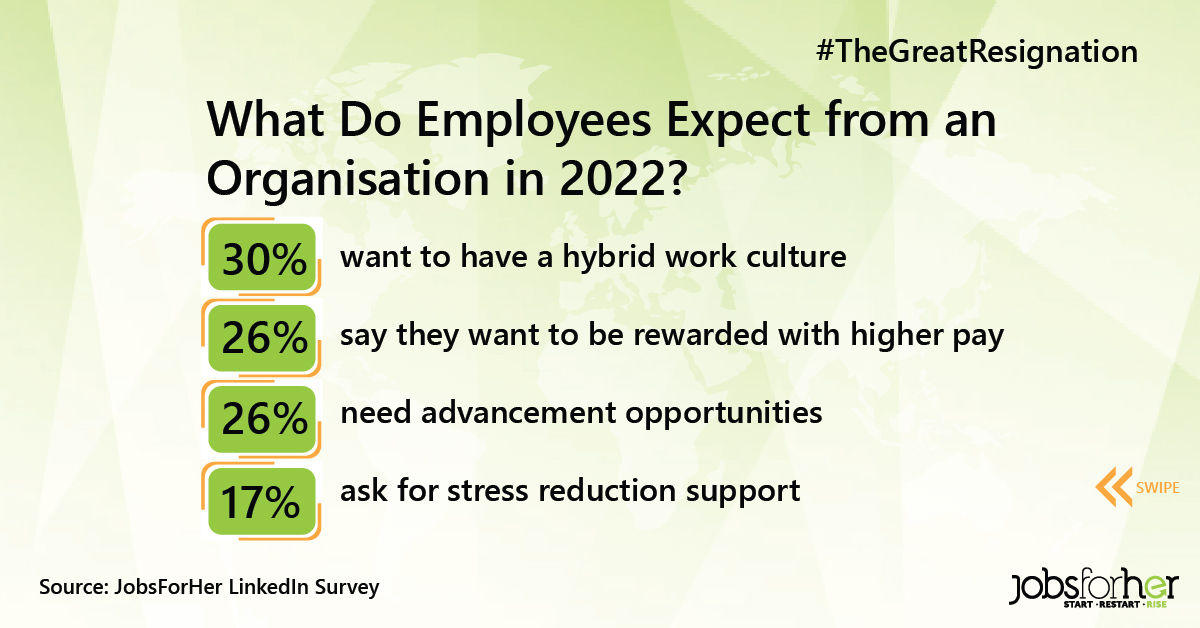 Good work needs to be rewarded with appreciation. More than 25% want their hard work to be appreciated with better pay/ bonus. Rewarding employee performance can also strengthen a company's recruitment and retention power. And the same percentage of employees gives equal importance to career advancement opportunities. It makes the employee feel recognised and motivated at work. India Inc. should try to make work less stressful and more engaging for their employees. Stress can make employees less productive and workplace burnout can result in quitting jobs. 
An open, transparent and bias-free conversation at the workplace between higher management and employees can help in building a conducive work environment. We need to be empathetic about understanding what employees want at the workplace. The best way one can find out what employees need is to ask them.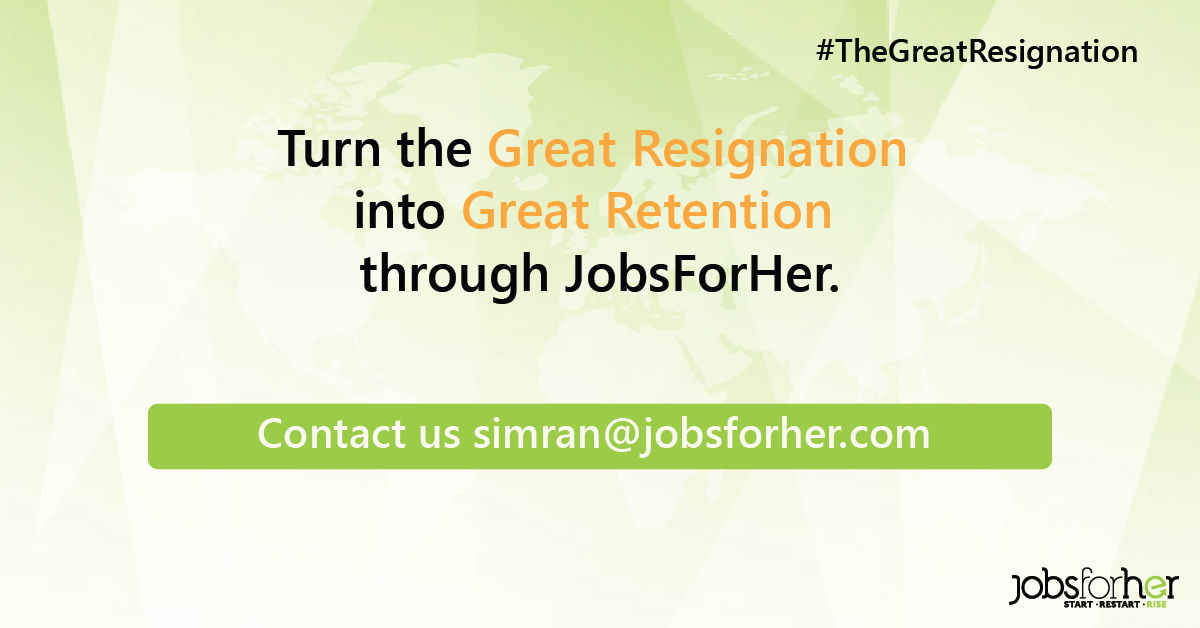 It is time to turn the wheel from great resignation to great attraction to great retention of talent. Connect with us today and make us your diversity hiring partner! https://www.jobsforher.com/employer/#contact_callbackform or email us at simran@jobsforher.com 
Republished with permission and originally published at www.jobsforher.com