By | Dave Ulrich | Speaker, Author, Professor, Thought Partner on HR, Leadership, and Organization
In our two-week Advanced HR Executive Program (AHREP) at the University of Michigan, faculty presented over 950 PowerPoint slides and participants walked away with over 10 books. At the end of the two weeks, participants learned how HR can create value by:
Skim quickly these 20 emerging HR trends and takeaways:
Defining strategy as competitiveness and answering the questions: where to compete and how to win
Creating HR value from the outside/in with customers, investors, and communities
Reimagining the future of work through technology and digital HR
Providing a framework for human capability as talent, leadership, organization, and HR
Clarifying HR's role in shaping the "right" culture from the outside in (identity in the mind of customer made real to employees)
Recognizing that "organization capability" has four to six times the impact on stakeholder outcomes than "individual competence" and doing capability audits
Understanding strategic HR to turn business strategy into HR priorities through a seven-step process (BE SO I AM)
Managing information as a capability and decision tool
Achieving HR transformation with nine dimensions that improve business results
Doing strategic workforce planning (matching person to position)
Understanding executive compensation/rewards as communication
Performance planning for your HR function and direct reports
Applying a talent formula (competence * commitment * contribution) to create a menu of talent choices
Responding to topical talent issues like employee mental health/experience, DEI, great resignation, skills shortage, hybrid work
Helping HR become a Humanitarian Response (HR) partner
Upgrading HR competencies that have impact on personal effectiveness, stakeholder value, and business results and improving personal skills based on 360
Creating agility through making change happen, both culturally with virus analysis and in a disciplined way with a pilot's checklist
Building sustainable leadership skills in today's changing world
Understanding leadership capital for investor value
Having a personal leadership brand connected to customers
In an important 3-day virtual workshop, HR professionals accessed over 300 sessions with 600 speakers,  
In curating HR insights, David Green (Insight222.com), Sian Harrington (thepeoplespace.com), Mihaly Nagy (HR-Congress.com), Chris Rainey (HRLeaders.co), Tom Haak (hrtrendinstitute.com), Debbie McGrath (hr.com), Josh Bersin (joshbersin.com), David McLean (hr.mclean.com), and any many more thoughtful colleagues offer podcasts, LinkedIn posts, webinars, and consulting reports proffering latest HR ideas, tools, experiences, and actions. 
Indeed, the HR field is filled with ideas. 
Research clearly states that focused attention delivers better results than disparate actions. It is better to open 50 stores in one state than one store in each of the 50 US states. It is better to spend most of an advertising budget in one month than to disperse it across 12 months. It is better to have 3 to 4 priorities than 9 or 10. 
How can business and HR leaders prioritize and filter this (pick your word: plethora, tsunamic, deluge, abundance, glut) of ideas into focused impact?
1. Create an integrated framework to organize disparate ideas. 
Frameworks form the foundation for action in any discipline. In the diet world, there are four food groups in a balanced diet (fruits and vegetables, meats and proteins, dairy, and grains). Every diet option builds off this fundamental framework.
Likewise, business frameworks organize and shape a field. 
The Treadway Commission frames four categories of risk: compliance, strategic, operational, and financial. 

Michael Porter's Five Forces frame a company's competitive environment: competition, the potential of new entrants, supplier power, customer power, and product substitution.

GAAP reporting has evolved dramatically; but was originally framed around income statements, balance sheets, and cash flow statements.

The United Nations 17 sustainable development goals frame ESG work. 
With my colleagues, we propose an integrated human capability framework that organizes and depicts the vast HR field into four pathways and 37 initiatives (see Figure 1). 
Talent (often called "human capital"): individual competence, people, workforce, and employee (10 initiatives)

Leadership: individual leaders at all levels as well as leadership capability throughout an organization (6 initiatives)

Organization: organization capability, culture, workplace, and systems (12 initiatives)

Human Resources (HR): characteristics of the HR department, practice, and people (9 initiatives)
Instead of being overwhelmed with nearly limitless actions, there are four categories for HR work.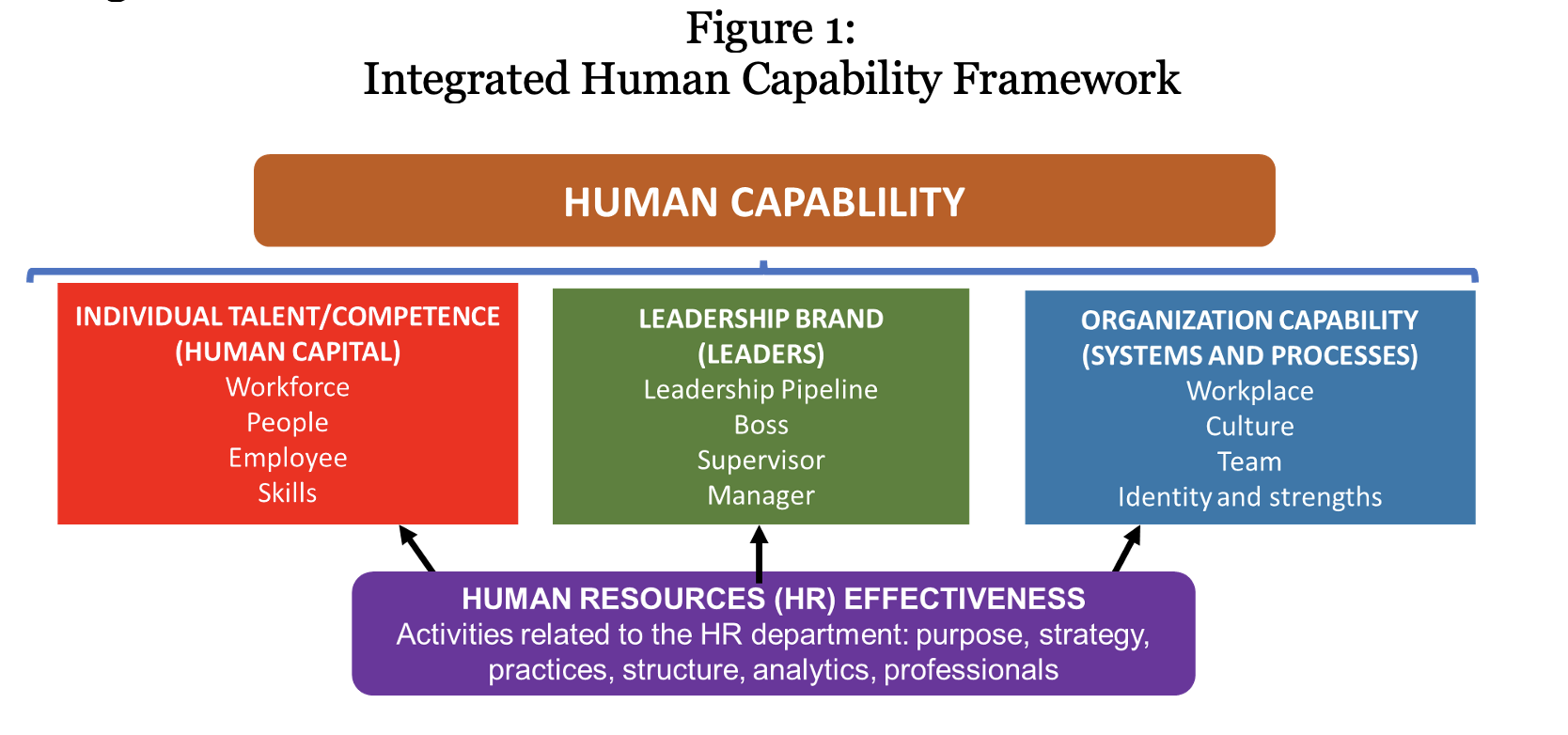 2. Start with results and link results to actions. 
At the end of a recent workshop, a participant planned: "In our next business meeting, I am excited to present our HR plan for (fill in the blank: DEI, leadership, hybrid work, culture change)." Good intent, but misguided. Start human capability discussions with what the business must do to succeed with key stakeholders, then, show how each human capability pathway enables stakeholder outcomes by asking "so that" or "because of". Figure 2 turns the 20 actions from our AHREP program into a logic of how they fit into the four human capability pathways and how they create value for five stakeholders.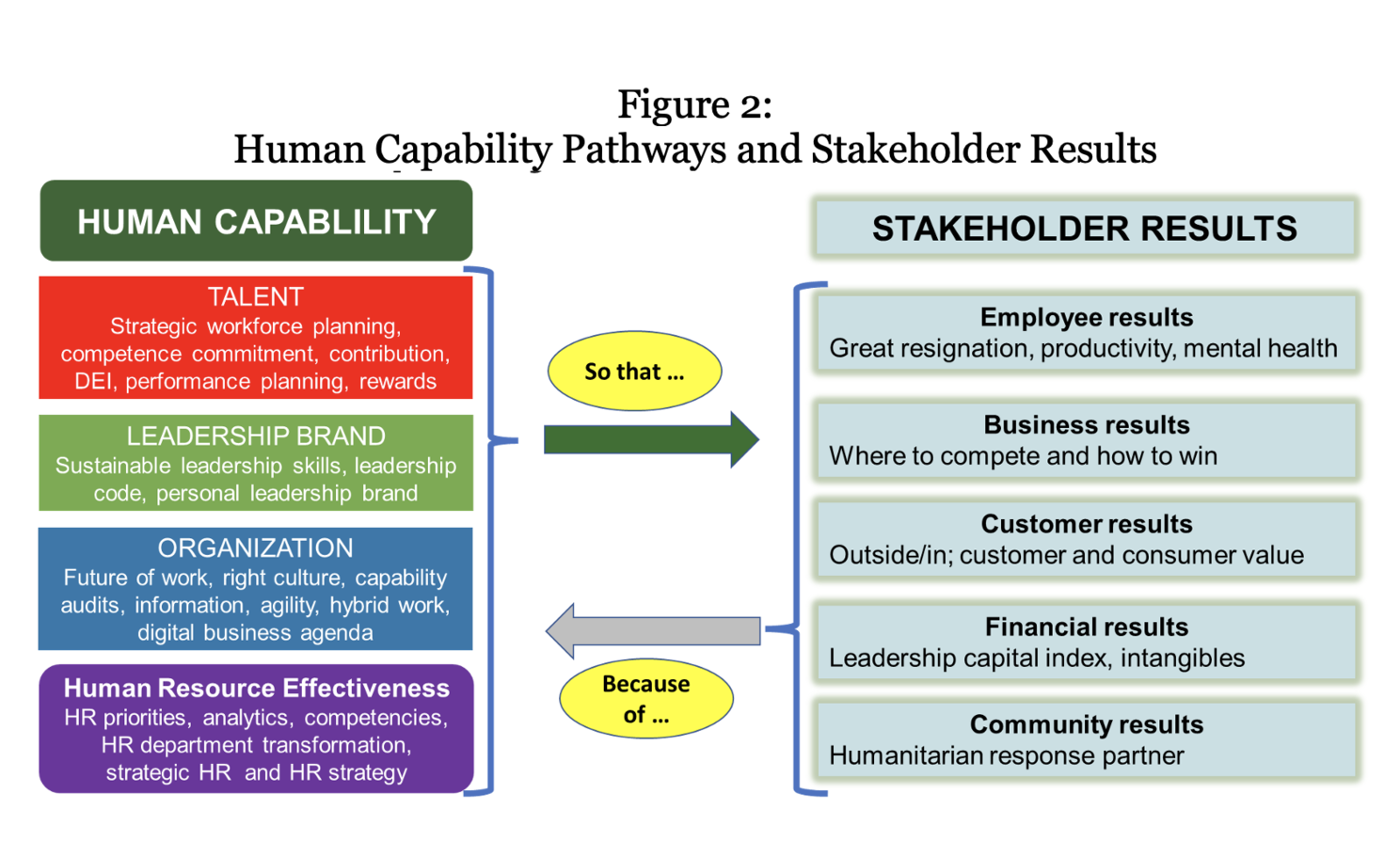 3. Make decisions based on theory, research, and practice.
With an integrated human capability framework (Figure 1) tied to stakeholder outcomes (Figure 2), business and HR leaders can prioritize decisions that have the most impact based on theory, research, and solutions. 
Theory builds on previous work to explain why something happens so that it can be adapted and replicated. Too often HR proponents rely on personal opinions or experiences, sometimes repackaging old ideas, without drawing on previous work.  By respecting and advancing previous work, HR priorities evolve and cumulate based on the most impact.  
Research validates experience so that the right ideas are replicated. More than personal opinion, research relies on data analytics and statistical algorithms to inform targeted decisions. Human capability research has evolved from generic benchmarks to compare oneself to others to best practices to determine who does something well, to predictive analytics that explains why something happens to guidance that direct specific impact for an organization setting. For example, there are dozens of diet plans, but which one will work for me? Likewise, we have identified 37 initiatives to increase human capability, and research highlights which solution works best given the desired outcomes. 
Large data samples offer general directions for prioritizing initiatives. Figure 3 shows research from over 1,000 organizations about which of the 37 human capability initiatives (rows) impact the five stakeholder outcomes (columns) by showing the green cells which have statistical priorities. Employee outcomes from Figure 2 are most derived in the talent pathway by talent acquisition, leadership pathway by building a business case, organization capability pathway of talent and strategic clarity, and HR pathway of the reputation of the HR department (see green cells that have a higher impact). Note that while each of the five stakeholders (columns) differ somewhat in terms of what drives the outcome, there are similar patterns. Note that these are large sample data and what applies to any one organization may differ.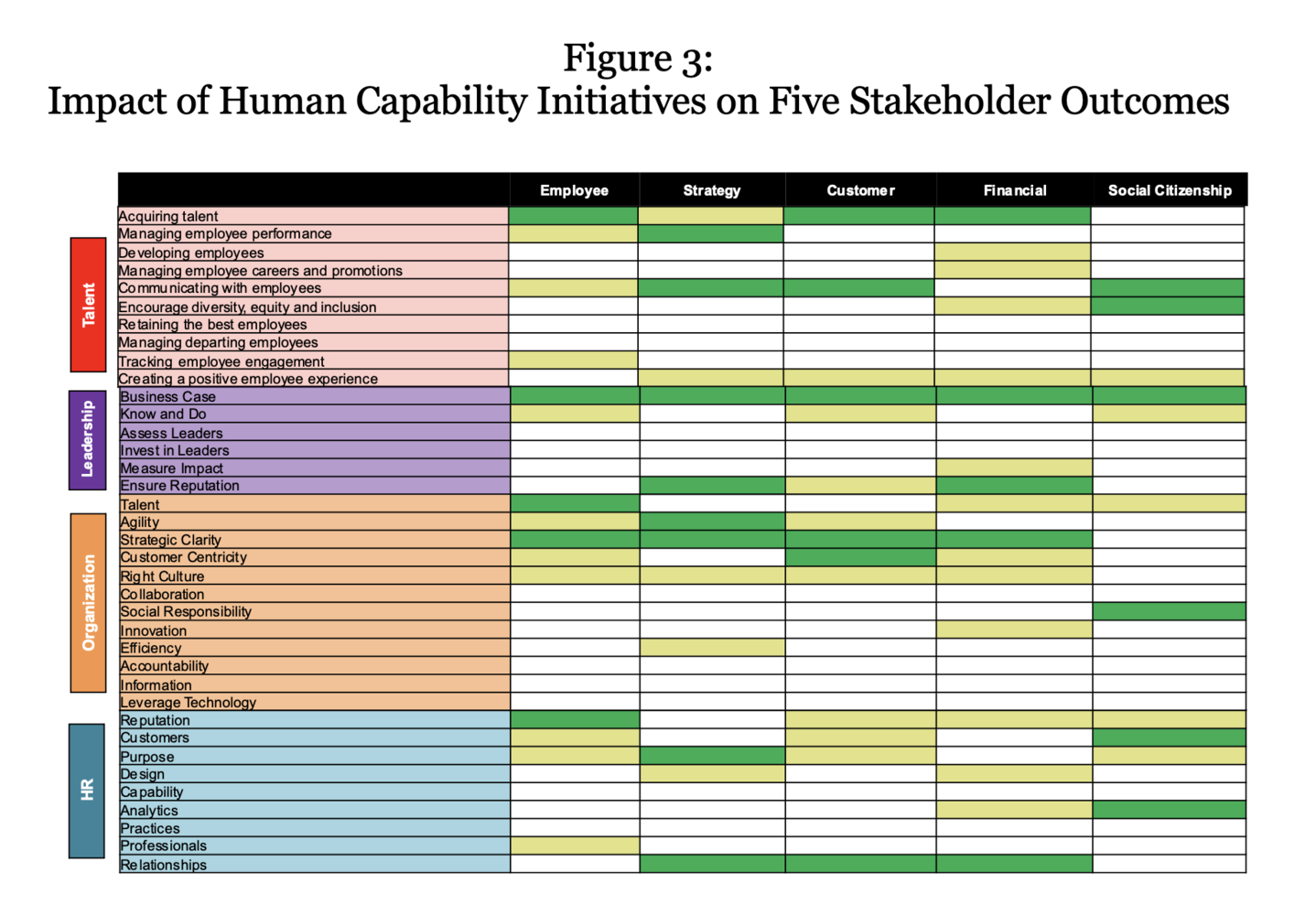 Solutions turn theory and research into action. Theory without research is daydreaming; research without theory is unguided empiricism.  From theory and research emerge solutions and practices that offer evidence-based insights to prioritize HR ideas with impact (see Figure 4). 
For myself and my dedicated HR colleagues, I hope we can all appreciate the incredibly rich and varied good works in our field, but I hope even more that we can identify insights that will have the most impact.   
Republished with permission and originally published at Dave Ulrich's LinkedIn