By | Ujwala | www.jobsforher.com
Yes, everybody is talking about it. Even those who didn't believe in the concept of work-from-home. Online jobs are on the rise. Jobs that you can do from the comfort of your house. Remote jobs that require no commuting, thus saving time and in turn increasing your efficiency. As companies adapt to this new normal, women working from home, including working moms, are also adapting to the newer challenges they are faced with every single day trying to manage work-from-home time. 
A strong support system is key to ensuring that your remote working hours are not interrupted, household chores are distributed among family members and children are occupied with activities. It also gives you the much-needed ME time to help you work better and focus on your goals.
What is your work-from-home story? How are you and your family adapting to this new normal?
Any tips on how to make work-from-home easier and more efficient?
Send it to us along with your photo.
Email us at workfromhome@jobsforher.com
WhatsApp us on 9741065202
In the meantime, here are some stories from women who are nailing their work-from-home routine.
Namrata Harish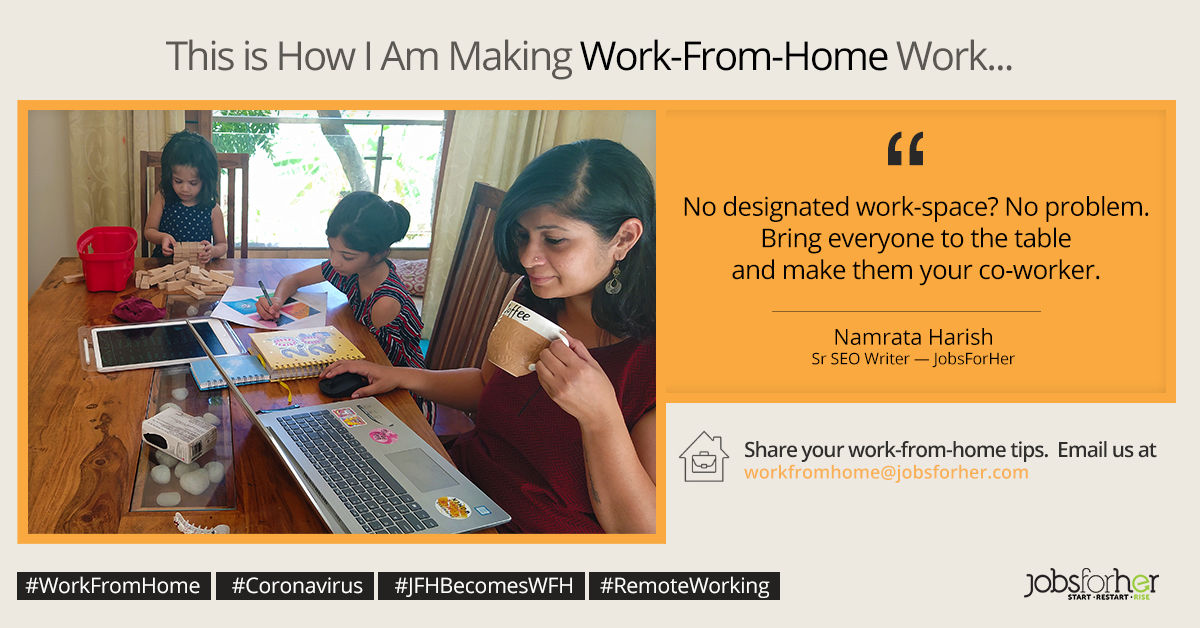 @Namrata Harish believes in equality — equality of workspace for everyone while working from home. Yes, that includes the children! 
Here are her Top3 WFH tip to keep you going in these times:
Give your kids different toys, or you'll never hear the end of it

Divide household chores among all able-bodied family members, including the kids. And do it before or after work only

Call friends/family every day to check in on them. Or at least send them funny memes to stay cheerful.
Sheetal Lobo Prabhu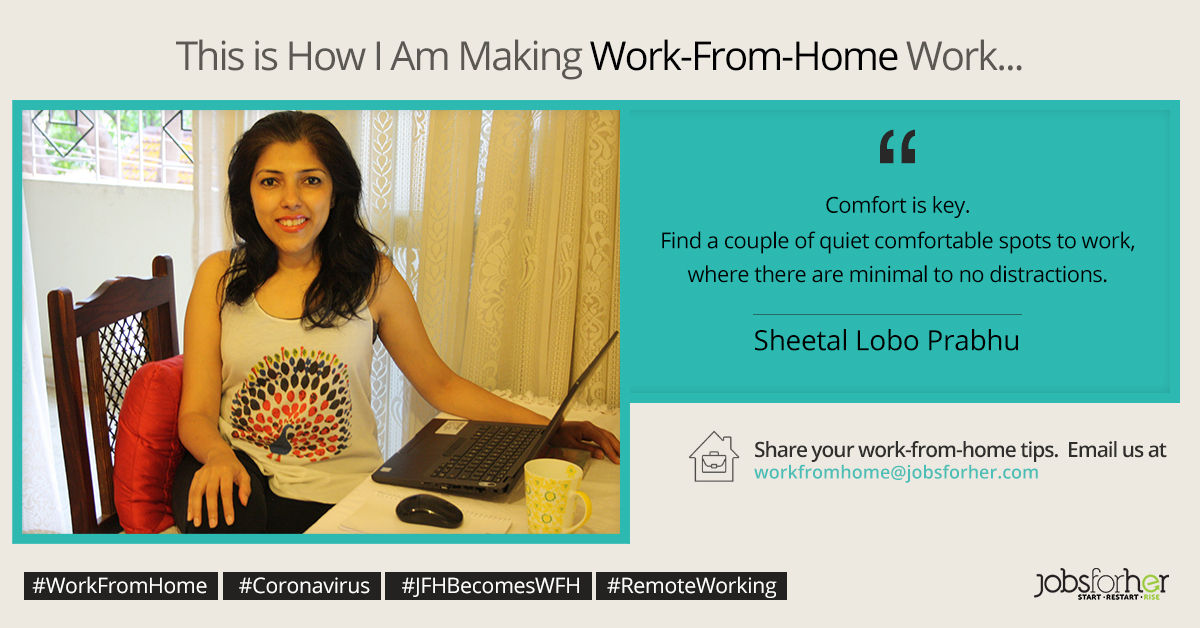 Here are her top 5 WFH tips: 
I have a work desk setup, but I prefer using a portable laptop desk, as it gives me the opportunity to change places when I have no video calls to attend. 

Don't get anxious if you have interruptions during a video call. You can always excuse yourself for a minute and get back. Schedule calls when it's likely to be quiet — when the kids and dogs generally take a nap or are busy with their activities

 Find your Zen. Allocate time for work, household activities, the kids, pets and for yourself

Exercise, read, watch a movie, meditate, try out a new recipe, journal and spend time with family. I have a ritual of relaxing at tea time and taking evening walks on the terrace. Make time to talk; don't drown in your gadgets and work

Keep it simple. Prioritise. Organise your tasks for the week, set goals and deadlines, and avoid procrastination. Be resourceful. Make quick simple meals.
Anitha Ramesh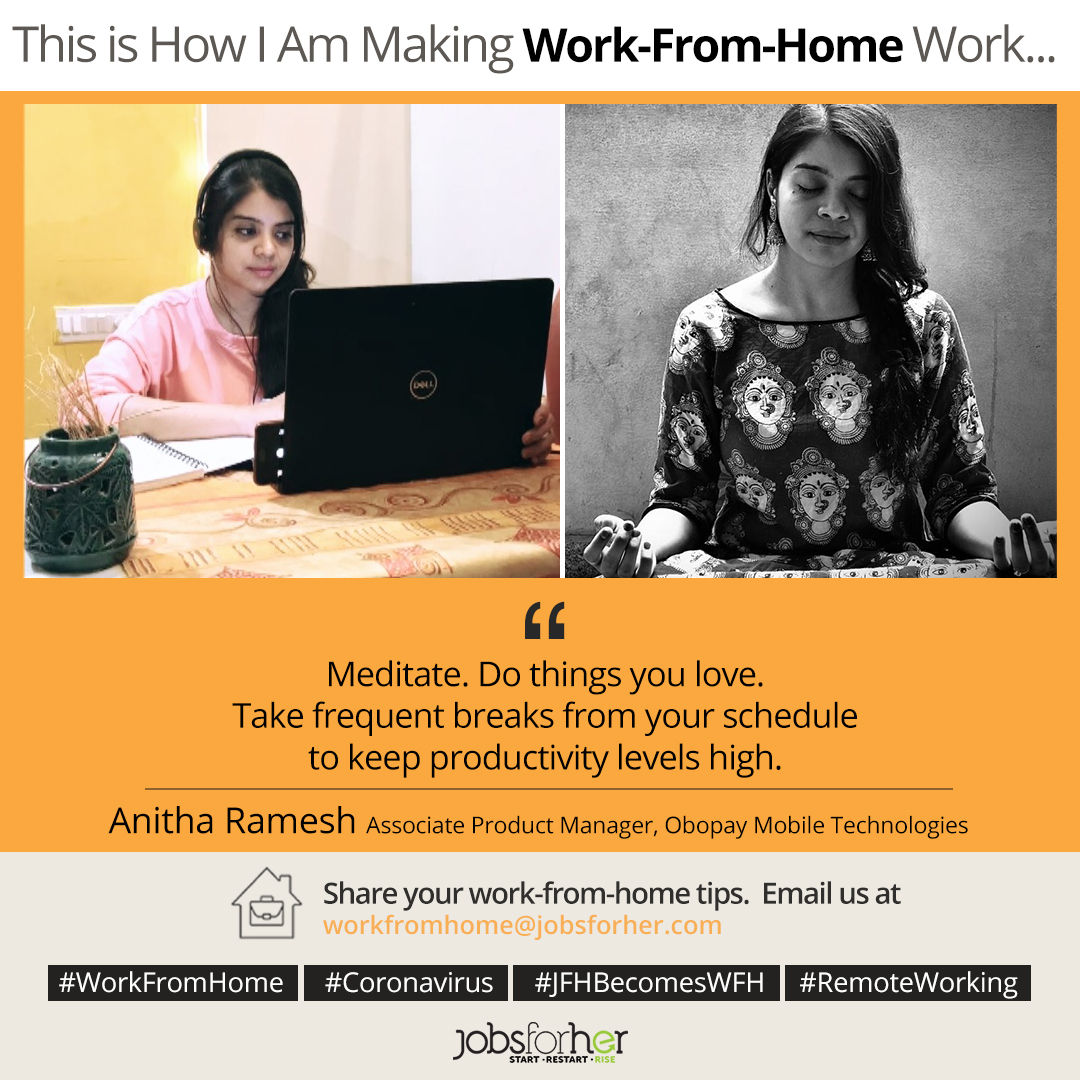 @Anitha Ramesh ensures that she gets four important breaks during her work-from-home routine to help her stay productive and calm at all times. 
Working from home requires a lot of motivation, especially in the current situation.  More than getting work done, it's all about replenishing positivity with a cup of coffee each morning.  Initially it was fun, but as days passed, she realised she was getting lazy, so she came up with a schedule.  
I found a suitable place to set up my workstation by a window in my room. 

I kept myself hydrated by setting an alarm. For this I found a bottle made of clay which gives an earthy feel around my work station

I set up 4 essential breaks. Two of these include joining a guided meditation — one at 12 pm, which beats the desire to sleep in the afternoon, and the other at 7.30 pm, at the end of the day's work. The other break is to take a shower and change out of my comfy pyjamas, soon after which I ensure my plants also get their share of hydration and mood enhancement. Watching my new mint plant grow was one of the most 'happening' events of my week 

The 4th break of the day is lunch time with family, because I don't remember the last time I did this before the lockdown.
Jeena Viju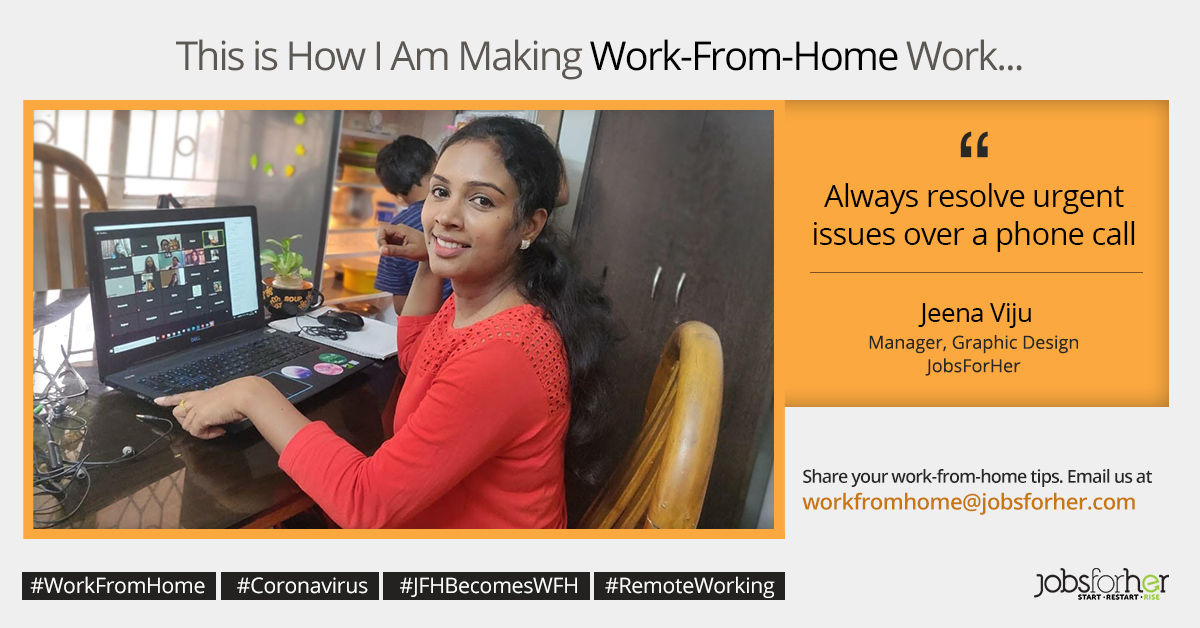 @JeenaViju has settled into her work-from-routine by making a few important adjustments to her schedule. Here are her top tips to help you get through this phase:
Make a to-do list or follow a planner

Communicate properly with your team

Resolve issues quickly with a phone call

Stay aligned with the company's culture
Working from home brings with it individual challenges, and it depends on how you tackle them. Get a routine in place and make it work for you and your family. 
Email us at workfromhome@jobsforher.com
WhatsApp us on 9741065202
Find out more about making work-from-home work for you here
Republished with permission and originally published at www.jobsforher.com