By | Ujwala | www.jobsforher.com
Work-from-home jobs are the most sought after type of jobs during this lockdown. Work-from-home jobs for women are more so on the rise with even top companies across industries continuing to hire virtually. Online jobs that are home-based seem to be the perfect way for women to start, restart and rise in their careers. No matter where you are in the country, remote working is the best way to keep your career graph moving in the right direction in uncertain times like these. But the lockdown is proving to be a whole other ball game for working professionals trying to strike a balance between work and home and personal responsibility.
As multitaskers, women once again step up to make it work for them AND their families. How do they make work-from-home work so efficiently? How do they make the time for themselves in the midst of all the chores? Read on to find out. 
Do YOU have a story to tell us? Any tips on how to make work-from-home easier and more efficient?
Send it to us along with your photo.
Email us at workfromhome@jobsforher.com
WhatsApp us on 9741065202
Here's some inspiration to get started on penning your experience down.
Ramya Kandala, Senior Content Coordinator, is nailing her work-from-home time.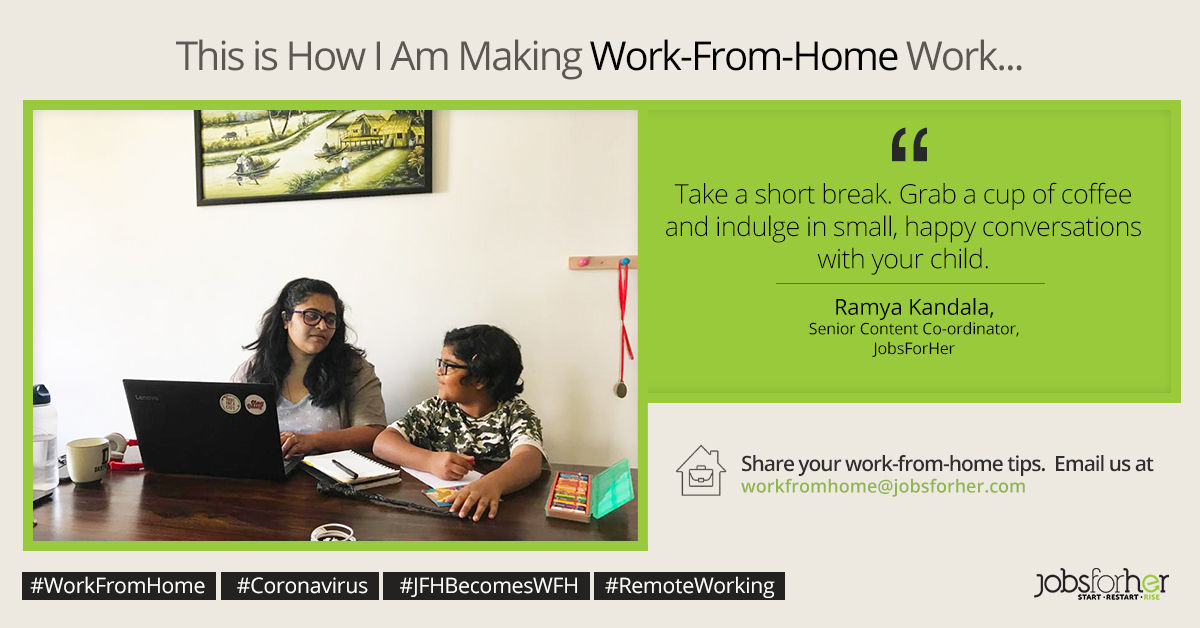 Her top 3 tips are:
Keep your little troublemaker in your line of sight, so you can concentrate on work, instead of having to check on them constantly.

Finish the task at hand before moving on to another one or attending to something else that requires your attention, but is not urgent. 

Break your work into small doable tasks, and complete each one.
Meghana Dayanand, freelance writer, is used to working from home, so hear it from the horse's mouth.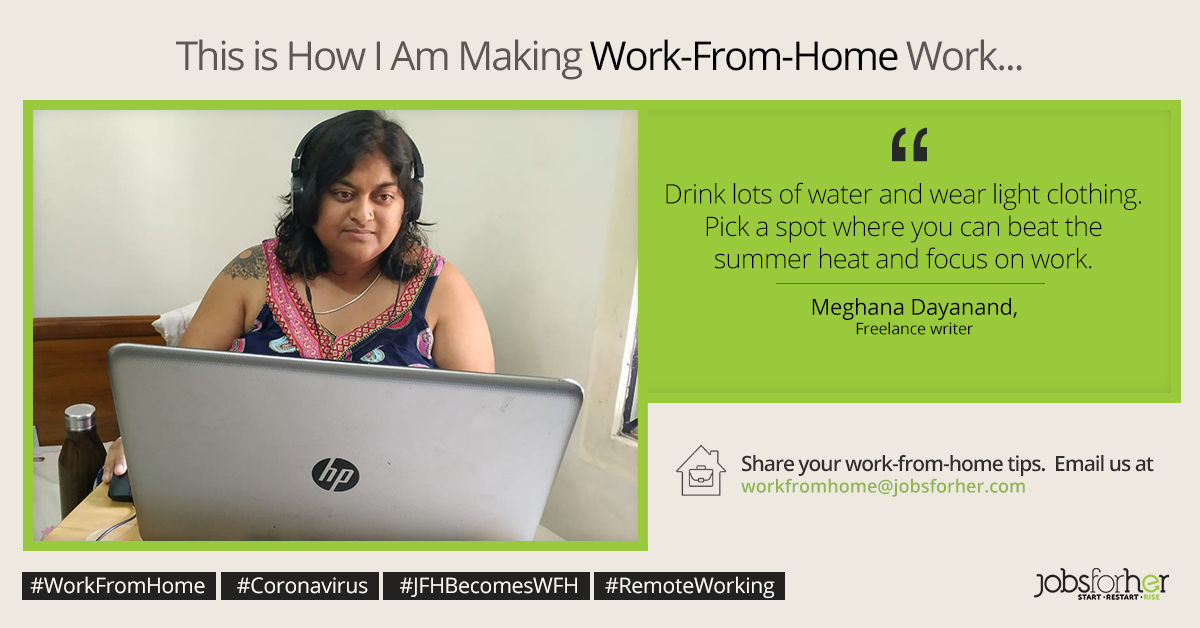 Take regular breaks to stretch.

Eat healthy and light. Stay at ease to make work easier.

A pair of noise-canceling headphones is essential. This way, you don't disturb anyone at home and your communication with colleagues will not be hampered either. Also, great sound quality can keep you focussed even during your breaks. 
Malathi Menda believes that a well-planned day helps in maintaining work schedule. Read on for her tips…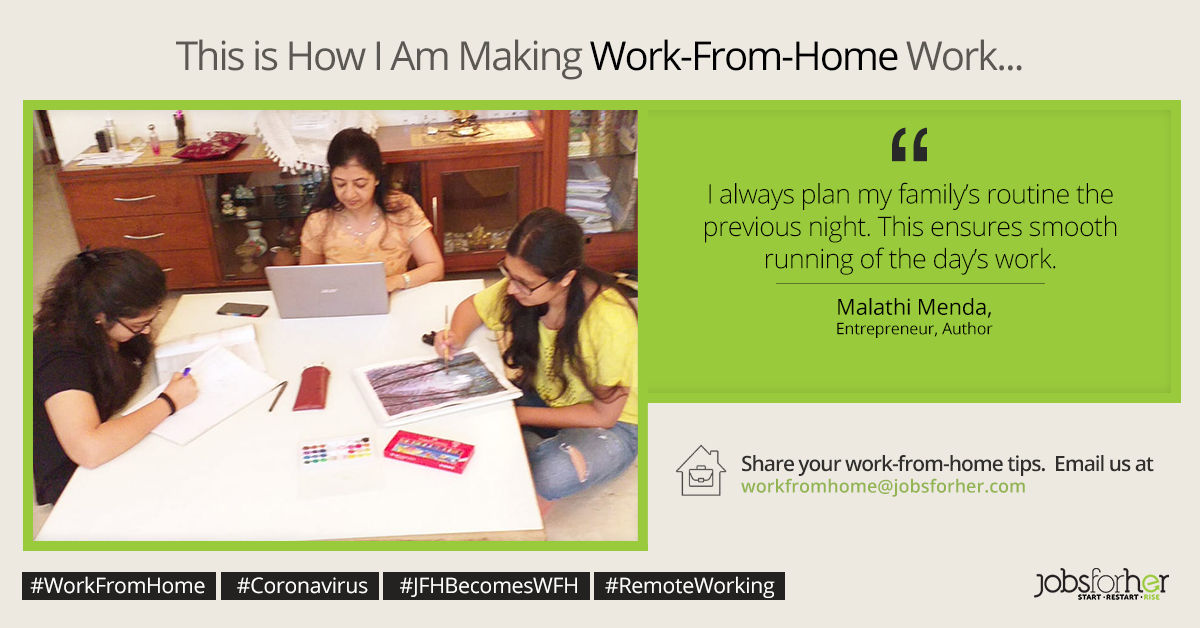 I always work from home, but now working from home with your family around is a different challenge. I plan my family's routine and activities the night before.

I wake up early to ensure that my family's meals are ready so that I'm not worried about it during the course of my work.

I take short breaks, chat with my children or watch a short series together. It's a refreshing change before I get back to my routine, and they're also happy. 
Priya Torke is as busy as she could ever imagine to be in her work-from-home role, dealing with HR and admin-related activities on a daily-basis. Being a HR professional, it is essential to connect with employees.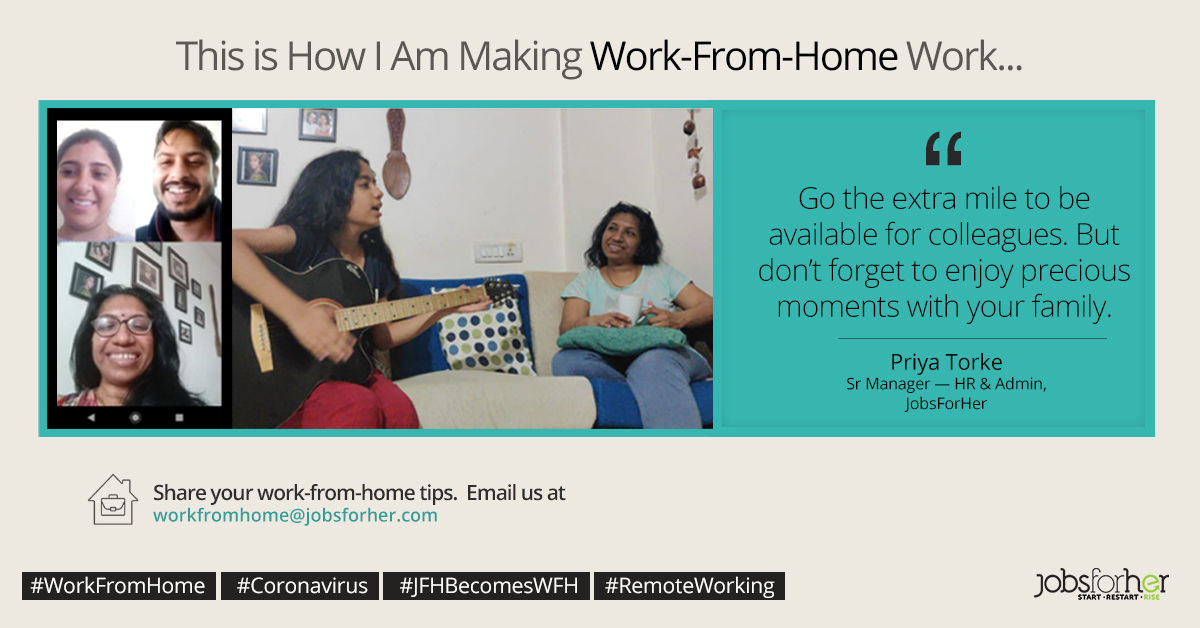 Her top 3 work-from-home tips are: 
Maintain communication with colleagues through WhatsApp calls, Zoom, Hangouts and other available easy-to-use tools. Many who stay alone find it hard to cope during these times of social distancing. 

Do not stop HR activities that can be done virtually. For example, hiring interviews, new joinee induction, exit interviews, training, etc. 

Take breaks to spend time with family and indulge in something that lightens the mood.
There you have it. The world seems to be settling into the new normal, slowly but surely. There are so many ways to ensure productivity and efficiency while working from home. And who better to tell us, than YOU. 
We're waiting to hear your side of the story. 
Email us at workfromhome@jobsforher.com
WhatsApp us on 9741065202
Browse work-from-home opportunities on JobsForHer, here: www.jobsforher.com
Republished with permission and originally published at www.jobsforher.com