By | Ujwala Thirumurthy | www.jobsforher.com
As the world continues to be under lockdown, never before as a human race have we felt so connected to one another,
yet never felt so much anxiety, and fear. 
JobsForHer closed its office doors on March 13th. 
Nearly 20 days into the work-from-home mode, and our team has been nailing each of our responsibilities. And we thought it would be a good idea to open it up to you, our readers — to send us YOUR tips and tricks of making this crucial period of work-from-home work to your advantage. 
And we are overwhelmed with the responses. 
Here's a peek into a work-from-home day in the life of women across the world, starting with our team, making this new routine work for them.
Make sure you soak in all the information, for we believe  it will help YOU find a way around your own work-from-home routine. 
YOU can share with us your tips along with photos on making this work-from-home time work.
Email us at workfromhome@jobsforher.com
WhatsApp us on 9741065202
Here's how Neha Bagaria, Founder & CEO of JobsForHer, is making her work-from-home work.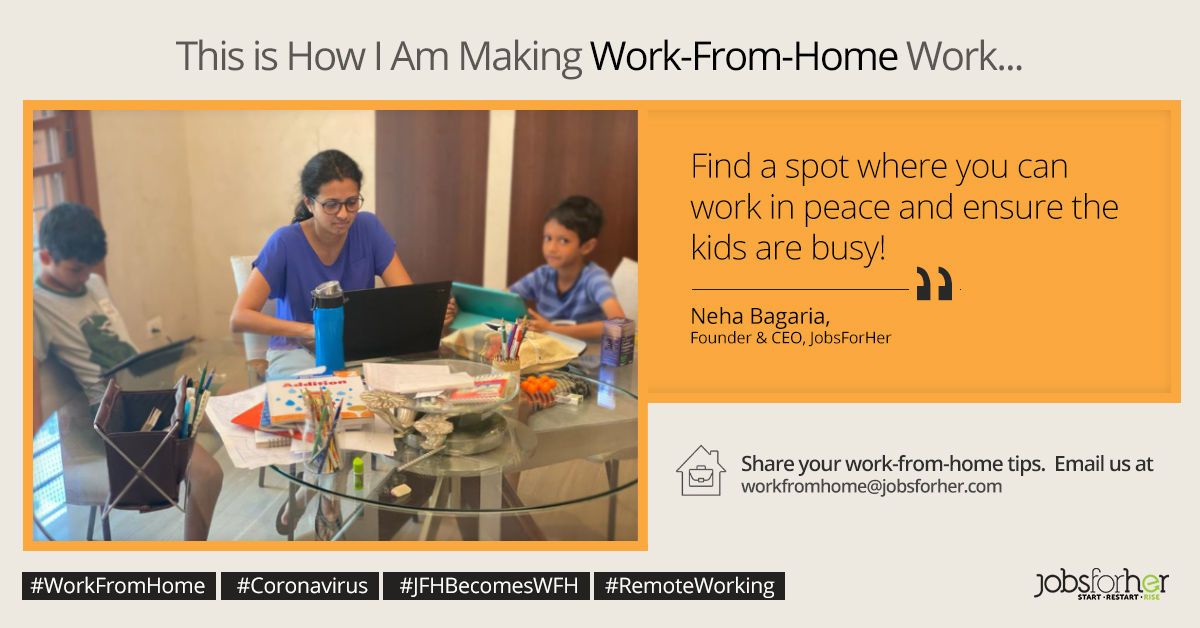 Her Top5 WFH tips are:
Stick to your regular routine and work schedule, because not only are you used to it, but your family is, too.

Find a spot where you can work in peace and have good internet & power

Ensure the kids are productively and constructively busy (yes, it might include more screen time than usual)

Take full advantage of communication and collaboration tools like WhatsApp chat / audio / video, Email, Google Hangouts, Zoom, Google Sheets / Docs / Slides, Trello, Asana etc.

Trust your team to get used to the new normal and get back to being at their productive and collaborative best.
 Let Schonali Rebello, Brand Custodian, take you through the nitty-gritties of keeping a cool head as she nails her work-from-home time for herself and her team.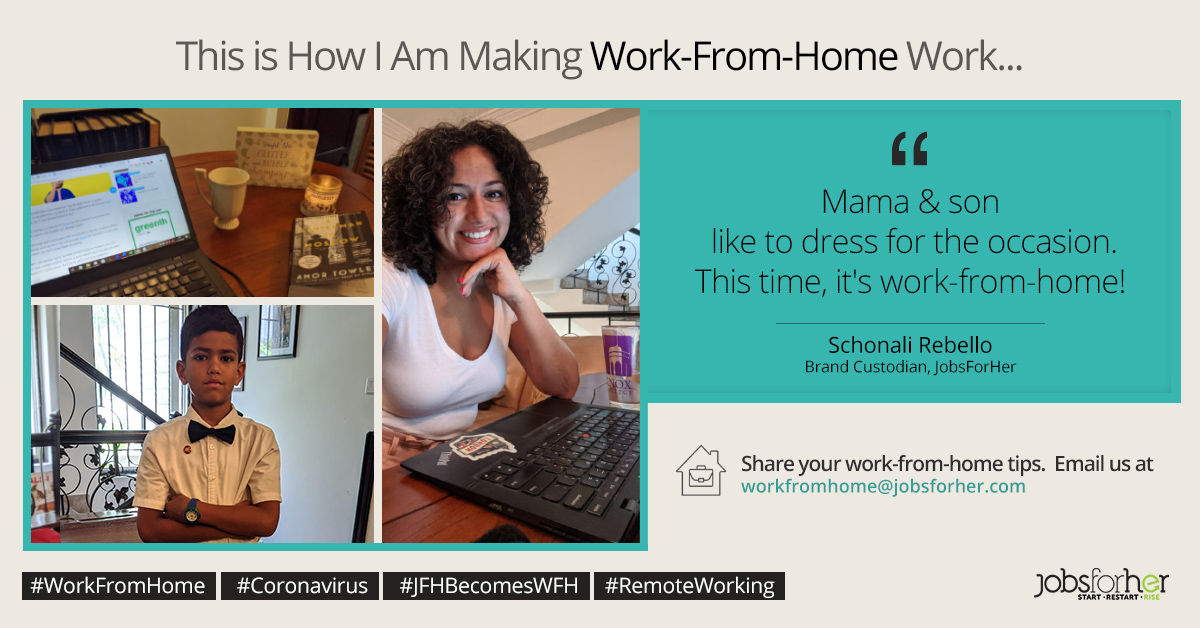 Her top WFH tips are:
Have a KIT (keep in touch) call with your team to start the day. Let each other know when you're signing off for the day. Don't let WFH disrupt the boundaries between work and home.  

Keep your regular routine. For me it is — wake up before my family, exercise, family time, shower & dress up for the day ahead (i.e. work wardrobe), resume family and leisure time once you've signed off from the day's work. 

Stay virtually connected with your world as much as you can. Keep in touch, make sure they know you care, send jokes, laugh at theirs, and keep on keeping on. 
Anou Daniel, Customer Success Executive, is also rocking her work-from-home time with great co-workers, as you'll find out here.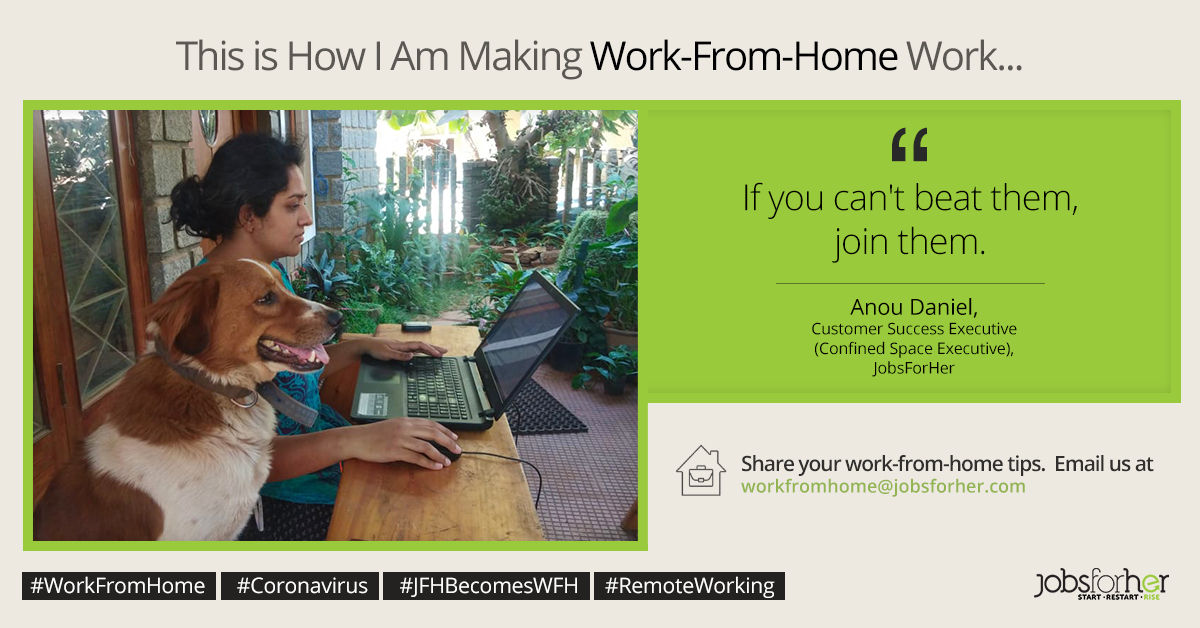 Her top 3 WFH Tips are: 
Take breaks every two hours just to stretch. 

You want to keep an eye on your kids. Join them in their space. Except when you have calls.

If you have pets, this is the best time to hang out with those little silent consultants. They will be by your side, no matter what. A word of advice, give them their feed before you start work in the morning. 
Martina Blanche, B2C Content Writer, is making the most of her work-from-home time with some great music to help her through a long day.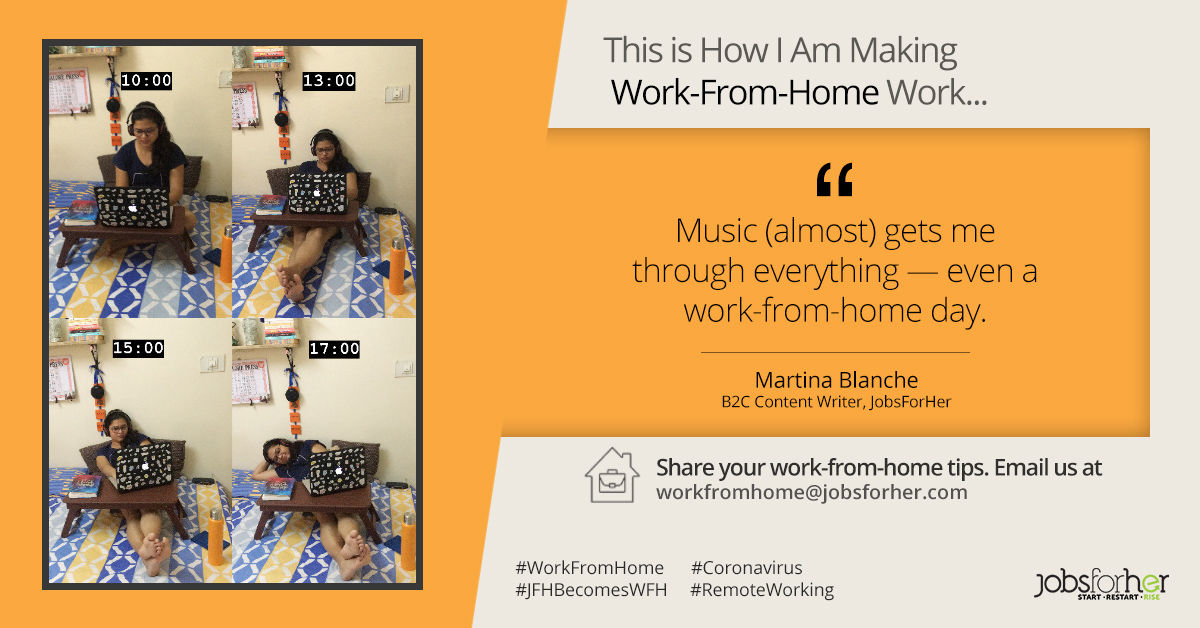 Her top 3 tips are:
Listen to your favourite music. Not only does it take you through your day, but it also helps you stay optimistic.

Find your favourite spot at home and start creating magic. Keep taking breaks.

Don't mix your professional and personal responsibilities. Working from home can get overwhelming, but it's easier to keep work and home away from each other as much as possible.
Needless to say, coronavirus has literally turned our lives into a paradox, reminiscent of these lines from Charles Dickens' novel A Tale of Two Cities,w which tells about a time of chaos, conflicts, and despair, as well as happiness. It in fact tells us about the time of extreme opposites without any in-betweens.
"It was the best of times, it was the worst of times, was the age of wisdom, it was the age of foolishness…
it was the spring of hope, it was the winter of despair …
we had nothing before us, we were all going direct to Heaven,
we were all going direct the other way…"
We're fighting a deadly virus that's causing havoc all across the world.
We're also rediscovering relationships, the worth of a community, the essence of life, a sense of belonging, our accountability and most importantly our responsibility to ourselves and to people around us. 
Which is why the work we do as professionals and as individuals goes beyond the ordinary in setting the tone for an unmistakably virtual future.
Stay tuned to our blogs page for more updates on how we are taking our work-from-home time pretty seriously, no matter what type of work we are involved in. You can also find inspiring articles on how to keep your career graph moving during these tough times.
 And don't forget to write to us with your own tips and tricks.
If you are managing your team remotely, do share with us how YOU are making this work-from-home time work.
Email us at workfromhome@jobsforher.com
WhatsApp us on 9741065202
Find out more about making work-from-home work for you here: www.jobsforher.com
Republished with permission and originally published at www.jobsforher.com