By | Namrata Harish | www.jobsforher.com
5 Ways You Can Ace Working From Home
in the Time of the Coronavirus
It's always a good idea to stay safe and keep others out of harm, especially when the world is in the grip of the Coronavirus pandemic.
Companies across the board are increasing safety and hygiene methods to prevent the spread of the Coronavirus, and are even going to the extent of asking their employees to work remotely.
Global giants like Facebook and Amazon, as well as small and medium companies, are taking measures to ensure that the virus does not impact their employees' work or their quality of life.
If your organisation has asked its employees to work from home until it's safe to get together in public spaces again, it just might be a good thing for you.
How the work-from-home option helps
For starters, with schools and daycares shutting down for the summer early across many states in India, child care has become a huge problem for working parents. And in a country like India where the traditional role of caregiver falls on the woman, the closure of schools and daycare centres affects working mothers more than it does any other demography.
When you think about it, working from home can help solve the crisis of caring for your children when they cannot go to schools or care centres. What's more, you get to keep a closer eye on their hygiene routine, keeping them safer from the virus outbreak than anywhere else.
Research has proven that people who work from home face fewer pressures and are more productive than those who commute to office. You can make the most of your working day by saving yourself the hassle of navigating traffic jams that only add to your stress.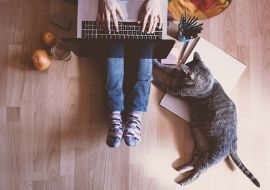 Read more about how to make work-from-home work for you here.
So, if you are presented with the option to work from home, here are some handy tips to keep in mind before you pack up and head home:
1. Stick to your routine
It might seem like you have more time in your day, now that you don't have to travel to work, but you only get up to an hour or two extra in your work day. Remember that your employer has factored that in as well, and they will expect you to be present longer.
The best thing you can do in this scenario is to keep to your daily routine, just as before. Finish up all the things you need to do before you start your working day because although you are at home, you won't have the time to spend on any chores. 
Keep your lunch ready in the morning, and heat it up at your convenience. You can still enjoy a warm home-cooked meal in the comfort of your home.
Find out how to be your most productive while working from home here.
2. Create a designated office space
If you're the kind who can work anywhere at all, then you don't have much to worry about. As long as you get good Wi-Fi connection, you can be productive anywhere you want.
However, if you are used to working in a quiet, enclosed space, your work-from-home will go well if you recreate the same kind of environment at home. It doesn't necessarily have to be a home-office — any isolated space in a corner of your house can become a space for productivity.
This can pose a bit of a problem for working parents with kids at home, which leads us to the next point.
3. Manage distractions
Parents who have to work from home with kids around can take a few measures to ensure they get their time to work.
Arrange for small group playdates where the children can be kept occupied for a few hours of the day.

Create a separate area for your kids to play in safely, and give them rewards for coming up with new games or doing something creative.
iii. If they must have screen-time, show them enriching content from apps that can help them learn while they play.
Don't hesitate to ask for help from close family or friends who can spare the time to babysit.
Even without children around, our homes can be distracting in many ways. Manage your distractions by designating them to your breaks, confining them to short periods of time.
See more about how a working mother means business here. 
4. Discuss workflow with your team
Make sure that your manager and the rest of your team has complete clarity on how work will progress remotely. This is important if you haven't worked from home before. 
Find out about meeting procedures and how you will keep track of each other's inputs. Keep a note of how often your manager wants you to check-in.
It's also important to discuss with your manager beforehand how long and how often he/she would want you to stay connected. Remember that being 'always on' is not a marker of productivity, so understand their expectations and don't be afraid to set your boundaries.
We tell you how to be more confident in making decisions like these at work here.
5. Keep your gadgets ready
For many working families, the announcement for them to start working from home has been sudden. Don't be caught on the backfoot by not carrying your essentials home.
Pack up your laptop AND charger, mouse, headphones, Wi-Fi dongle and any other equipment you need to be a fully-functional employee. Make sure you carry these home every day, if your organisation allows it, so you can be better prepared for emergencies.
It's easy to assume that work will go on as it should, but that will only be if you are well-prepared for it. There's no reason you can't be your productive best at home too.
Republished with permission and originally published at www.jobsforher.com